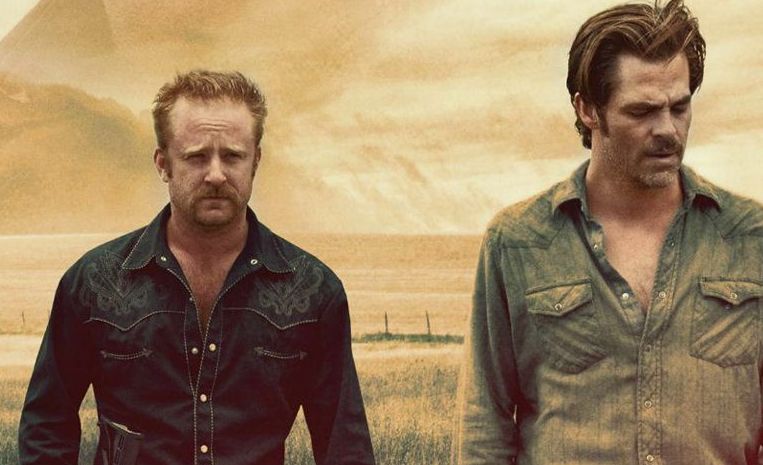 Hell or High Water

DelaliBessa Critic To toe the line of the wittertainment quip, Hell or High Water sports its fair share of bank heists, but it is far from a film about bank robbers and their escapades. It has two law men that jump on the trail of the robbers, but their relationship and not the investigation will probably come to be of more interest. The screenplay, by Taylor Sheridan of Sicario fame, leans very much towards character and presents some of the most subtle and exacting chemistry that drives this modern western to its understated but compelling finale.
Hell or High Water opens with two brothers; Toby (Chris Pine) and Tanner (Ben Foster) in a rural Texas town – the kind of area that's day-to-day is almost a love letter to days gone by. The brothers arrive at a small bank before its opening time to rob it. They target only loose bills in registers to eliminate the risk of explosive dye. This safe and steady MO is repeated in other heists and it mirrors the slow but sure pacing of director David Mackenzie as we come to learn there is a bit of a redeeming motive for the brothers as the banks garner some deserved scorn.
It is revealed that the first bank that they robbed, the Texas Midland Bank, recently foreclosed on the brothers' ranch. But Toby, the savvier brother, comes up with the heist plan to stick it to the man – they are basically paying their debt, via some laundering methods, with the bank's own money. The rules are clear and pretty much keep the brothers out of trouble. The tactic of only taking only loose bills and not raiding vaults means the heavy hitters of law enforcement are not keen on getting in on action. Thus we are left with two Texas Rangers on the hunt; Marcus Hamilton (Jeff Bridges) and Alberto Parker (Gil Birmingham).
The chemistry between Bridges and Birmingham provides the film's most enjoyable moments with the mustached Parker as the gruff growling officer days from retirement and Hamilton as his half Latino, half-Comanche Indian partner who likes his fair share of Christian rock. Their dialogue is close to golden with a lot of playfully sardonic banter when they share a motel room or stakeout a bank in pursuit of the robbers. We have doubt they have been friends for a good while. Their most eye-catching moment probably involves an encounter with a waitress sporting a questionable and feisty brand of customer service.
As for our central duo, there is some substance to digest in Toby as the most layered character in this film. We meet his ex-wife who is still milking him for child support and his two kids, who he is determined to secure a better life for – pretty much straightforward and the film puts all this across effectively with little fuss. Foster as Tanner is the frenzied hot head to Toby's calculation and calm. It comes as no surprise when a lack of restraint on his part gives enough of a foothold to the lawmen on their trail and throws a spanner in the works and the film plays this for additional stakes and drama well.
The bank heists themselves are so simply constructed and deliberately lacking in tension so as not take the impetus from character. The only real curve ball comes in a sequence where Toby and Tanner find themselves robbing a bank in an area with a bunch of guys who have seen too many westerns. The film peaks from an action standpoint here when a relatively massive shoot out and car chase break out. But the rest of the film unravels at a slow pace as the four central performances do most of the heavy lifting in this narrative.
The straightforwardness of Hell or High Water is admirable, but at the end of the day, I felt like its simplicity kept it from truly being regarded as great. It lacks that third layer, a layer a fellow neo-western like No Country for Old Men so thoughtfully aspires to. Nonetheless, Sheridan is in fine form here with his crafting of sharp witty dialogue and a tight plot. There's also an angle nodding to the role of banks as socio-economic oppressors, but the script does not commit to establishing it as a proper antagonist.
Credit must also go to David Mackenzie who revels in his rural Texas setting and finds some beauty in its vast landscape. He frames some beautiful shots with the brothers in play that make us forget, if for a minute, that our protagonist are bank robbers and instead, we just see them for the bond have as we are reminded that this film is very much also about family, about brotherhood, regardless the spectrum.
-
By: Delali Adogla-Bessa/delalibessa@yahoo.com/Ghana