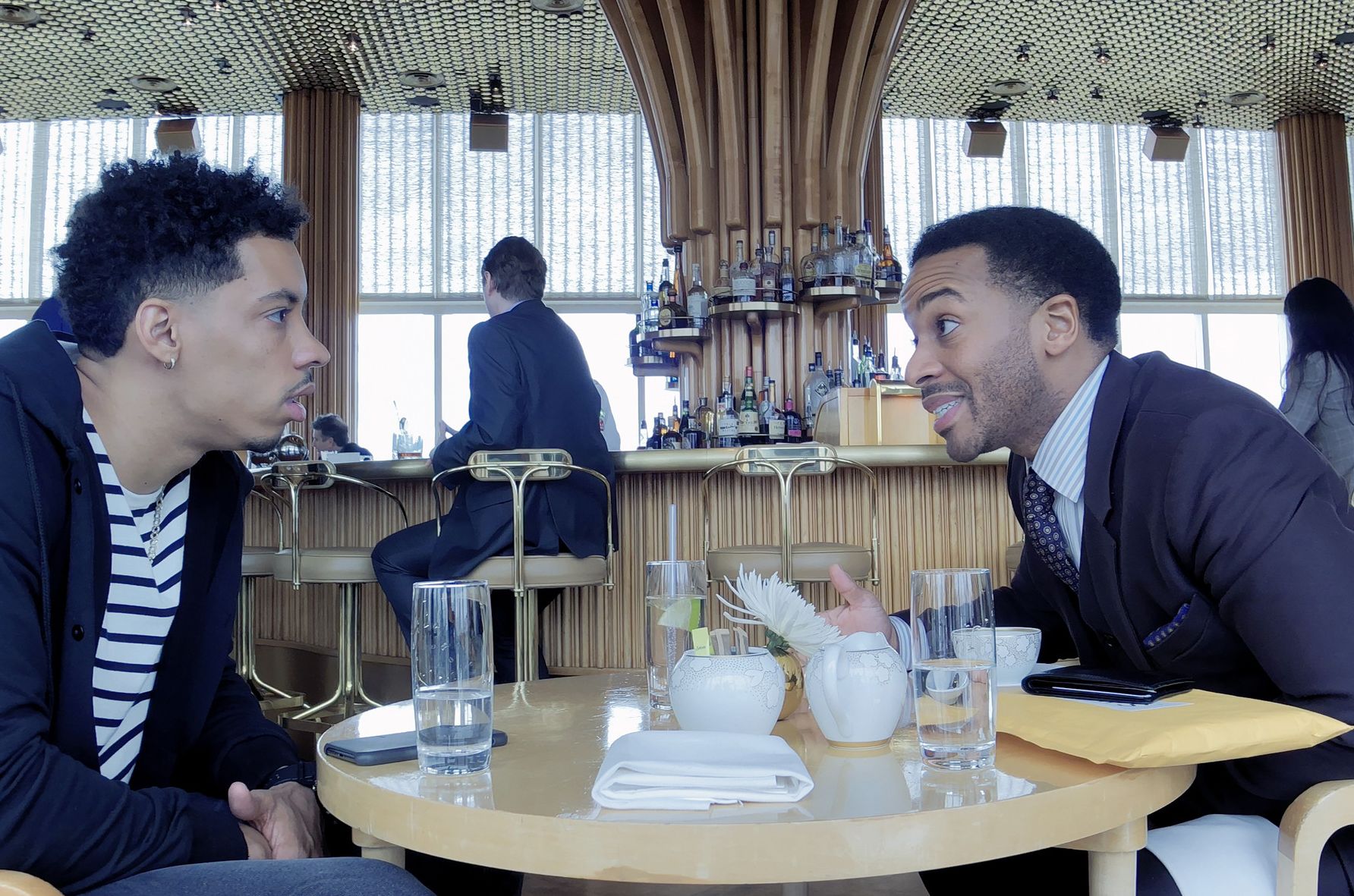 'High Flying Bird' review

DelaliBessa Critic Steven Soderbergh's 'High Flying Bird', produced by Netflix, is among other things a politically charged heist movie. Yes, on the surface it's a sports drama about the minutia of an NBA lockout and how an agent and a prized client navigate their way through it, but we are working with an incredibly smart and layered screenplay here. Soderbergh and writer Tarell Alvin McCraney prod at ideas having to do with the commodification of sports talent, player agency and the capitalist system that is forced to taste its blood for the first time.
The last real-life NBA lockout was in July 2011 – a couple of months after I started following the NBA religiously. The Dallas Mavericks were about to sweep the Lakers and I jumped on the bandwagon that would eventually reach the promised land. As a long time fan of football, the idea of an entire league shutting down over an impasse between Players Association and owners was alien to me. But I soon came to understand power NBA players could wield, a power Soderbergh tries to harness in his challenge of the status quo.
'High Flying Bird' engages in the kind of polemics one would expect from say Spike Lee. The sports agent at the centre of this film, Ray Burke (André Holland) and his machinations are almost certainly a surrogate of Soderbergh; akin to the way Jon Favreau all but plays himself in 'Chef'. Seemingly a step ahead of the game, the months-long lockout gifts Ray an avenue to give the world a glimpse of what it would look like to tear down the status quo of NBA team owners who treat their players like cogs in a gargantuan money-making machine or build another one with the potential to cast a liberating shadow.
Ray's scheming comes at some risk to himself and a client, a rookie Erick Scott (Melvin Gregg). Erick, a number one draft pick, doesn't have the luxury of the financial cushion superstars in the league have. Though he is deployed as much more than a cautionary tale, when we first meet Erick, he is reckoning with bad choices that stemmed from his financial instability and vulnerability. He was conned into taking a high-interest loan and Ray duly chides him for it.
But Ray's pockets are also starting to hurt as revenue from his agency has dipped significantly. No commissions to take from NBA players who aren't getting cheques. Though he doesn't expect the lockout to drag on forever because the team owners still know what brings in the big bucks, Ray still feels the need to act and ironically takes a cue from the team owners' playbook and uses Erick like a pawn; first starting twitter beef with a rival player that culminates in a one-on-one game that goes viral online and has team owners shaking in their private jets and the like.
'High Flying Bird' isn't scared to be on the nose. It even goes meta and reads like a manifesto of Netflix itself, which Ray uses in a cunning power play in service of empowering the NBA player and redefining their agency. He believes the players should be running the league 100 percent. It isn't lost on us that Soderbergh, one of the great directors of the last two decades is engaging in his own power play, one that of aligns with Netflix and other streaming companies' agendas.
Just like some of us have warmed to the idea of player power, we are probably weeks away from a Netflix film winning the best picture Oscar – unthinkable when 'Beast of No Nation' was released in 2015. The streaming service has also had open arms for filmmakers who may be salty and tired of the suffocating studio system.
The ideas at swirling around in 'High Flying Bird' are so enamoring it's easy to forget they exist within the context of a narrative. There were plot inconsistencies as the film wound up even though there is some sort of explanation as to why the film doesn't go all out for the W over capitalism. Instead of feeling incredibly radical, it feels like what I noted in my opening line – a heist. Not meant to be slight, 'High Flying Bird' was still much more than I was expecting in what is probably the best sports film of the decade and Soderbergh's best work since maybe 'Contagion'.
There is a Sorkin vibe to the kinetic tempo of the film such that it feels like a 90-minute sermon from your favorite pastor. Holland is perfect here; a magnetic screen presence who meshes seamlessly with the waves of slick dialogue thrown his way. The effervescent Zazie Beetz flourishes as his savvy and ambitious assistant who is using the lockout as stepping stone to her goals. The cast list surprises with meaty roles for Bill Duke as Ray's sagely mentor and Sonja Sohn (from The Wire) who is the director of the Players Association.
I guess because Soderbergh notably shot this film on an iPhone my eyes were peeled for whatever visual intricacies lay in store. He doesn't disappoint, delivering assured stylish shots that break rules, making a stagey dialogue-driven film more cinematic. He cuts across defined axes multiple times. He favours these high angle shots of his characters at times. He also employs intimate symmetrical close-ups a dolly away from channeling Spike Lee.
The plot will be difficult to follow for some. The sudden emergence of flashbacks and subtle exposition in the final act are a tacit admission of this. For Soderbergh, I think the resolution was of little consequence. It was about sending a message; a message about the power of passion and liberation. There is an urgency dotted through the film, that teeters on desperation when one Harry Edwards' name pops up. At that point, I was really asking myself what at all got into Soderbergh.
-