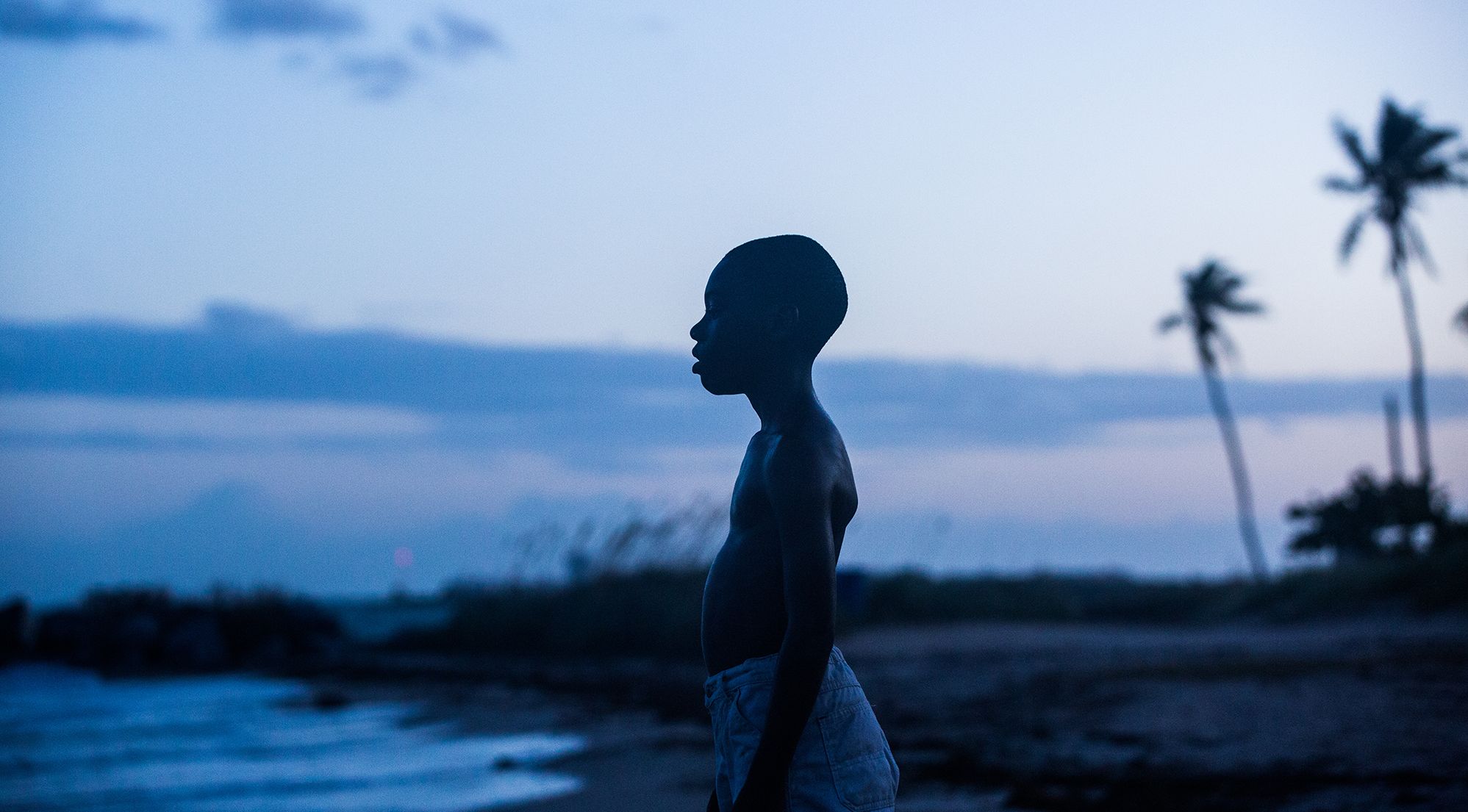 Moonlight

DelaliBessa Critic It truly has been a while since a decision to immerse myself in a piece of cinema came with the reward of an emotionally overwhelming experience. Bless you Moonlight, bless you Barry Jenkins for your masterful and beautiful humanist approach to your characters, for chucking away the surface and reaching for the crux of your subjects with soothing poetic finesse unperturbed the joys or heartbreak that lie beneath.
In Moonlight, we find a compelling confluence of weighty ideas approached in the way you would write an essay about someone you have watched and empathised with for years. This person elicits compelling paragraphs on a longing for family, the tie-in of homosexuality and masculinity in the African American context and the painful shackles society can slap on one. These are themes mostly alien to me but Jenkins navigates this story with such depth and conviction you never doubt the rich experience this film provides.
Moonlight is divided into three time periods titled in reference to the various monikers of our protagonist, Chiron. The three parts - "Little," "Chiron" and "Black" – follow Chiron from childhood through to his teen years and then finally adulthood. Through these sections various themes are in play as the iterations Chiron come to terms with whatever life throws at them – some good, some bad, always complex and requiring some delicacy from our director and he duly obliges mostly going the route of simplicity to affirm the moments laden with emotion.
The first time we see Chiron, as a child (Alex R. Hibbert), then referred to as Little, he is being hounded by some relentless bullies. He eventually finds some refuge in some abandoned apartments and maybe much more. A local drug dealer finds, Juan (Mahershala Ali) finds Little and takes him out for lunch and later takes him to his home where we meet his girl, Teresa (Janelle Monáe). When Juan eventually takes Little home, we begin to build a picture of Little's family – no father, a mother, a nurse, who appears to be working her ass off and she is understandably apprehensive of Juan.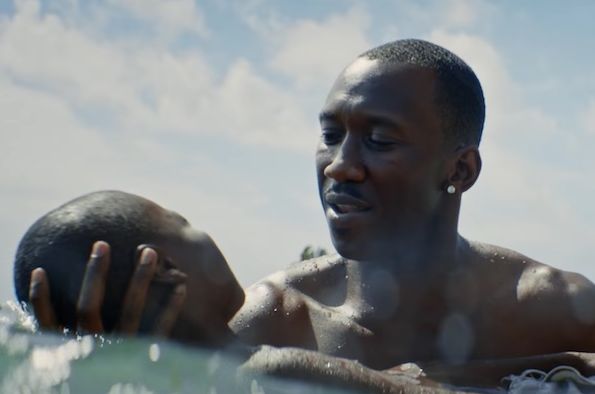 This is Jenkin's first notice we should be focusing more on what lies beneath the surface, between the lines. As it turns out, Little's mother, Paula (Naomie Harris) is an addict, one of Juan's customers. Juan has since become a bit of a father figure to Little despite the young child default reticent cadence. We are gifted with that beautiful scene at the beach, constructed almost like a baptism, as Juan teaches Little how to swim. It's a joyous moment for Juan who likes having a child under his wing. But the complexities of Juan's path in life will come to bear in a painful scene capping of a showing of immense dexterity from Ali. Jenkins does not look beyond the fact Juan's drugs are perhaps the reason Little needs another source of warmth in the first place.
The film then moves forward in time to Chiron as a teenager (Ashton Sanders) where we spend a chunk of time in the high school setting. The bullying hasn't stopped as he is attacked for his queerness which is now more definite. The most striking thing for me is how aware Chiron is of how alone he is. This is captured in the shot of Chiron in the school hallways after class, filmed over the shoulders and through gaps of moving students as our protagonist cowers in fear, lost, following threats from bullies. There is a palpable despair permeating through the screen as Chiron's spirit is crushed by the fear and abuse. His home life has worsened with his mom in full crack head mode. The only relief he seems to get is from Teresa who is still in his life. But we look in Chiron's eyes and we see an unwillingness to meet her warmth.
The Chiron we proceed to meet as a grown-up in the final part has developed into a strapping hunk of a man – a far cry from the skinny casualty of life at its brutal best we left in a high school classroom. There is a remarkable consistency with how Chiron develops as the character, now called Black, (played by Trevante Rhodes) feels like the logical next step. He appears to have conformed to the box his aggressive setting has been forcing him into given he is now the portrait of masculinity the bullies that tormented him would respect. There is a subtle juxtaposition with Juan given Black has gone down a similar path in life, but Juan always seemed ready to give off a piece of himself, to open up. Black, however, has everything bottled up and this becomes apparent as the film reaches is denouement.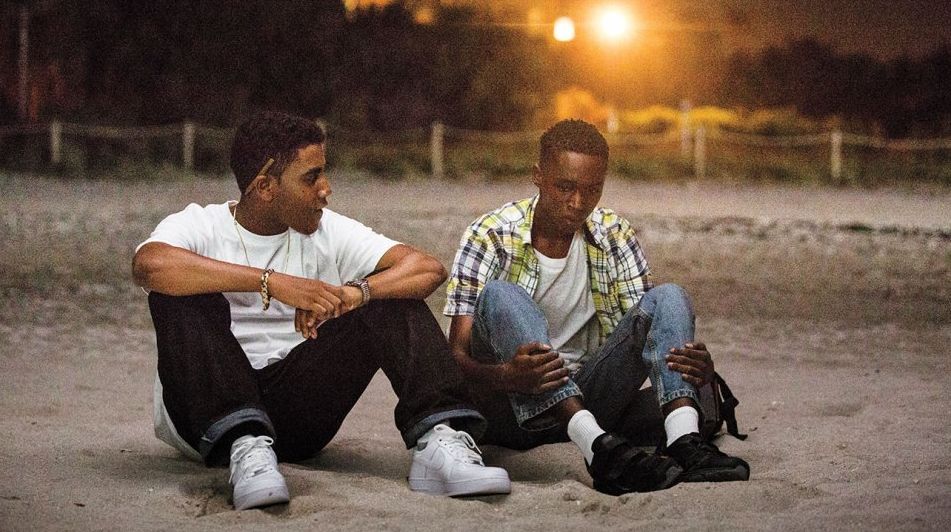 Moonlight connected with me most on the spectrum expressing oneself. The Little incarnation of Chiron is a flowerbed overcome with weeds brought on by the neglect from home and community. Juan and Teresa's tenderness gives us a glimpse of Chiron's real and beautiful self. Its okay to be gay but don't let anyone call you a faggot, he is told. There are two other deep scenes of note; one that has Little wrestling with his friend, Kevin and another that just has Little dancing his heart out in school during a dance class. It is the freest we ever see him and it evoked Billy Elliot in the way something like dance can provide some catharsis.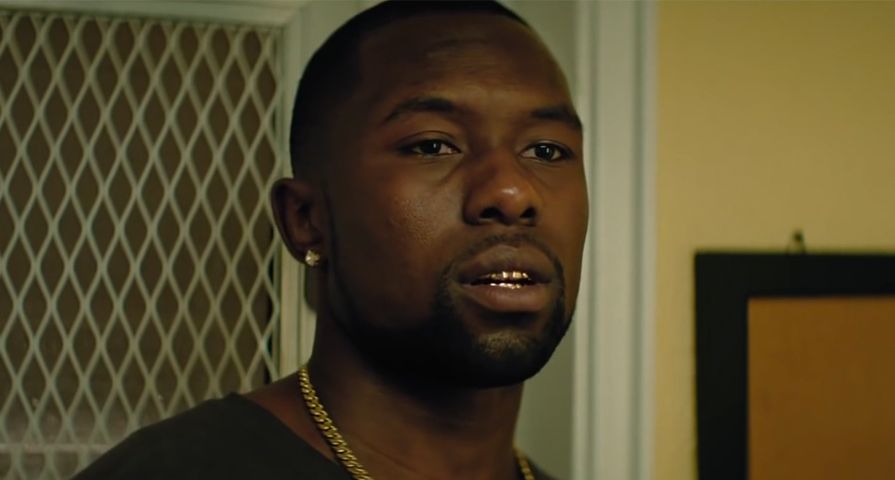 The teenage years are rough on this flowerbed and as the third act is being ushered in, the cork on Chiron's true self is firmly in place. Our protagonist decides to go the way of violence and aggression to mask his identity following some heartbreak involving Kevin. The Chiron of the first 60 minutes of this film is relegated to a bad dream for Black. But Moonlight embraces some form of romanticism as the adult Kevin (André Holland) reaches out to Black one night. Jenkins has too much affection for his characters to ignore sentiment. This coming-of-age cum love story creeps on you in the way you realise how profound Kevin as a character becomes.
When the resolution came around, I was in no doubt I was watching, if not one of the best films of the last decade, at the very least one of the finest crafted scenes in that period. Its all about how Jenkins harnesses silence, getting the characters to speak with their eyes, the glorious use of music to convey emotions words can do little justice to. It's a moment of unrefined intimacy, compassion, of healing. It's as if Jenkins tells us this is how beautiful and peaceful the world could be, regardless of circumstance, if you just let go. There was a shame that followed discomfort of having such earnest moments pull at my heartstrings when the surface faded away and yeah, there were tears.
The acting is superb all round, affecting and subtle at its best but not averse to more showy moments a la Harris' strong outing. I've never seen so many men onscreen unafraid to show emotion in the most tender of ways. It is okay, Jenkins seems to say. Let your guard down. Moonlight, in its own small way, is a challenge to men and a critique, indictments even, of the society that prescribes what masculinity is. It is a challenge I won't be forgetting anytime soon.
-
By: Delali Adogla-Bessa/delalibessa@yahoo.com/Ghana