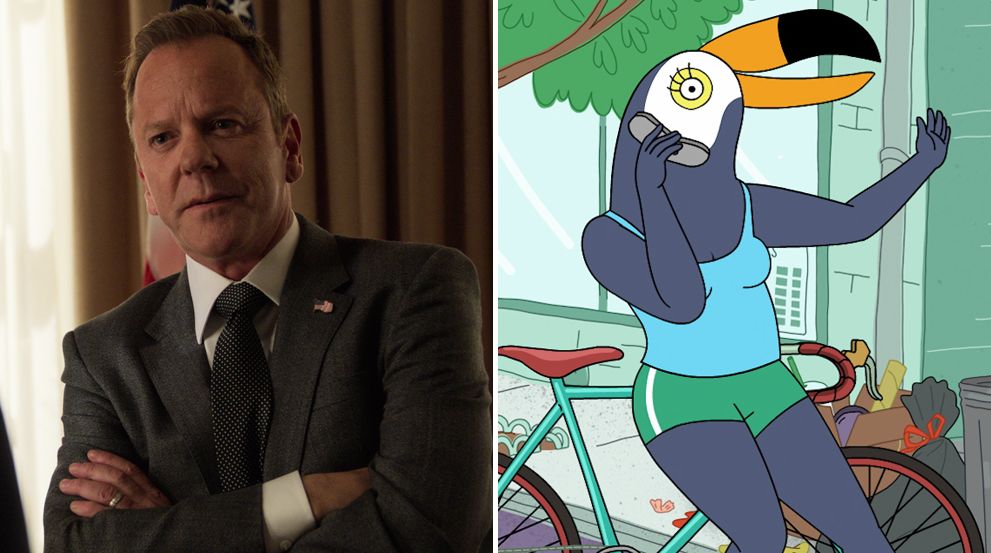 Netflix Cancels 'Designated Survivor' and 'Tuca and Bertie'

ZachPerilstein Disney Reporter It seems like Netflix is canceling more and more of its original content.
Today, Netflix canceled Designated Survivor which stars Kiefer Sutherland as President Tom Kirkman. The series originally began at ABC, and the first season followed the storyline of Kirkman being a low-level cabinet member who is selected to be the designated survivor during the State of the Union address. When the unthinkable disaster strikes the Capitol, Kirkman becomes the President of the United States of America.
The series was originally canceled at ABC after its second season. It was a shocking cancellation. Netflix picked up the show for a third season.
"We are proud to have offered fans a third season of 'Designated Survivor,' and will continue to carry all three seasons for years to come," said Netflix in a statement. "We're especially thankful to star and executive producer Kiefer Sutherland, who brought passion, dedication and an unforgettable performance as President Kirkman. We're also grateful to showrunner/executive producer Neal Bear for his guiding vision and steady hand, creator/executive producer David Guggenheim and EPs Mark Gordon, Suzan Bymel, Simon Kinberg, Aditya Sood and Peter Noah along with the cast and crew who crafted a compelling and satisfying final season."
Now, let's take apart those final words, "who crafted a compelling and satisfying final season." As someone who watched Designated Survivor from the beginning, this is so far from the truth. You ended the series with an obvious cliffhanger, and the story wasn't satisfying at all. The show tried to be edgy and it failed. It's obvious the show got low viewership on Netflix. Which is surprising since it was okay rating wise during its time at ABC. Maybe viewers of the ABC version were confused by the shows new feel which included odd twists (even odder than some of the twists in season two) and unnecessary edginess. Netflix obviously saw the writing on the wall and axed the show. This is obviously a failure on Netflix's part considering when they save a show from network television it usually goes on for at least a couple more seasons.
The other show canceled by Netflix today is Tuca and Bertie. The show just premiered this May. The Tornante Company, who also does BoJack Horseman, owned by former Disney CEO Michael Eisner is one of the production companies behind the show.
The animated series starred Tiffany Haddish and Ali Wong as the two title characters, 30-year-old-bird-women. The series was created by Lisa Hanawalt. Tuca & Bertie was referred to as one of the best new shows of 2019 and received critical acclaim. The show followed a dynamic female friendship. Netflix said in a statement that "even though Tuca & Bertie won't have a second season, we're proud to feature this story on Netflix for years to come."
Designated Survivor and Tuca & Bertie are streaming on Netflix. Cultjer will report if there is any news about the canceled shows. Although, despite how much I love Kiefer Sutherland's President Tom Kirkman, I don't see his show getting saved for a second time.
Source: Variety