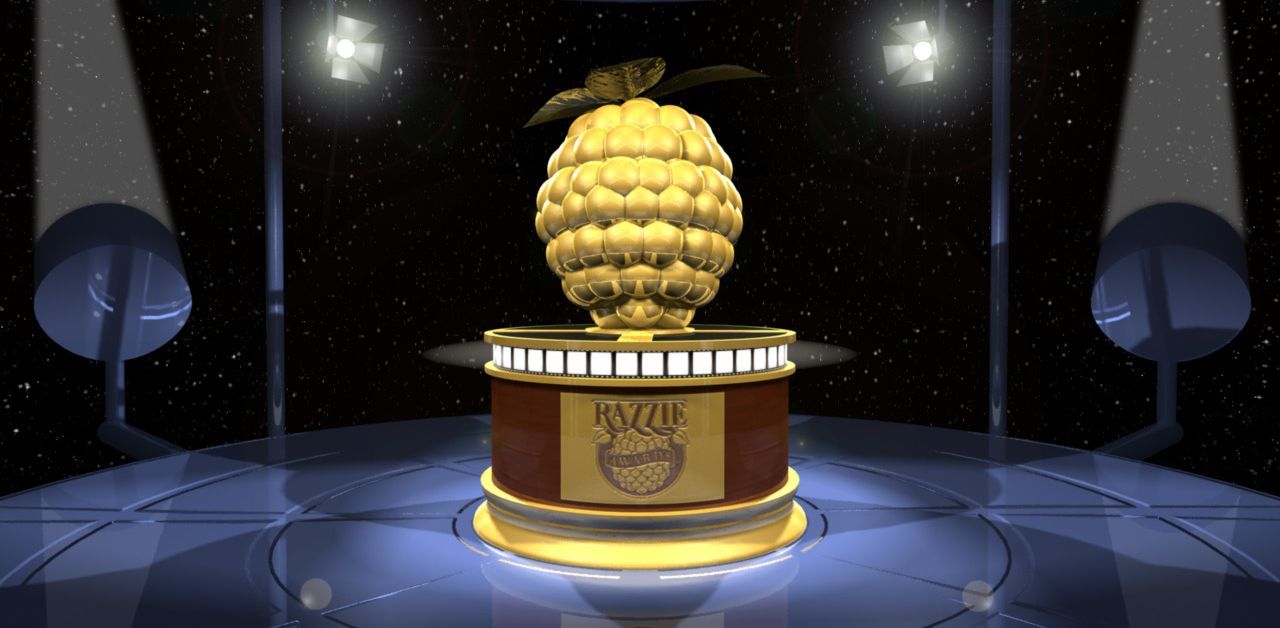 Nominations for the 35th Annual Razzie Awards Announced

JamesArthurArmstrong A few days ago we gave you the shortlist of possible Razzie nominees. Today, that shortlist has been whittled down to the lucky few with the official nominations for the 35th Annual Razzie Awards being announced.
Below is the Official Press Release from Razzie HQ announcing this years nominations;
Hollywood was not happy with box office returns for 2014, their lowest-grossing year in recent history. Despite a handful of high-grossing hits, there were way more major misses — movies based on recycled premises and re-worked concepts that were already tired a decade or more ago, the cinematic equivalent of re-treaded tires. Those are the films The Golden Raspberry Awards have annually "saluted" since 1980.
Nominees for the 35th Annual Razzie® Awards, satirizing the Worst Achievements in Film for 2014, include new names and several Repeat Offenders, returning for more pie-in-the-face/light-hearted joshing by the one Tinsel Town trophy derby no one sets out to win. And, in a new spin on the entire Razzie concept, this year launches a new category acknowledging that past nominees and "winners" can (and often do) go on to far far better things. Contenders for the inaugural Razzie Redeemer Award include Ben Affleck, Jennifer Aniston, Mike Myers, Keanu Reeves, and Kristen Stewart.
This year's Worst Picture list features a big-grossing block-buster sequel, a muscle-headed dud, a critically drubbed remake, a reboot of a long-dead franchise, — and the film currently ranked as The Worst Movie of All Time on the IMDb's Bottom 100 list. Performers up for the $4.79 gold-spray-painted trophy are a veritable Who's Who of Hollywood Royalty.
For this year's 10 regular Razzie categories, contenders and "winners" are determined by seeking online votes from 757 G.R.A.F. Members throughout 47 U.S. states and 19 foreign countries. For the 11th, new category, The Razzie Redeemer Award, the winner will be determined by a public vote by users at the popular movie review website Rotten Tomatoes.com. "Winners" in all categories will be announced on the now traditional date of "Oscar Eve", at 8pm on Saturday February 21 at the Montalban Theatre in Hollywood.
The Razzies were created in 1980 as the comical counterpoint to Tinsel Town's annual glut of self-congratulatory awards by John Wilson, author of The Official Razzie Movie Guide and Everything I Know I Learned At The Movies.
35th Annual Golden Raspberry (RAZZIE) Awards Nominees
WORST PICTURE
• Kirk Cameron's Saving Christmas
WORST ACTOR
• Nicolas Cage (Left Behind)
WORST ACTRESS
• Drew Barrymore (Blended)
THE RAZZIE REDEEMER AWARD (New Category)
• Ben Affleck (From Razzie winner for Gigli to Oscar darling for Argo & Gone Girl)
WORST SUPPORTING ACTRESS
• Cameron Diaz (Annie)
WORST SUPPORTING ACTOR
• Mel Gibson (Expendables 3)
WORST DIRECTOR
• Michael Bay (Transformers: Age of Extinction)
WORST SCREEN COMBO
• Any Two Robots, Actors or Robotic Actors in Transformers: Age of Extinction
worst screenplay
• Kirk Cameron's Saving Christmas
WORST REMAKE, RIP-OFF OR SEQUEL
• Annie