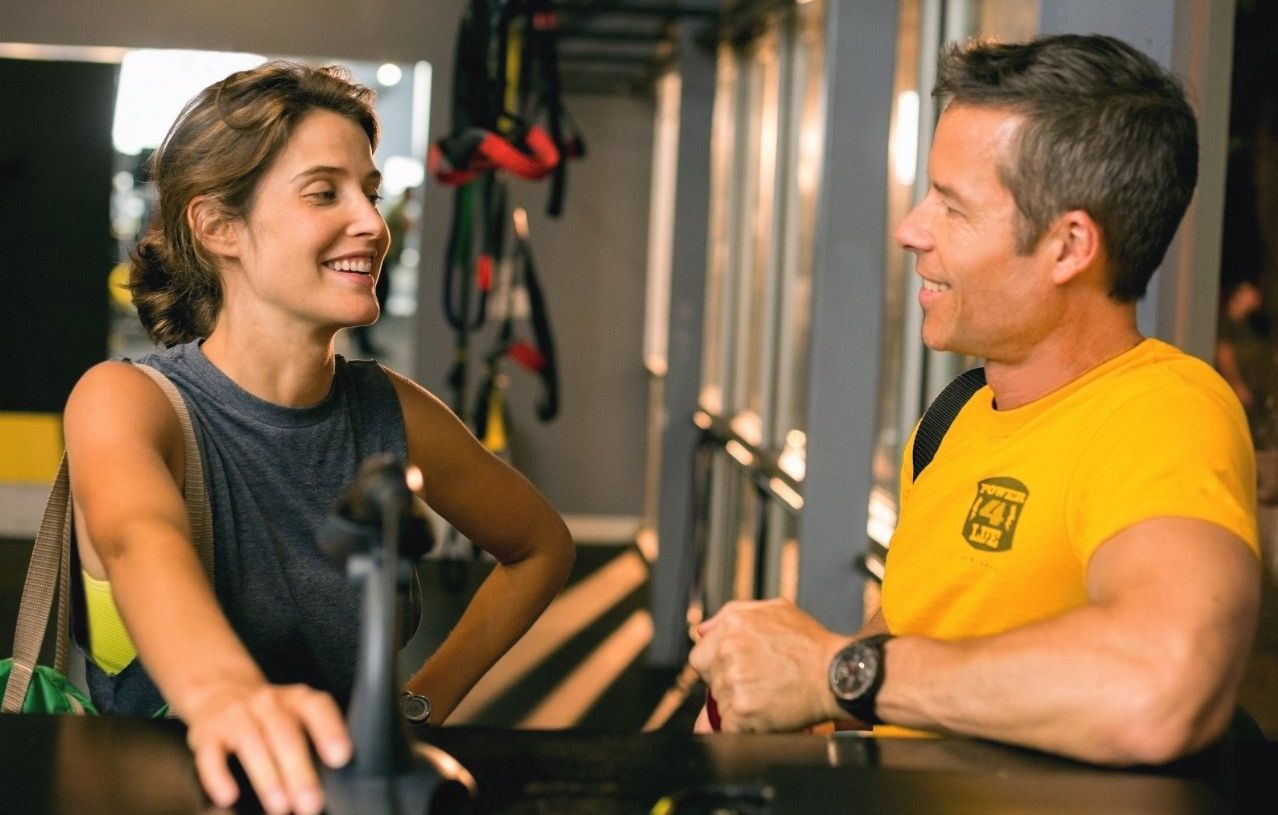 'Results' is a Pleasant and Enjoyable Look at the Popular Pass Time

JamesArthurArmstrong Andrew Bujalski (Computer Chess) returned to Sundance last January with Results, a romantic comedy set in the world of fitness trainers that examines the relationship between money and happiness.
Newly-rich, recently-divorced, perpetually schlubby Danny (Kevin Corrigan) decides to change his life by visiting a local gym, but unwittingly and inextricably becomes entangled in the low-simmering romance between fitness guru Trevor (Guy Pearce) and trainer Kat (Cobie Smulders).
a step into the mainstream
A story told after its screening at Sundance involved Bujalksi revealing that Smulders, who looks lean and taut physically in the movie, had been four months pregnant when filming. Bujalksi panicked when first informed but declared no problems occurred during the shoot. It's a testament to Smulders that she managed to complete the film without any mishaps regarding the strain it must've put on her body. However, she never allowed it hampen her performance. She plays a picky, short-tempered trainer but doesn't make her detestable and never condescends. Although, certain characterisations needed a little more tender, love and care within the script, they come together handsomely in a nicely rounded narrative. Guy Pearce, who was a former body builder and plays a posturing guru, gives enough of the macho silliness that is common place in gymnasiums the world over without ever overplaying it.
Bujalski, who will likely forever be known as the "Godfather of Mumblecore," has made a surprisingly mainstream romantic comedy, a juncture not many — including myself — thought he would ever venture down. Nonetheless, Results is a pleasant and entertaining look at an increasingly popular pass time. Even if Bujalksi has decided to go down the mainstream route, he still holds his roots as a Mumblecore director close: naturalistic dialogue is prominent, and a reluctance to invest in plotting or overthinking. On the other hand, Results is a distinctly different visual approach from Bujalski's computer programming chess movie. Yet, it still works within the palette range that Bujalksi paints his tales from.