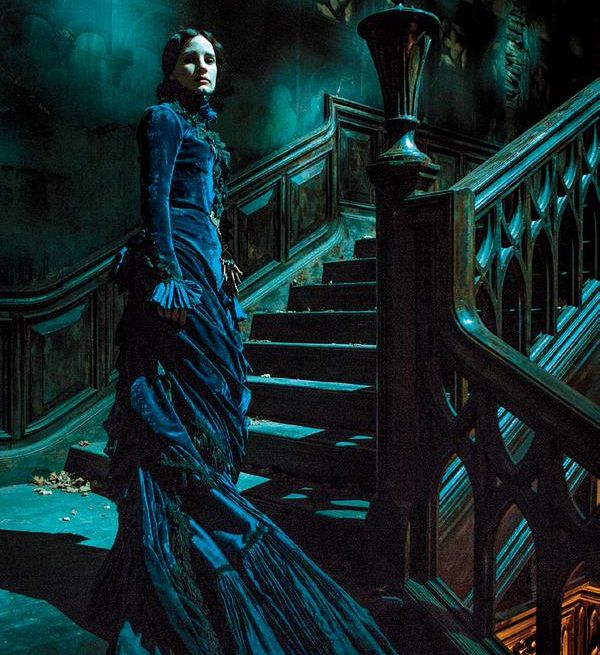 REVIEW: Crimson Peak

filmgob This review contains spoilers! - YouTube.com/FilmGob
In the aftermath of a family tragedy, an aspiring author is torn between love for her childhood friend and the temptation of a mysterious outsider. Trying to escape the ghosts of her past, she is swept away to a house that breathes, bleeds... and remembers.
Director Guillermo Del Toro returns with an interesting cast for Crimson Peak, his passion project, that certainly delivers on visuals and atmosphere. There are ghosts, macabre horror and jumps scares, but this is more tragic romance than anything else. Allerdale Hall, home of the Sharpe siblings, is a character in it's own right. A swirling staircase, narrow hallways, creaking floors, an exposed roof, courtyard machinery, and an elevator shaft that is central to the plot. The rooms are covered in darkness with lamps and fireplaces illuminating the dark, brownish green walls and furniture.
Unfortunately the story just isn't that interesting, beneath those luscious visuals, it doesn't really go anywhere. It's as if Del Toro and his writing partner thought of every gothic horror cliche, throwing them all into a script that perhaps was written in a day. Ir's not a grind to get through however, everything moves at a decent pace, the tone is tightly consistent throughout and the plot is easy to follow, and maybe that's what lets it down. Plenty of promise but nothing challenging for the viewer. Also, the excellent musical score featured in the trailer is nowhere to be heard in the film!
The characters, wether by accident or intent, come across a little dopey. Mia Wasikowska plays Edith Cushing, a wanna-be writer haunted by her dead mother who has warned her since she was a child, "Beware of Crimson Peak!" She falls for British aristocrat Sir Thomas Sharpe (Tom Hiddleston), and after the death of her father, moves in with Thomas and his sister Lucille (Jessica Chastain). Behind Edith's back, the brother and sister plan to swindle her out of her fortune. Turns out she isn't the first wife Thomas has tried to kill with poisoned tea, under the instructions of Lucille.
Charlie Hunnam plays the childhood friend to Edith, but he comes and goes without much presence. Hiddleston, although dashing as always, fails to give any life to his character. It's only Chastain and the third act that save this film, her anger exploding during a brilliant sequence of bloody stabbings and the chasing of Edith around the gothic mansion before the finale in the foggy, white snow and red clay covered courtyard.
Interestingly, Crimson Peak will divide the audience into loving or hating it, much like another recent Del Toro project, Pacific Rim. For me it edges itself into a positive score with memorable visuals albeit a predictable direction. So, "Beware Crimson Peak", as it may not be exactly what you hoped for...