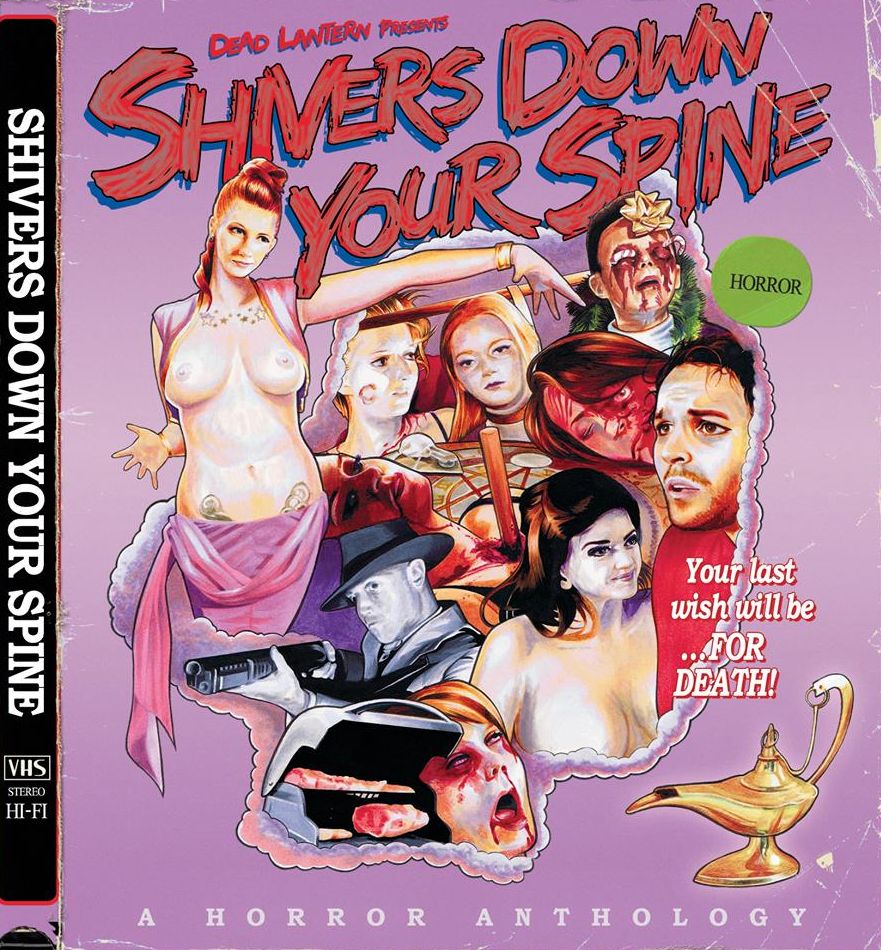 Review: Shivers Down Your Spine

FreddyMorris Shivers Down Your Spine is a 125 minute horror-comedy anthology feature film cobbled together from three previously released short films (plus seven new shorts) from Dead Lantern Pictures. Directed by Mathew Kister and written by several contributing writers including Tony Crumpton, Lisa Kovanda, and Chuck Mittan, the feature is clearly a labor of love. The shorts were created over the course of four years filming in Kister's home state of Nebraska. Nine shorts are interwoven by a tenth titled "Out of the Lamp." In this wraparound tale, Jeff (played by Steve Eaton) goes to retrieve a freshly microwaved frozen pizza only to find an oil lamp that has magically appeared in its place. Jeff rubs the lamp, and voila! Out pops a topless genie named Sabihah (portrayed by Megan Shepherd). In the opening sequence, the joke is that Jeff is offended by Sabihah's immodesty, but his delivery comes off mean spirited. Once this bumpy introduction and the standard genie agreement is laid out for the audience, much in the style of Arabian Nights, Jeff wishes for Sabihah to tell him a series of horror stories. When we return to Jeff and Sabihah between the shorts, Jeff will often break the fourth wall and address the audience directly. Jeff makes some self-effacing jokes about the quality of the shorts included in the feature. I appreciated this as a viewer. In the realm of micro-budget horror films, if the filmmaker is not a miracle worker or a rare genius, it's nice to know that they're in on the jokes and don't take their project so seriously.
By 2015 standards, any film made for less than $25,000 is considered a "micro budget" film. Per the filmmaker, Shivers Down Your Spine was made for $750. My phone cost more than the budget for this film. That said, Kister and company made good use of the money. Often the old indie filmmaker adage about keeping your ambition in check when working on a low or micro budget project squashes cash poor filmmakers' creativity. This attitude frequently leads to a slew of bargain basement slasher and backyard zombie films. Shivers is neither or these. It has many clever moments, lots of style and competent filmmaking techniques are on display throughout. The humor is often crass or juvenile, so the film isn't for everyone but the teen and young at heart crowd will enjoy it.As Jules Winnfeld said to Vincent Vega in Pulp Fiction, "Personality goes a long way." Shivers Down Your Spine has tons of personality. The fun that the filmmakers had making it shows onscreen and this sense of fun obliges the viewer to forgive the more amateurish elements. Horror-comedies don't lend themselves to a 90+ minute runtime, so Shivers Down Your Spine would have benefited from some cuts; however, it was a fun and memorable film. I can see myself revisiting some of the shorts individually, but I don't necessarily recommend it as a feature film. Highlights include the performances of Eric Moyer and Michelle Schrage as a quirky couple in "Birthday Dinner" and the faux 80s VHS style and comic and bizarre performances in "A Christmas Horror Story" (not to be confused with another recent feature length anthology film with the same title).
Review Source: notlp.com/blog
From the press release:
SHIVERS DOWN YOUR SPINE – Dead Lantern Pictures
PRAIRIE LIGHTS FILM FESTIVAL: October 16, 2015
ON DISC: October 23, 24, and 25, 2015 at Minneapolis Crypticon (at the company's booth)
DIRECTED BY: Mathew KisterCAST: Jenny Chambers, Genevieve Schmidt, Tina Schmidt, Dailen Cowden, Christina Olson, Mark Popejoy, Will Griffey, Jazmyne Van Houten, Jim Brodhagen, Cody McDowell, Chianna, Julia Farrell, Steve Eaton, Megan Shepherd, Danielle Brookshire, Kevin Casey, Rose Johnson, Ali Aguilar, T.J. Roe, Eric Moyer, Michelle Schrage, Kevin Casey, Jesse Hapke, Taylor Melone.
SYNOPSIS: All Jeff wanted was a frozen pizza. What he got instead was a delivery…of terror! Jeff is just an average dude with average needs and tonight all he wants is a piping hot microwave pizza. But when he nukes his pepperoni pie, he ends up biting off more than he can chew. Instead of his dinner, he discovers a mysterious lamp, home to to the voluptuous primeval temptress, Sabiah, who offers him three wishes. Rather than fame and fortune, Jeff demands to be told tales of terror and he's about to find out that sometimes the most horrific thing you can get…is exactly what you wished for. Ten terrifying tales each more demented than the last unfold over the course of one nail-biting night as Sabiah says "open sesame" to theDarkest caverns of your soul. These ten macabre tales will give you…..SHIVERS DOWN YOUR SPINE!"
GENRE: Horror, Comedy
RUNTIME: 124 minutes
RATING: Not rated
DISTRIBUTOR: TBD