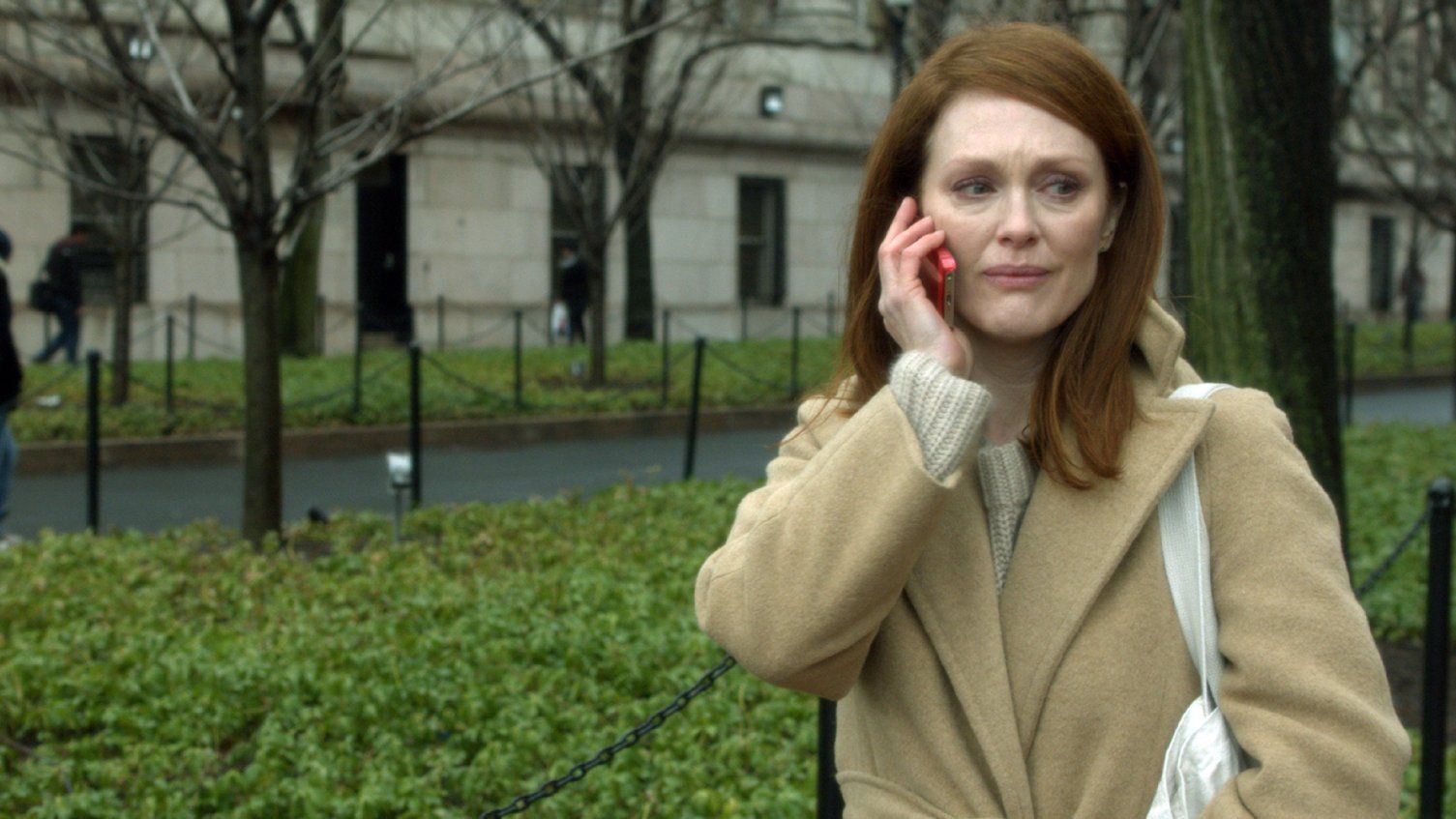 Still Alice depicts a woman being stripped of her identity in heartbreaking fashion

JamesArthurArmstrong Using sympathy and tenderness for its characters, Still Alice tells the story of a happily married linguistics professor with three grown children who begins to forget words, leading to her being diagnosed with a rare form of early onset Alzheimer's disease.
it's the simplest of things she forgets
Alice Howard (Julianne Moore) enjoys her life in New York City. She has achieved a lot so far in her career and relishes lecturing at Columbia University. She has a loving marriage with John (Alec Baldwin), that is still blossoming. Her daughter Anna (Kate Bosworth) is expecting twins; her son Tom (Hunter Parrish) is trying to find love after the break-up of a relationship; and her youngest and most rebellious child, Lydia (Kristen Stewart), is an aspiring actress who floats between New York and Los Angles looking for work.
Soon after her fortieth birthday, Alice begins experiencing memory loss symptoms. It's the simple things she forgets; words, phrases. She gets lost during her daily jog and has to search for a recipe for bread pudding online— something she has cooked dozens of times. Alice sees a neurologist who asks her to remember an address that he'll ask for later on in the consultation. When asked to give the address she'd been told minutes before, she claims to have been distracted, subsequently forgetting the address. It's then the doctor refers her for a MRI scan, which confirms the hypothesis of Alzheimer's disease.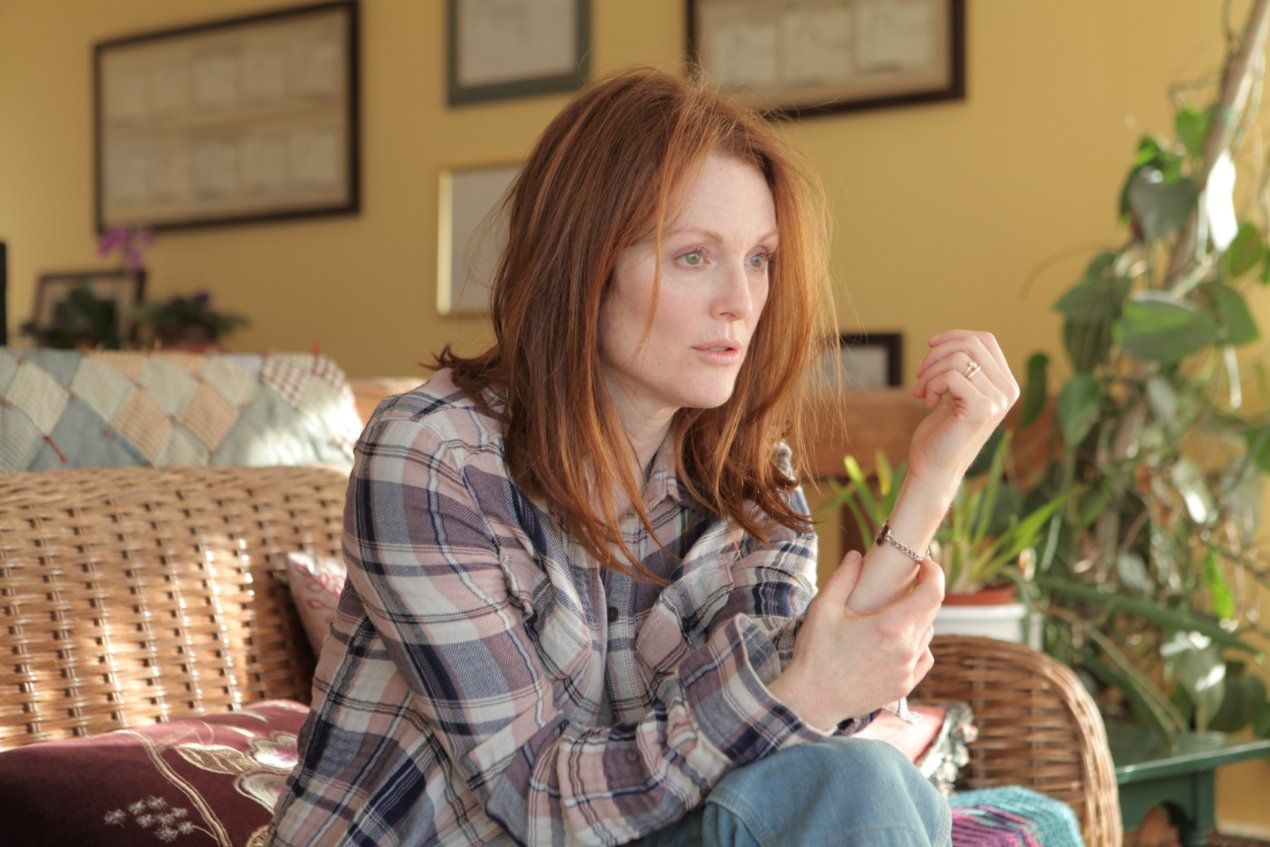 a heartbreaking tale
In Alice's case, it's a rare familial version of the disease that occurs at an early age and can be passed on to her children. Her illness rapidly takes control of her life and relations become strained. She tries to refresh her memory by listing things and using her phones alarm which has been linked to a list of questions. But the illness is taking a cruel grip on her.
Directors Richard Glatzer and Wash Westmoreland have created a heartbreaking tale, that has the courage to simply observe the devastation of the disease. Alzheimer's is very ruthless and can lead to the destruction of a family very quickly. Thankfully, Alice has a strong family base around her, but it goes without saying their emotions are strained immensely.
Julianne Moore's performance here is carefully controlled, as it must be. Alice's interaction between a previously recorded video of herself makes for the movies most unsettling moment. Whilst she is still able, Alice records a video explaining where a bottle of pills are in the house. If she reaches the point of enough is enough, she should take the pills, lay down on the bed, and go to sleep. Alone in the house and watching the video continually, grows a tension and discomfort within the viewer. The movie ends with an incredibly moving scene between Alice and her daughter, Lydia. Lydia has returned to live with her parents and help her father look after Alice who has deteriorated so far, she loses the ability to utter words.
There has been a lot of talk regarding Moore and winning awards for this portrayal, and I would go along with those predictions. Moore gives an extraordinary realism to this look on a formidable disease. Her approach to this role is undeniably moving and full of emotional drive. Although the narrative structure is fairly straightforward, its depiction of a woman stripped of her identity is far from being forthright.