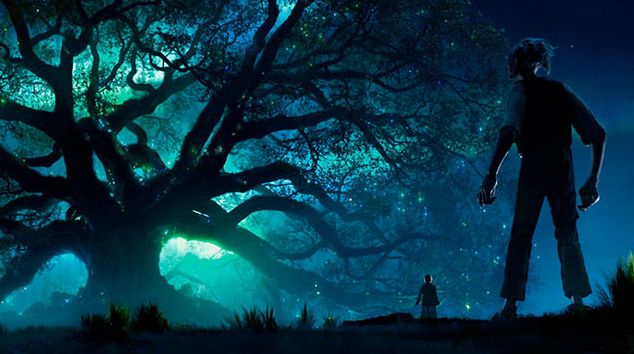 The BFG

DelaliBessa Critic How does the man who showcased the absolute horrors of war in Saving Private Ryan also provide a warm sweet marvel in E.T.? That is a question I like to ask of Stephen Spielberg, a question that comes up watching his latest offering – The BFG. The simple answer is he is a great filmmaker who never lost touch of the child in him and boldly calls on that part with ease. We don't get a lot of outright kid's movies these days (outside animated offerings) so a film with this tone and sentiment from a great filmmaker is welcome.
Adapted from a Roald Dahl children's story, The BFG sees the titular character played by Mark Rylance who appears to be making that kind of breakout akin to Christoph Waltz's in the late 2000s. Rylance is enlarged flawlessly with motion capture technology so much so that a little squint of the eyes would have you believe a giant had been brought in to star in this production. The level of detail on his facial expressions, the creases by his eyes and on his forehead, his smile – quite outstanding in how it conveyed Ryalance's real life features.
Rylance here is the definition of the gentle giant, the conduit to the charm and sweetness this film wields so effectively. But he wouldn't be half has effective without co-lead, Ruby Barnhill who plays the young orphan, Sophie. When we first meet Sophie, we gather she is the type that struggles to fit in. She wanders the orphanage at night scampering around like an inquisitive mouse and one night, on evening rounds brought on by her insomnia, she looks out a window to see the BFG doing his thing on the dark deserted streets of London. But of course she wasn't supposed to.
In a moment of apparent panic, the BFG reaches into the room through the open window and grabs a stupefied Sophie then proceeds to sprint beyond the length of the British Isles, interspaced with some ingenious camouflage manoeuvres, all the way beyond even Wales through a cloudlike vortex to his homeland of Giant Country. It is remarkably graceful sprint but it is also played as quite the frightening experience for Sophie who is cradled by the giant in his sack. Despite the seemingly traumatic introduction, a rewarding friendship for both audiences and the central characters beckons.
We soon find ourselves in the BFG's improvised den and when cool heads ensue after a lot of bickering between the two, the BFG with his jumbled diction and Sophie with her quips, we come to learn the two have quite a lot in common. They are both lonely, unaware of parentage and misfits in their world. Sophie is the troublesome orphan and the BFG is the runt of Giant Country. We never see much of Sophie's day-to-day but she talks about her mean matron and being locked in a dark cellar as punishment. For the BFG though, we do see him being bullied by the other, much bigger giants.
There is a tenderness to the way the BFG relates to Sophie captured by the way he handles her glasses, on a number of occasions. In a way, he is her first real parent but also her first real friend. He teaches her the importance of dreams through his vocation of dream catching but isn't beyond the reality of the dangers of Giant Country to their relationship. Their relationship is enhanced by Spielberg's decision to employ reasonably long takes during their conversations that range from his monotonous vegan cuisine to the stories the BFG garners from trees.
As the film unravels, Sophie urges the BFG to stand up to the other giants who are disgusted by, among other things, the fact he doesn't eat humans and instead settles for mainly the locally grown "snozzcumbers". They even treat him like an NFL ball at one point just for their sheer amusement. The giants however do worse things to humans, children, as we come to find out when we learn of the fate of the BFG's first child friend. Our central duo are alas put on the brink when one of the giants chances on Sophie's quilt ramping up the suspicion to 11.
This is quickly downplayed by Sophie's attempt to get the Queen of England and the SAS involved in a bizarrely dull stretch that had me thinking I was watching a dream sequence that was a too heavy handed making it look like it wanted to force a happy ending on audiences. The happy ending does come and it's just fine. Maybe this is me taking this film denouement for granted or being salty I never read The BFG as a child. Nevertheless, the joys of this film reside in experiencing a new world and seeing a bond develop beyond BFG and Sophie – a bond that captures a certain sadness but triumphs with hope.
I reckon the film is designed to reflect even the minutest details Dahl provides in his novel. You can tell by the way Spielberg's camera carefully surveys, for instance, the BFG's cave. Scenes are staged to give us a feel of this new world like when we have Sophie moving from wooden beams to window lentils in search of an escape route early on. There is the ship that serves as the BFG's makeshift bed rocking on an indoor moat and then there's gross details of the snozzecumber which has this icky grubby innard which is viscerally enhanced when Sophie conspires to find herself cocooned in one.
I don't see many films like The BFG these days – a charming, witty fantasy which is unapologetically gunning for a happy ending. There isn't much story here but there is an experience to savour in the relationship of Sophie and the BFG along with the alluring visuals and technical detail which are impeccable and crucial to meeting the expectations of imagination.