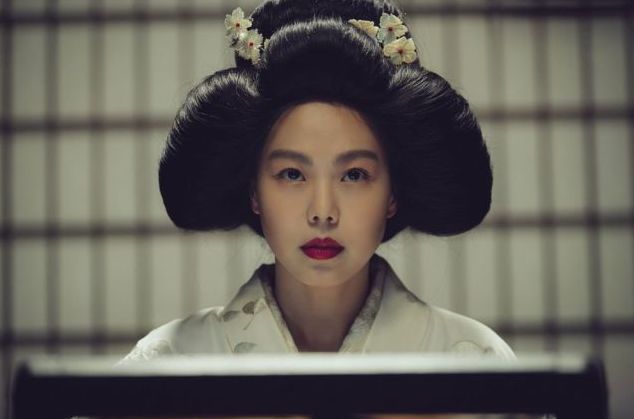 The Handmaiden: Director's Cut

LisaOConnor4 It is the 1930s and life is fairly predictable for Koreans, labouring under Japanese colonial rule. When young Sook-Hee (Tae-ri Kim), a poor Korean orphan girl on the cusp of adulthood, is chosen by 'Count' Fujiwara (Jung-woo Ha) to be a handmaiden to the rich Japanese heiress Lady Hideko (Min-hee Kim), also in the first bloom of womanhood, she has little choice. She is overwhelmed by the difference betwen her new abode and that of her previous home in a Korean version of Fagin's den. But her new assignment is more complicated than merely buttoning up her lady's dresses and accompanying her on woodland walks and painting lessons. Secretly, she is part of a plot, hatched by Fujiwara, to betray the heiress and elicit her fortune.
Exquisite Beauty
Filmed in Japan and South Korea, watching 'The Handmaiden' is a bit like walking through an art gallery. With perfect choices of location, positions of characters and colours reflecting the intended mood of each scene (sometimes clean and bright; sometimes heavy and dark), the piece has a rich, stylised feel. Deserved credit to director Chan-wook Park (also screenwriter) but cinematographer Chung-hoon Chung too, for bringing Park's vision to life with exquisite beauty. Many a scene is worthy of being labelled the best, but for me it has to be one of the final scenes of revenge, full of passion, with bird's eye shots of the avenging act involving beautiful (yet symbolic of evil) books, with a delectable soundtrack that although incongruous with the anger displayed, affirms the righteousness of the avengers' actions.
Unexpected Intelligence
The film is in three parts. Part I ticks all the storytelling boxes and as an audience, one feels confident with the story's journey, making usual predictions as to how the intended outcome will play out. But the climax of Part I will probably fly in the face of your predictions and whet your appetite for Part II, which has an unexpected intelligence. You will pin all your hopes on Part III; after some shocking revelations earlier on and thanks to some excellent characterisation, you cannot fail to become attached to key characters who deserve a change in luck.
Twists and Turns
Tae-ri Kim gives us a scruffy but pretty pauper. You will pity her poor luck but feel uncomfortable with her moral code when she reveals the more devious side to her persona. Min-hee Kim is, as she states as her character, 'as cold as waterfowl' as Hideko. But, like Sook-Hee, Hideko has more than one facet to her personality and as the plot twists and turns, so does Min-hee Kim engage the audience with Hideko's hidden depths. Much is required of the girls' relationship as actors and they both rise to the challenge, convincing in their changing emotions in each others' company. Ha is every bit the smarmy conman Fujiwara, just as Jin-woong Jo is every bit the questionable Uncle (Kouzuki).
Myriad of Themes
Inspired by Sarah Waters' 'Fingersmith', this is indisputably an erotic thriller. But it has more to offer than classy sex scenes. It sweeps past a myriad of themes: colonial rule, Far Eastern culture, abuse, deceit, arranged marriages, revenge, sexuality and class divide for example. But it is also an epic tale that will spellbind you and keep you fascinated right up until the final moments, as you lose track of your favourites and dare to hope for a favourable outcome for the underdogs. With a backdrop of delicate music that dictates your sentiment for each scene, with some surprises, 'The Handmaiden' is an experience that appeals to the senses, with great success.