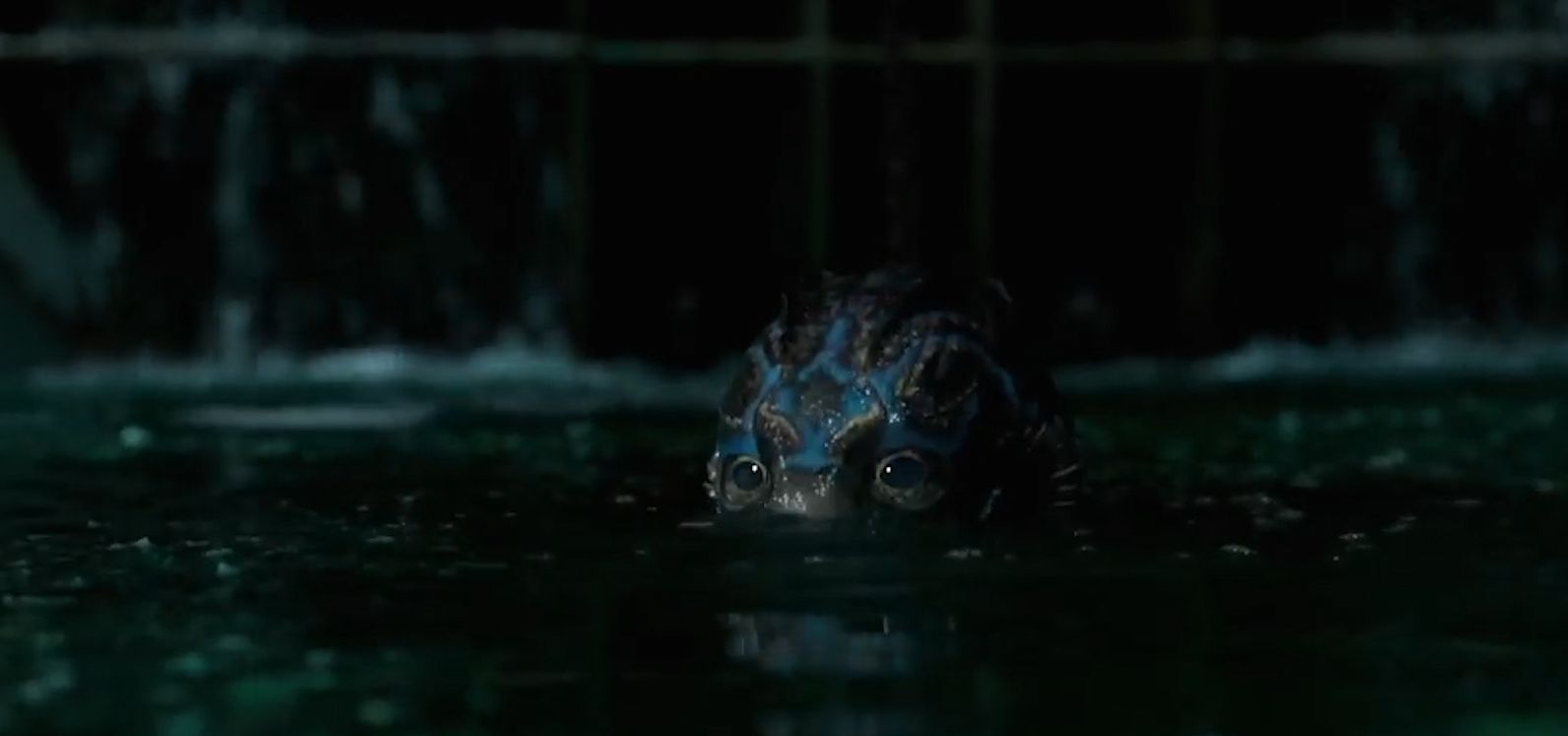 'The Shape of Water' review

DelaliBessa Critic A sour trace of disappointment lingered after seeing Guillermo del Toro's latest film, 'The Shape of Water'. After months of consuming short bursts of adulation, leading to me constructing my own fanciful masterpiece in my head, a possible spiritual sequel to del Toro's own 'Pan's Labyrinth', the slow realization that 'The Shape of Water' was just good, not great, hit me like whiplash. When I saw 'Pan's Labyrinth' for the first time years ago, I understood what Pauline Kael meant by 'I lost it at the movies'. Del Toro's 2006 masterclass in magical realism was entrancing and heartfelt, but also a grim and terrifying feat of cinematic poetry that spoke to certain truths about myself the more times I saw it and the older I got. But for the 'The Shape of Water', to paraphrase Jay-Z, it's alright but it's not real.
What did I learn from the 'The Shape of Water'? For one, I now understand people who hate on Martin Scorsese's 'The Departed', one of my all-time favourite films. Scorsese picked up the Oscar for best director for his unhinged 2006 crime drama, which was ultimately a lifetime achievement award. While del Toro has some two decades of filmmaking left in him, he is probably going to pick up the "Best Director" Oscar for 2017 for a film which, like 'The Departed', at times feels a little recycled. Certain elements of 'The Shape of Water', the way themes unravelled and characters were constructed, reach into del Toro's back catalogue, culminating in a film that feels fleetingly unoriginal. But this point feels a little disingenuous given I was holding up the film's mute heroine, Elisa Esposito (Sally Hawkins) as a grown-up Ofelia/Princess Moena. The aquatic creature at the heart of the story's conflict, played by Doug Jones and Michael Shannon's main baddie channel characters we have also seen charm and revile in del Toro's hands.
For those who have not been tainted by the hype and expectations, it's safest to approach the 'The Shape of Water' as a simple fairy tale. 'Beauty and the Beast' is the obvious comparison. Even the way the characters interact and the ultimate strides towards humanist sensibilities align this film with the most heartfelt of Disney Classics. But there is a very adult contrast to this fairy tale and our director tries to angle audiences to the tone of the film early on. It takes only four minutes for us to get uncomfortably intimate with Elisa. She is played with infinite sweetness and tenderness by Hawkins. Those bright beady eyes and inviting smile are our general introduction to a character searching for fulfilment all though she doesn't know it yet. She lives alone, works as a cleaner at a secret government laboratory amid the Cold War in the 60s and has a few trustworthy friends. Being a mute, Elisa's closest friends are understandably chatterboxes; her neighbour Giles (Richard Jenkins), and Zelda, Elisa's co-worker at the government facility.
All seems well and Elisa is a picture of contentment and adorable bliss the first time we see her ride the bus to work as Alexandre Desplat's soothing score fills the air. This brings us to this aquatic creature (Jones) credited as Amphibian Man. Elisa and Zelda are cleaning a tactile dreary looking chamber in the facility when the creature is brought in from a South American river under the watchful eye of the sadistic Colonel Richard Strickland (Shannon). He views the creature as an abomination to God and brutalises it with his trusty cattle prod. The military views the creature as a potential game-changer in the Cold War. For Elisa, her encounter with the creature reveals to us a layer of loneliness and a longing for wholesomeness. Like the way we Christians regard Jesus, Elisa finds her worth, her perfection and some purpose when she connects with the Amphibian Man. And rather preposterously, she finds true vivacious amorous love via the magic of music and boiled eggs.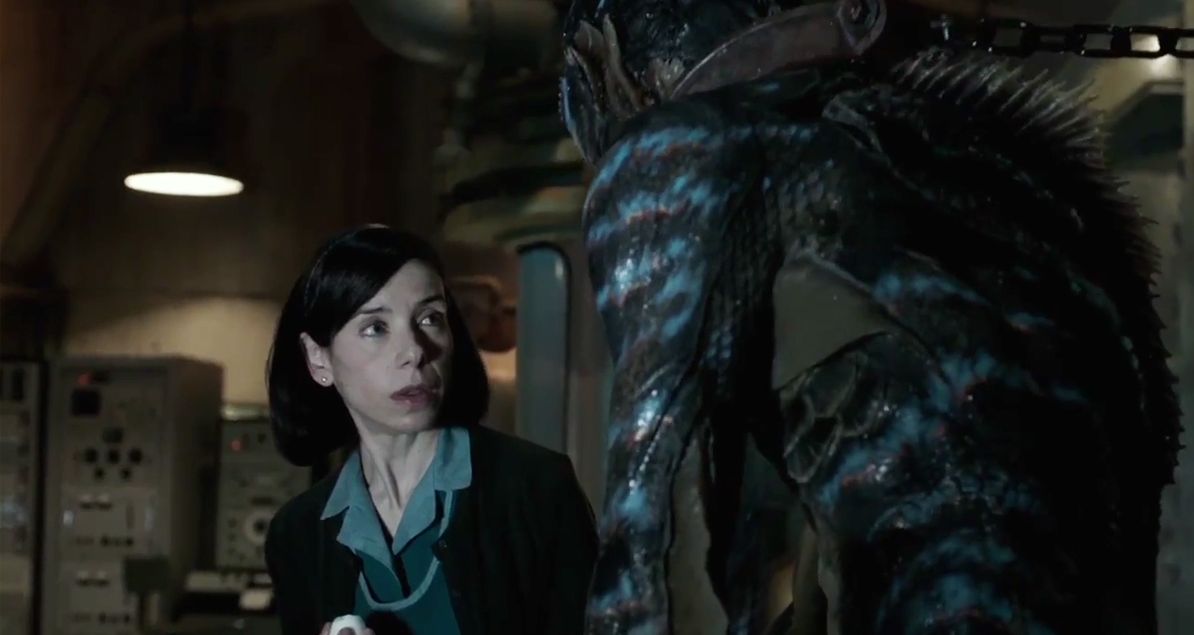 Elisa's process of bonding with this creature plays like a rhyme from the annals of cinema. 'Ex Machina' and King Kong readily come to mind. For some reason, I was also bizarrely thinking about Black Widow and the Hulk. But none of these films pushes the limits of the monster-human bond and sprint towards romance in what is a misstep for 'The Shape of Water' at least execution-wise. There just wasn't enough humanity from the creature side of things to warrant a full-blown romance, however blissful it was. I've seen actors be able to exude a certain bodily nuance through prosthetics or suits in a deeply affecting way. Jeff Goldblum's superb outing in David Cronenberg's 'The Fly' is a prime example, another film helmed by an auteur with an affinity for monsters. Doug Jones has been very good in the past as a man-in-a-suit for del Toro but I think a lot more was required make the amphibian man more than a bland pity object, matching the insurmountable depths of Elisa. The lack of investment means I just look at them and start thinking about bestiality jokes.
I understand del Toro idiosyncrasies are in full force here, looking for something striking and something pure. He is making a statement about conventional definitions of love and hate. Sit down and stare till it becomes normal, he seems to tell us. It never does, but I understood del Toro's point. He wins me over in spurts, with moments like the dreamy black and white dance sequence or that striking wide shot of the amphibian man, in an empty cinema theatre, arrested by the biblical epic onscreen.
The more consistently brilliant character in 'The Shape of Water' is Elisa's neighbour Giles. He's a closeted gay man crushing on this young man that works at a diner that serves horrible pie. He exists on a more relatable melancholic spectrum than Elisa and lives in a painful existential purgatory because of his sexuality and his skill set as a painter, which is overshadowed by photography. At one point in the film, where he encounters his latest disappointment, he is simply told it's not a good time. It's never been a good time for Giles, and like he puts it: "Sometimes I think either born too early or too late for this life."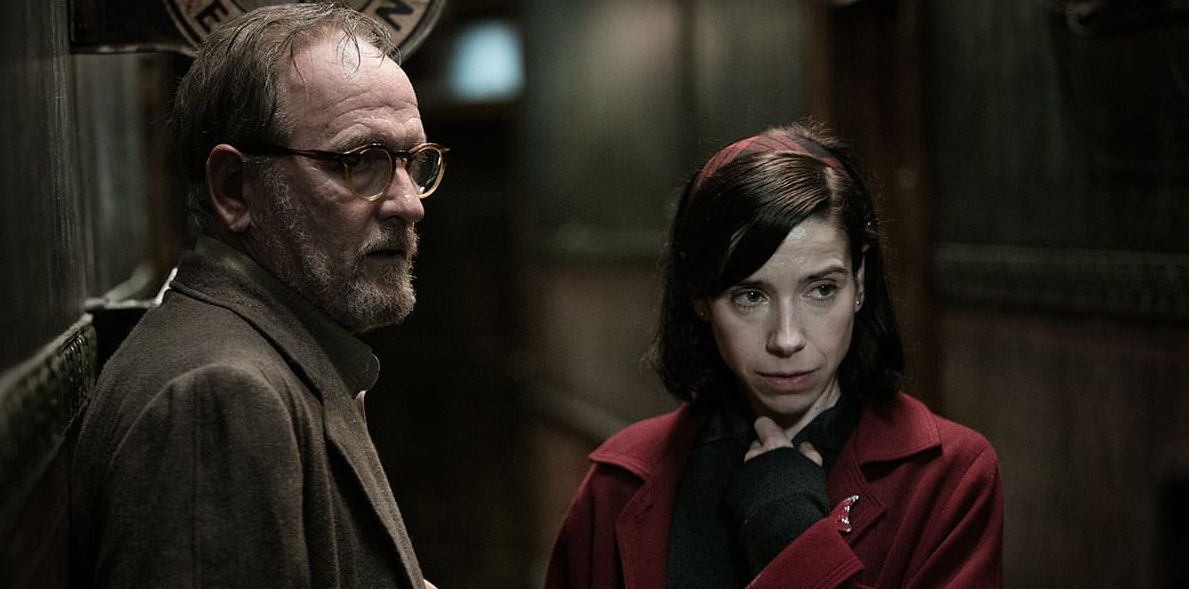 Giles' arch packs a punch. At times he feels like the comic relief cum sidekick (a mark Spencer's Zelda never really rises above) but Jenkins makes Giles' insecurities both charming and painful, and watching him realise he will have to fight for the world with infinite compassion and empathy he desires is such a joy to watch and a truly earnest beat of humanity. Elisa and the creature never feel important enough to serve as a conduit of del Toro's message. Maybe our director was unaware he was making a fairy tale. That's not to say his approach can't work. There is a clear line between fantasy and harrowing reality in 'Pan's Labyrinth'. More importantly, there is also a fine balance that keeps that delicately woven narrative together. 'The Shape of Water' becomes less and less compelling the closer it gets to its denouement because, like all fairy tales, love will prevail and stakes become meaningless despite attempts at ambiguity to hold this story together.
But to have served up any other version of this film, however more coherent, would have been a betrayal of del Toro's own self, I imagine. The passion he brings to this project is evident in the character detail and every masterfully constructed frame. The immaculate production design is basically a time machine and the cinematography works indescribable magic with the colour green. He also seems to be having a bit of fun with the way he mocks white-American masculinity and ideals with the way he handles the borderline psychotic Strickland, who is another marker of how well 'The Shape of Water' will play as an interesting companion piece with 'Pans Labyrinth'.
'The Shape of Water' is flawed and not the uniform masterpiece it is being made out to be. It, however, aims true and is without the slightest hint of compromise. The passion is palpable and I will always respect such devotion to vision, given the incredibly cynical terrain of the business of film. An artist has laid bare his soul to us to reveal a clunky and uneven machine of empathy and misgivings aside, it's an experience worth cherishing.
-
delalibessa@yahoo.com/Ghana