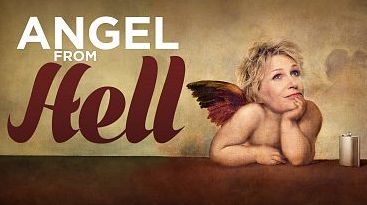 Angel from Hell - The weird friend we all need

Ritapirouette Most of us grew up with the conscience of Hell and Heaven, that bad people go to Hell and good people go to Heaven. Easy, effective right? Well and in Heaven there are angels, guardian angles as our parents called them, bound by their duty of watching over us but what if your guardian angel disrupts your normal life by entering it? Well that happened to Doctor Allison (Maggie Lawson).
Allison had what seemed to be all she needed, a house, a dad and brother that loved her, a job as a doctor and a boyfriend that was not very bright in the upstairs - I mean the brain. But Amy (Jane Lynch), her guardian angel had a different perspective of Allison's life and she wanted to help so, she brakes one of the most sacred rules, she introduces herself to her protege. Allison doesn't want to believe angels exist, as every normal and sane human wouldn't but after Amy opens her eyes to the affair her boyfriend was having with her best friend, she pondered the possibility of what Amy was saying be true.
The show aired January 7 2016 pulling a 1.6 rating among adults 18-49 and 8 million viewers. Even though the ratings are not very promising, the show is a great fantasy sitcom show for an half-hour relax time on the couch.
Every Thursday on CBS.