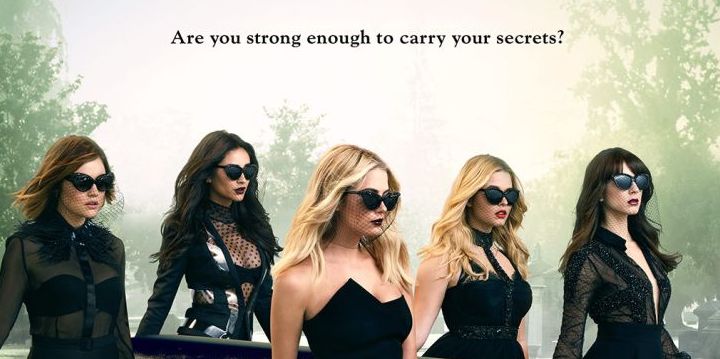 Pretty Little Liars - New season, new episodes, new A

Ritapirouette PLL, a teen drama mystery-thriller, ended season 6A in August with the reveal of "A", and since then the future of the TV show has been indecisive.
Since the last episode most of our questions were answered, mainly who "A" was - I'm still not sure I like Charlotte to be "A" - but it seemed the story was over, finito. But, during our waiting time for PLL to share news about the future we find out that more two seasons were added and according to the cast, with a new view of the series as they grow up (finally).
In this new season 6B, with the new antagonist, the story is set 5 years into the future, after "A", where the girls try to deal with a new free life, PTSD and unresolved feelings.
Alison Dillaurentis (Sasha Pieterse) calls Aria (Lucy Hale), Hanna (Ashley Benson), Spencer (Troian Bellissario) and Emily (Shay Mitchell) to testify in favor of Charlotte's (Vanessa Ray) on her court hearing. While some are nervous to go back to Rosewood, the place of so much torture, friendship is stronger than anything so the group reunites once again but not everything is friendly nice, since a new enemy surfaces, preventing them from leaving town, and a murder in their hands. Now it's life or death.
In the six years this show is on, we have seen a lot of trouble, mystery, lies, relationships build and crumble and now, I'm worried there's nothing more to amaze the loyal audience they have. Don't get me wrong, I'm a huge fan of PLL but will this new season be good? we will have to wait and see.
Don't miss it every Tuesday 8/7c on ABC Family now Freeform.