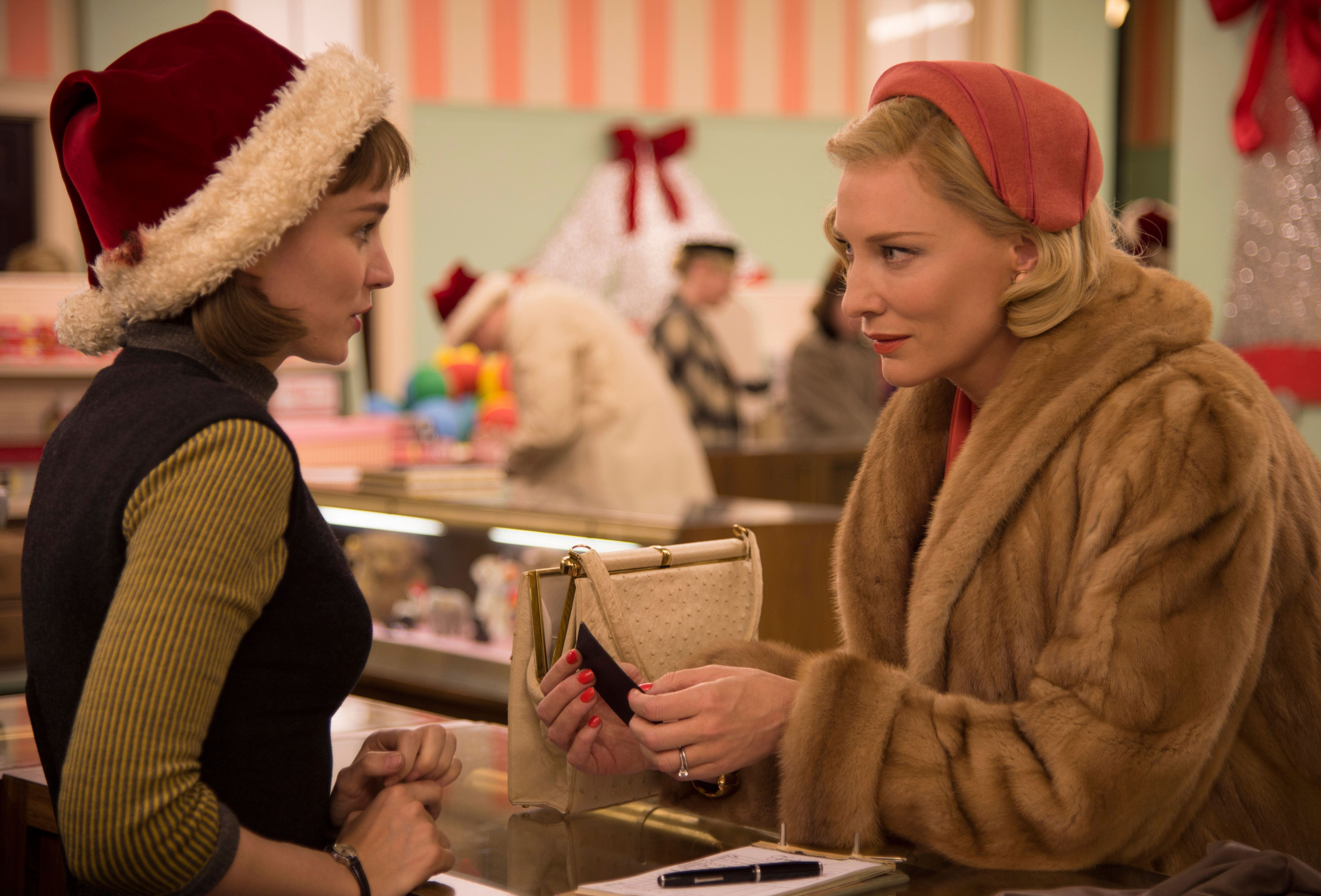 Carol. Review.

constablejake A charming and heart warming love story elevated by two powerful lead performances.
Carol is directed by Todd Haynes and stars Cate Blanchett, Rooney Mara, Sarah Poulson and Kyle Chandler. Based on the novel 'The Price of Salt', it tells the story of aspiring photographer Therese (Rooney Mara) who falls in love with Carol (Cate Blanchett), an older woman struggling through a difficult divorce.
Carol is a touching and elegant romantic drama that is deserving of every ounce of praise it has received since its release. Haynes and screenwriter Phyllis Nagy deliver a sophisticated story that transcends judgement of sexual orientation, with the focus firmly attached to our two main characters and their emotional struggle. In the wrong hands, it could have been so easy for a story such as this one to portray a heavy handed message of gender and same sex relationships, but the subject matter is handled with love and weaved into a tender and heart breaking story.
Cate Blanchett as Carol is delightful, gracefully leading each scene with her calm and gentle demeanour, and if she isn't awarded the Oscar for Best Actress in 2016 then the world is not just. Rooney Mara is equally fascinating as the sweet and naïve Therese, a young woman who tends to give in to what others want and forsakes her own wants and desires. Blanchett and Mara display astonishing chemistry with one another from start to finish as they exchange sweet yet flirtatious dialogue with absolute subtlety. Kyle Chandler also deserves high praise for his portrayal as Carol's husband, a sad yet manipulative man who is determined to take back the woman he married.
Carol moves along at a slow pace as it allows the romance between Carol and Therese the time to breathe and grow naturally. There are moments when the film slows down and you are not quite sure where the story is headed but, when this occurs, the script is given an electric shock and you are taken in a direction that you weren't expecting. The camera is more often than not fantastically placed, which gives Carol a completely unique identity, and characters almost act as decorations on the walls they are strategically placed to give the camera the freedom and license to roam.
A general audience may find Carol to be a little bit too slow at times, and certain scenes trail off and are left to the audience to decipher. Nevertheless, Carol is an outstanding film about two women giving in to what their hearts desire. Cate Blanchett and Rooney Mara are wonderful in their roles, and Oscar nominations are almost certainly heading their way, and the same should be said for Todd Haynes. The heart-warming ending will leave you feeling a tingling sensation in your heart when you leave the theatre and for a time long afterwards.
Words by Jake Constable.