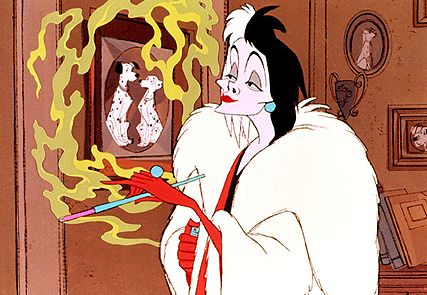 Emma Stone in Talks with Disney for Cruella de Vil Role

Ritapirouette A new live action movie now featuring Cruella de Vil - it seems know every Disney movie is coming to life.
It's known to the public that Disney has decided to bring a few animated classics to live action - like Cinderella (2015), Beauty and the Beast (2017) and Maleficent (2013) - and so the company announced another movie based on a villain, Cruella de Vil, called "Cruella".
The story is about a woman who is obsessed with capturing defenseless dalmatians and turning them into her new clothes. This classic is being given a retake of the story with a much younger Cruella de Vil living her early years.
There's not much we know about the project but already it's been announced that Emma Stone is in negotiation with Disney for the role of Cruella de Vil. No other co-stars were announced but Disney has made this movie a top priority according to The Hollywood Reporter.
No more details are known about the story but Kelly Marcel, writer of the fantastic and heartwarming movie "Saving Mr. Banks," and Aline Brosh McKenna are working on the script.

After the really good take on the tragic story of "Maleficent," and the story that made me cry in the first ten minutes of the movie (yes I'm talking about Cinderella), is this the time when Disney will run out of luck? Or will it once again bring us a story to make us feel more than hate for our villan? We will have to wait and see.
Meanwhile you can watch Emma Stone in Aloha, and in La La Land co-satring with Ryan Gosling on July 15.