'Kill Me Three Times' is a subpar action flick lacking in imagination and creativity.

AnishkaSyafrani In Kill Me Three Times, an Australian crime comedy by director Kriv Stenders, Simon Pegg plays a professional hit man Charlie Wolfe who gets stuck in a middle of revenge/murder scam. The idea is there and is pretty interesting, sadly, the films execution fails to live up to expectations.
Besides Charlie the hit man, there is a married couple, Nathan and Lucy, who are struggling with a debt problem, both played by Sullivan Stapleton and Teresa Palmer. Then we have Luke Hemsworth as the hunky mechanic Dylan, a role obviously made for Hemsworth in mind. Next is Callan Mulvey as Jack, a possessive and abusive husband, with Alice Braga playing his wife, Alice. Braga is the woman who becomes everyone's obsession in the film.
Unchallenging Motives
Jack hires Wolfe to kill his wife much to his amusement. But when he is discovering that he is not the only one who tries to kill Alice, his task is getting more complicated than it's suppose to be. From there we see the familiar narrative of infidelity between the hot male and female lead, occasional domestic violence, a murder or two, and some corrupt law enforcement. Unfortunately with so many actions going on, none of them is strong enough to hold our attention, nor is it funny enough to make us laugh.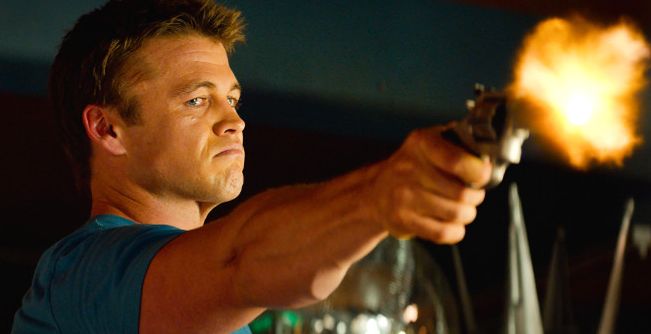 recycled tales
James Farland's script falls into a repetitive pattern that gives the cast not much room to improvise. This is unfortunate considering Pegg could do so much more with a character like Wolfe. Sure he has his moments, he is Simon Pegg after all, all charming and outgoing. But not even him can save the movie. The scene where he takes a phone call while in the middle of an execution has potential to be the best moment. However, the weak dialogue and the lousy music ruin it. These are perhaps the films most noticeable flaws: scoring and mundane conversations. Both of them are flat and terribly off-putting. Not even when Wolfe saying "When you start, there is no going back" makes us jump with excitement to watch how the story will unfold. The way Sanders delivers the script feels stilted with very few surprises. His style is uninspiring, lacking the energy to sell the films intriguing plot in the first place.
With un-relatable characters and bland, predictable comedy, Kill Me Three Times entertains only fans of Pegg who are longing to see him play a character so different from the Cornetto Trilogy. Granted, his usual swagger will make you chuckle but don't expect much else.