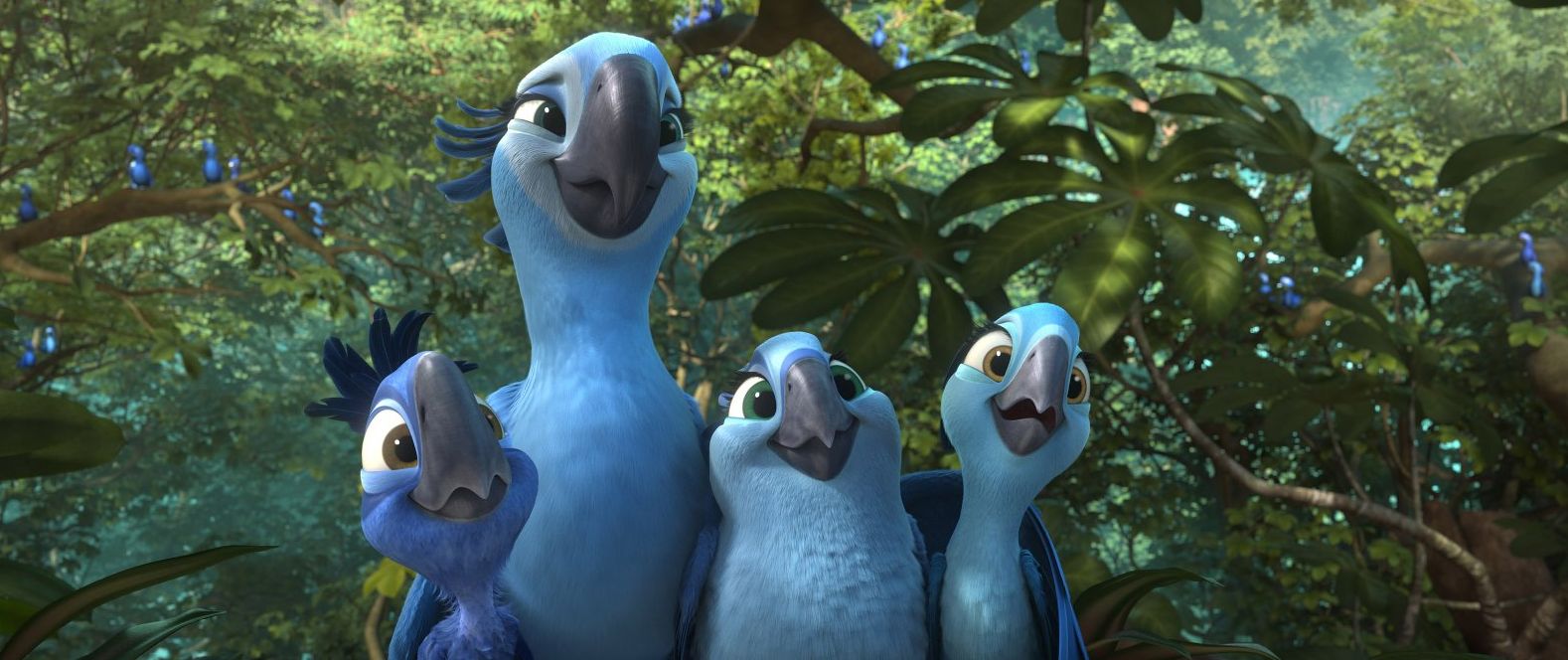 Rio 2 (2014) is visually stunning and entertaining

ElizabethBrown With the animated sequel to Rio (2011) director Carlos Saldanha has once again created fun and fancy feathers: fast moving and rhythmic music, ultra-colorful flying and dancing birds, and many humorous moments.
New Characters
Both Jesse Eisenberg (Blu) and Anne Hathaway (Jewel) return along with many of the other beloved characters from the former cast including Jemaine Clement (Nigel), Leslie Mann (Linda), Rodrigo Santoro (Tulio), Jamie Foxx (Nico), Will i Am (Pedro), George Lopez (Rafael) and Tracy Morgan (Luiz), among others. Rio 2 also welcomes a few new characters: Andy Garcia (Eduardo), Kristin Chenoweth (Gabi), and Bruno Mars (Roberto).
The Story
In Rio 2, Blu and Jewel now have three children, and their comfortable, protected bird sanctuary world is rocked when they learn that there may be more Spix's Macaws living deep within the Amazon jungle. The family embarks on a journey to find them, and the movie is off on a wacky adventure to find their fellow feathered friends. Rio 2 threads important themes such as family, teamwork, and self-acceptance throughout the plot.
The movie also brings several important social and environmental issues to light, including illegal logging in the Amazon regions. Rio 2, like Rio, continues to suggest the importance of maintaining a delicate balance between animal life, nature, and the human world. These elements are skillfully woven into the film and add additional layers of meaning to the movie without sacrificing the film's entertainment appeal.
Many Subplots
The main weakness in Rio 2 is the overabundance of subplots that tend to slow down the pace of the film. At times, it is difficult to figure out where the main conflict has gone, and thusly, the film loses some of its suspense and power. The subplots are interesting and skillfully written, however, they may overtake this film. Tightening up the plot line might have kept the film moving forward; however, the film is chocked full of conflict!
But the charming characters are what make Rio 2 memorable. The continuation of Blu's story, now that he is a family man…or rather family bird, in addition to the ever quirky Linda and Tulio and their zany antics are drawing audiences to the film. The continued growth of Blu is humorous and uplifting for family audiences everywhere. This masterfully animated film is sure to do well at the box office.