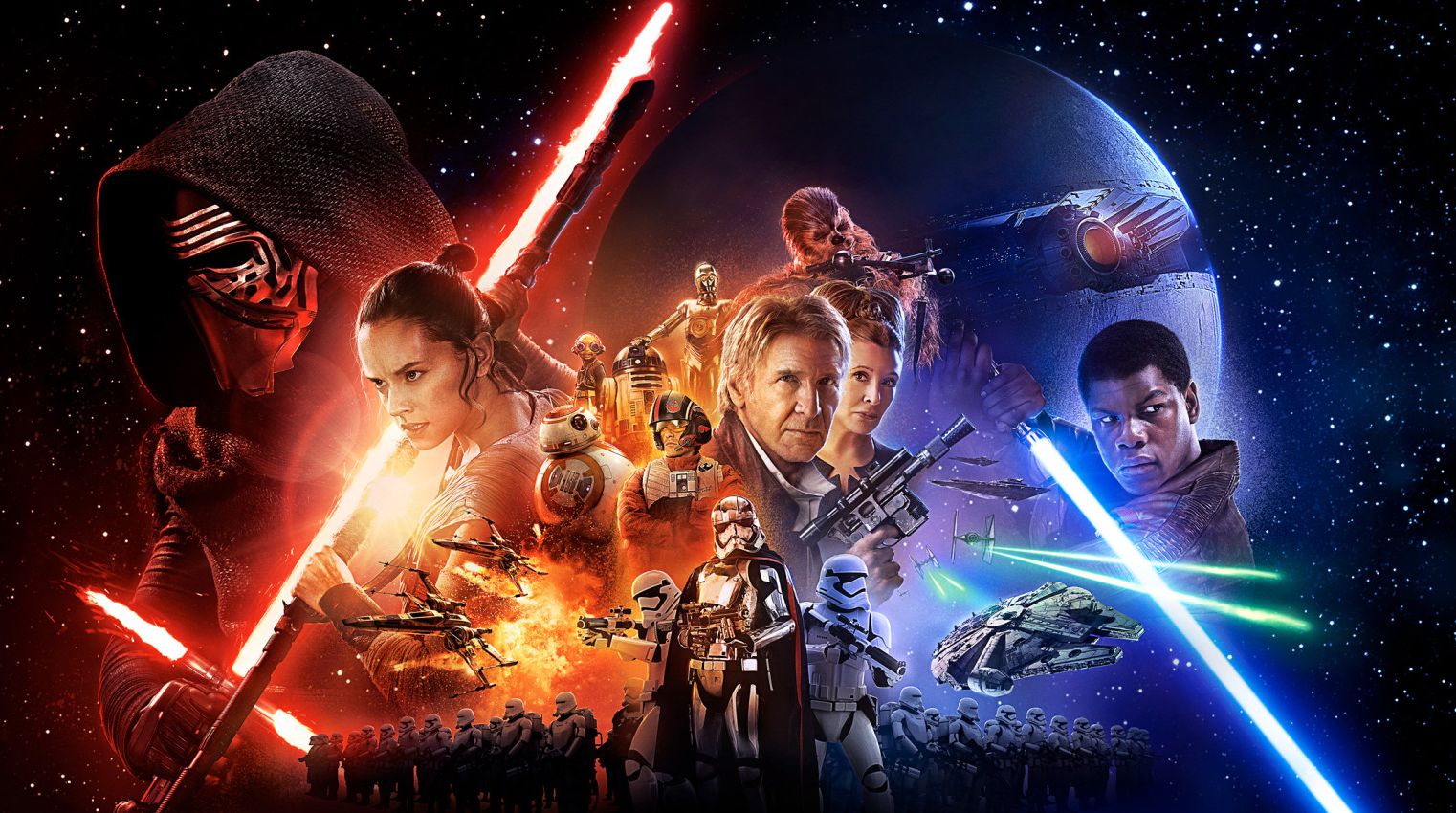 Star Wars: the Force Awakens. Review.

constablejake The force is well and truly strong with J.J. Abrams as he delivers the most emotional and action-packed installment in the franchise with aplomb.
Star Wars: the Force Awakens is directed by J.J. Abrams and stars Adam Driver, Daisy Ridley, John Boyega, Oscar Isaac, Lupita Nyong'o, Andy Serkis, Domhnall Gleeson, Max Von Sydow and Gwendoline Christie alongside original cast members Harrison Ford, Mark Hamill, Carrie Fisher, Anthony Daniels and Peter Mayhew. Set thirty years after the events of Return of the Jedi, a new threat, the First Order, rises from the ashes of the Empire and sets out to destroy the Resistance and take control of the galaxy, which forces new and familiar faces to work together to stop them.
The wait is finally over. Star Wars: the Force Awakens is an energetic, enthralling and emotional film that surpasses every expectation that I had for it. J.J. Abrams and every single cast and crew member deserve the highest praise for resuscitating a franchise that almost died in the hands of George Lucas and his prequel trilogy ten years ago. The action is exciting, the sound effects are deafening and intense, and the musical score is so gorgeous it will bring tears to your eyes. Daisy Ridley, John Boyega, Oscar Isaac and Adam Driver all portray their characters perfectly, and Harrison Ford is on top form as our favourite smuggler Han Solo.
The opening sentence of the scroll offers an intriguing question as to the whereabouts of Luke Skywalker and, soon after, a Star Destroyer beautifully silhouettes the planet of Jakku, and a small army of ships, full to the brim with Stormtroopers, make their way down to the planet below. The action sequence that follows introduces the characters of Poe Dameron, Finn, BB-8, Captain Phasma and, most importantly, the villainous Kylo Ren. The scene is exhilarating as fantastic cinematography tracks every moment of the small scale battle between the villagers and the onrushing Stormtroopers, and the score and sound effects are so gorgeous and effective in bringing your emotions to the fore. There is a fairly brutal moment in this scene and it may prove to be unsuitable to young children, but it is a very important introduction to the characterisation of Kylo Ren and the way he thinks and behaves.
Without giving too much away, Kylo Ren was the villain that I never knew I wanted, and Adam Driver plays him superbly. Finn is an engaging and humourous character, and Poe Dameron is without doubt the most likable man in the galaxy. BB-8 is gorgeous and hilariously funny, and there were a few scenes where he either had me in stitches or close to tears.
We then meet Rey (Daisy Ridley) as she scavenges parts from a broken down ship in the wastelands of Jakku. The music that accompanies this scene portrays Rey with an almost childlike innocence, as Rey is soon to be changed forever. Daisy Ridley is perfect as Rey, and it is hard to believe that this is her first motion picture. She confidently strides through each scene, and she only gets better as the film heads towards its conclusion.
Every action scene is energetic, exciting, intense and superbly paced. The camera is constantly panning and moving, making the most of gorgeous backdrops, and there is a fantastic tracking shot as Poe Dameron fights his way through five or six TIE-fighters in a battle midway through the film. You can feel the weight of every swing of each lightsaber and the Millenium Falcon feels heavy when Rey has to fly it on her own, and the force itself feels powerful and scary. The chemistry between every character is electric, with Han and Chewbacca bickering back and forth like an old married couple. The film then reaches its emotionally draining finale as our heroes race across the galaxy to save themselves from the First Order and their Starkiller Base. I must advise you now to bring plenty of tissues as there will not be a dry eye in the house when the screen cuts to credits.
Sometimes the script feels a touch too familiar to A New Hope, but this was what the Star Wars franchise needed after what happened with the prequels. Say what you will about George Lucas (and I know I have over the years), without him we would not have these characters to love and cherish. This was always going to be a difficult film for me to critique; I didn't want to be too lenient on a film franchise that captured my heart when I was a young boy, but I couldn't help that I desperately wanted it to be good. Thankfully, J.J. Abrams delivers the most exciting and tear-jerking Star Wars film since Return of the Jedi. I have already seen it in theaters twice, and you can bet everything you own that I will be going back to see it again, and again, and probably once more after that as well.
Words by Jake Constable.