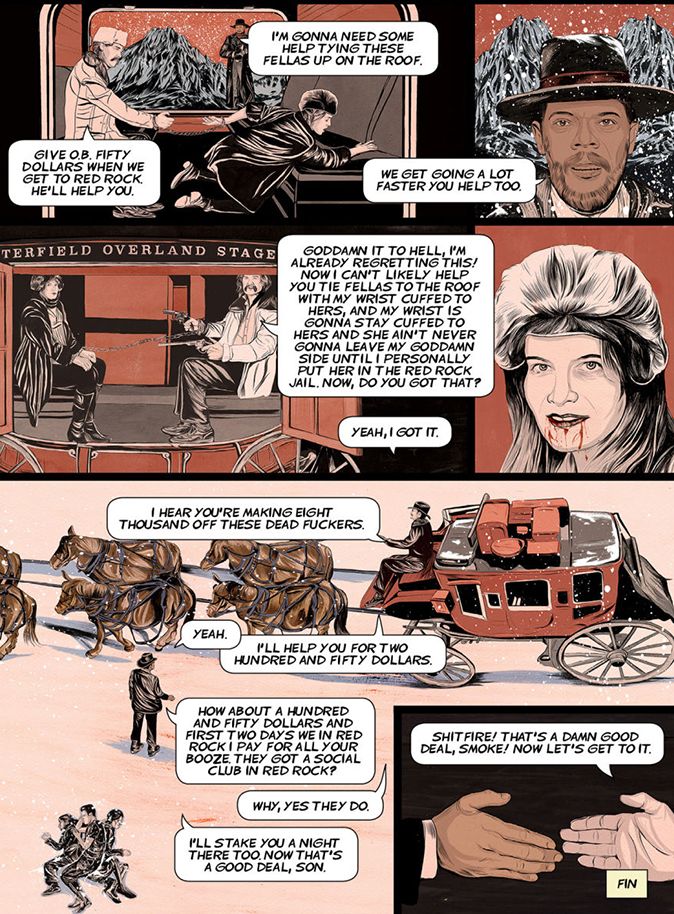 THE HATEFUL EIGHT release date changed to New Years Day.

constablejake The Hateful Eight, the latest project and eighth film from Quentin Tarantino, has seen its release date changed from January 8th to January 1st, New Years Day.
No official reason has been given for the change but it is believed that the early positive critical response and three Golden Globe award nominations is the major factor behind it.
The Hateful Eight tells the story of eight strangers forced to take shelter from a blizzard in a stagecoach stopover and is set in Wyoming after the Civil War. It stars Samuel L. Jackson, Kurt Russell, Jennifer Jason Leigh, Tim Roth, Michael Madsen, Bruce Dern, Walton Goggins and Demian Bichir.
Meanwhile, in an interview with Collider, Quentin Tarantino has claimed that the Hateful Eight began life as a book sequel to Django Unchained.
Tarantino said, "After Django Unchained was over I knew I didn't want to do any Django movie sequels, but I liked the idea of there being a series of paperbacks that could be the further adventures of Django or maybe go back in time for a couple more Django/Schultz adventures."
However, Tarantino changed his mind after he decided that the character of Django was holding the story back, "I realized that I was introducing such rough characters in this piece, and there would be even more rough disreputable characters waiting for them at Minnie's. At a certain point I realized, well you know what's wrong with this piece, is Django. He needs to go, because you shouldn't have a moral center when it comes to these eight characters. There shouldn't be a hero, everybody should be questionable, everybody should have some disrepute as far as their reputation is concerned to some degree or another, and everyone should be untrustworthy, and as important as that is, equally important was you shouldn't be able to trust anything anybody says. So if Django says who he is, you're going to trust that, because you've already seen another movie and you liked the guy anyway, and I didn't want to have that kind of moral center in the piece."
The Hateful Eight will be released on Christmas Day in the US before its international release on New Years Day.
Source: slashfilm.com