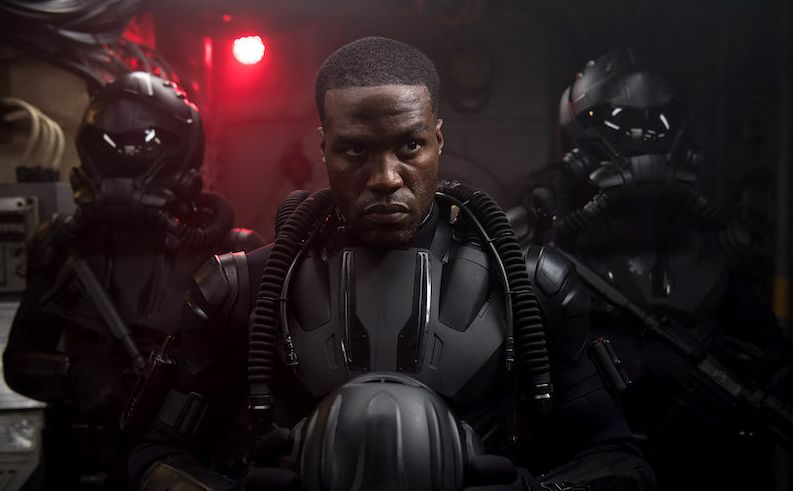 'Aquaman' breakout Yahya Abdul-Mateen to star in Jordan Peele's 'CANDYMAN'
by GregHarmon
It's Jordan Peele's world, and Yahya Abdul-Mateen II is about to star in it!

In 2017, Louisiana native Yahya Abdul-Mateen first broke onto the scene in a trio of supporting roles in Baywatch, The Greatest Showman, and his soothing portrayal as Logan Lerman's High School counselor in A24's quietly underseen The Vanishing of Sidney Hall.

At the time, I'm sure many first-time Abdul-Mateen viewers expressed similar sentiments such as I did 'that guy is going to be a star'! Sure enough, 2017's trio of films led to his official breakout in Warner Bros. Aquaman. Now, the 32-year-old breakout will get his chance to shine in HBO's Watchmen, and two Jordan Peele projects including 'US' and the spiritual sequel to 1992's supernatural horror, Candyman!

The folks at Variety confirm Abdul-Mateen has entered talks for the starring role in MGM and MonkeyPaw Productions "Candyman." The article did not confirm outright if Yahya will star as the hook-wielding antagonist played by series legend Tony Todd but in so many words, our presumption is that Peele has landed his Candyman.

There's still no word if Lakeith Stanfield has officially signed on. Previous reports speculated the former SHORT TERM 12 breakout will play the lead protagonist who is described "as a socially pronounced artist" who is researching the urban legend of "Candyman." Interestingly the name of Stanfield's character is Anthony, the same name as the baby of Vanessa Williams' character who is abducted by Tony Todd in 1992's Candyman. Is this a coincidence or could it be that Anthony's all grown up?

Oscar-winning filmmaker Jordan Peele co-wrote script with Tribeca Film Festival Award-winner and Director Nia DaCosta (Little Woods).

Hopefully we'll receive confirmation as well as additional casting news with production slated to begin this spring.
[/i][i]Candyman will hit theaters June 12, 2020.

GregHarmon in Candyman (2020)Follow
Greg Harmon | Managing Editor | Follow me @sweetharmony for Film & TV discussion | Ko-fi http://ko-fi.com/sweetharmony