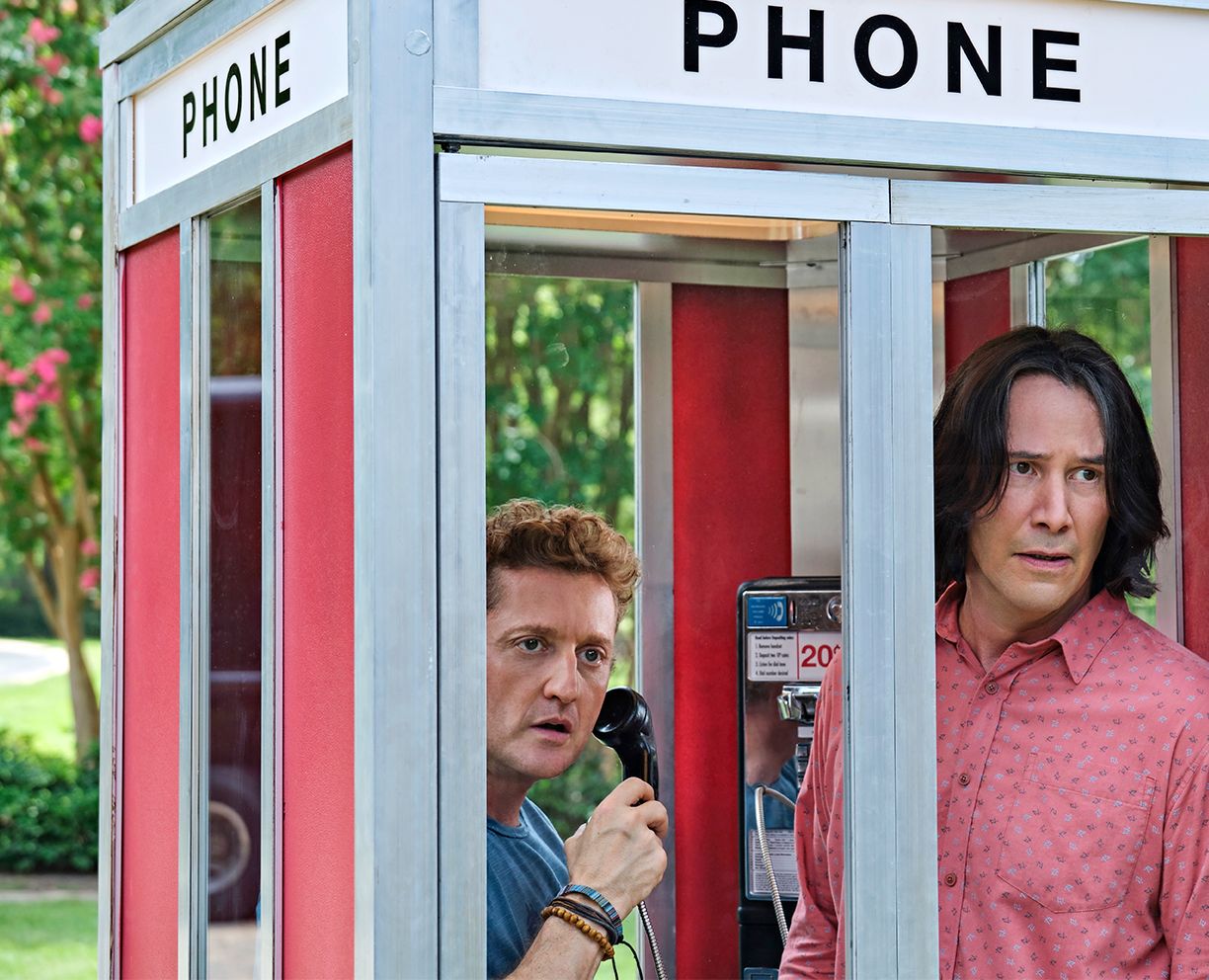 'Bill & Ted Face the Music': First look pics reveal the return of Wyld Stallyn dads and their teenage daughters

GregHarmon Managing Editor After nearly thirty years, our Wyld Stallyn rock stars will return to the big screen
Never mind that it has taken the better part of three decades to finally get to this point, but we finally have our first look at Bill & Ted Face the Music!
EW released a trio of pics featuring the return of our now middle-aged Wyld Stallyn Dad's caught in an all-new adventure to save humanity. Face the Music will feature the return of William Sadler's Death who, from all appearances, looks like he's delivering the kind of message that will elicit the kind of "Whoa" only Bill Preston and Theodore Logan can deliver.
There to provide the assist are Bill and Ted's daughters, "Billie Logan" (Brigette Lundy-Paine) and "Thea Preston" (Samara Weaving) along with the seemingly random casting of Grammy winner Kid Cudi who is set to play himself.
EW's story confirms that time travel will be involved and that Cudi, in addition to Bill and Ted (and presumably Billie and Thea), will be among the cast "mysteriously thrown around through various times."
1989's original creators Chris Matheson and Ed Solomon co-wrote the script with Galaxy Quest's Dean Parisot directing. Face the Music will feature the return of original characters including Bill's stepmother Missy played by Amy Stock, and Ted's father played by Hal Landon Jr. Bill and Ted's Princess fiancees-turned Princess spouses "Elizabeth" and Joanna" will be played by newcomers Erinn Hayes and Jayma Mays replacing Bogus Journey's Princess fiancees Annette Azcuy and Sarah Trigger and Excellent Adventure's Princesses Diane Franklin and Kimberley LaBelle. Saturday Night Live's Beck Bennett will play Ted's younger brother and Barry's Anthony Carrigan also joined the cast but in an undisclosed role - young Grim Reaper?
Bill & Ted Face the Music opens August 21, 2020