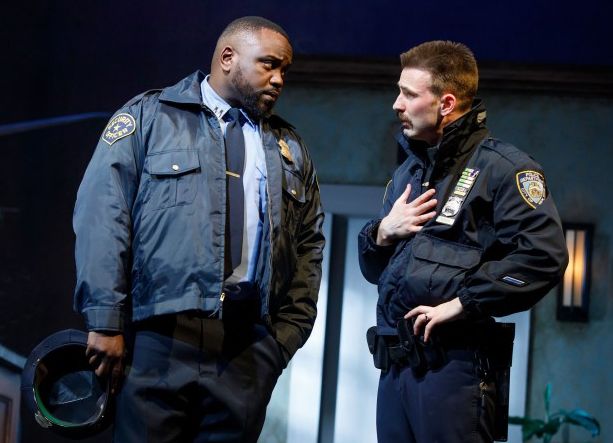 Brian Tyree Henry shares story details about 'JOKER' and 'A Quiet Place 2'

GregHarmon Managing Editor Get ready for the Brian Tyree Henrissance!

Mcconaissance or not, it's time we start talking about Brian Tyree Henry. In 2018, the 37-year-old star appeared in three television shows, was Tony-nominated for 'Best Featured Actor' opposite Chris Evans in Kenneth Lonergan's Broadway revival of Lobby Hero, all while co-starring in seven films, including Barry Jenkins If Beale Street Could Talk, Steve McQueen's Widows, and 2018's Best Animated Feature - Spider-Man: Into the Spider-Verse.

In 2019, Henry looks to keep the momentum going with five feature projects slated for release including - Jason Blum's thriller Relive, Orion's Child's Play reboot, Warner Bros. Joker, Joe Wright's adaptation of The Woman in the Window, and Melissa McCarthy's action comedy, Super Intelligence. And if that wasn't enough, there have been rumblings that Henry is attached to star in Emily Blunt and John Krasinksi's A Quiet Place sequel slated for 2020.

While promoting the upcoming release of Child's Play, Henry shared some intriguing character details about Joaquin Phoenix's Joker, including what separates 2019's Clown Prince of Crime from the previous live-action versions:
❝I think it's going to be very different because it really goes into just the origin story. Villains are never born that way, they're made. There's something that happens in their lives that they give up their faith in humanity; they see the flaws of humanity and mankind and feel like they must correct it. And what happens with Joker is you start to see how he really was a happy person." Henry goes on to tell the Observer, "He really was trying to find this…hope in humanity until it broke him down and he just had to give up and reshape it. Also, there's going to be a connection [made] about a boy and his mother. That is another thing that you're going to see—that he was capable of love at some point. But, at the end of the day, I think it's all about how he was made that way, how he didn't start being that kind of person.❞

Perhaps the most notable nugget is that Villains are never born that way, they're made. Which in so many words, supports what all transpires in the first trailer, including what appears to be both, a hopeful and possibly heartbreaking connection between Arthur and his mother, Penny Fleck, played by Frances Conroy.

When asked about his rumored role in "A Quiet Place 2," Henry essentially confirmed his rumored involvement while revealing some interesting story details telling the Observer:

❝I'm still trying to find that out, but I really think that what we'll do is we'll see more of that family continuing to survive and finding out that they're not the only ones. And I think that we're also going to get a few answers to the origin of where and how this whole thing happened. I think that people want to know that. But I think you're just going to see another side of it…more of humanity that survived this thing in this next story.❞

Cillian Murphy is also on board Paramount's sequel with Emily Blunt, Millicent Simmonds and Noah Jupe reprising their roles. The Wrap first broke the news that Tyree Henry was in talks to costar. Now it appears fans will get a few answers about the Quiet Place origins while possibly expanding the universe to other survivors.