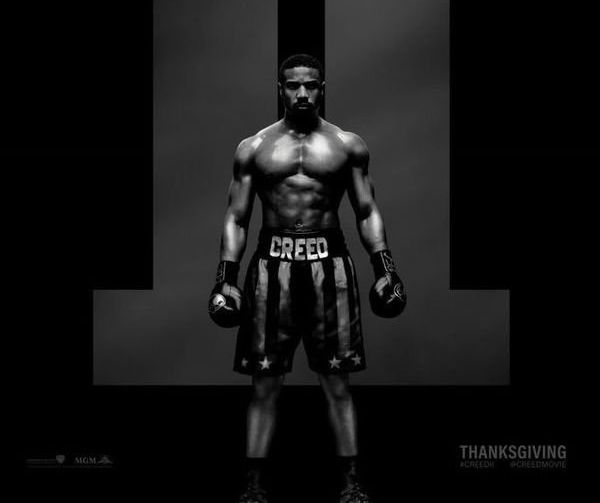 'Creed II' First Look Images: Adonis Creed is the WBC champ

GregHarmon Managing Editor In just four short months CREED II will hit theaters. Which gives us ample time to gush over the film's promotional run which will inevitably include a healthy dose of interviews, tv spots, and promo images featuring Michael B. Jordan and Sly Stallone among other cast members.

Empire Magazine released two exclusive images featuring the return of Adonis Creed and his career and lifework coach Rocky Balboa. The first image features Donnie training on the heavy bag while the second features a gorgeous shot of Adonis about make his in-ring entrance sporting his father's signature red, white, and blue boxing trunks. But perhaps the biggest takeaway is that Adonis' is now the WBC title holder and his crew is headed out by Los Angeles's elite Delphi Boxing Academy, managed by Tony "Little Duke" Evers Jr. (Wood Harris) - the same Academy who turned down the younger, reckless version of Adonis Johnson in 2015's Creed.
With the title around his waist the question is, who is Adonis' opponent?
The obvious answer is the son of Ivan Drago, Viktor. As seen in the first trailer, Creed II will feature the next great challenge in Adonis' professional boxing career, where shared legacies collide as Adonis will square off against the son of the man who killed his father in Rocky IV. The other opponent could be none other than Danny Wheeler played by professional Boxer Andre Ward. Wheeler was featured in 2015's Creed as Delphi Boxing Academy's number one student. Should be interesting to see how this all shakes out.
Creed II marks the eighth entry of the Rocky series and will be directed by American independent filmmaker Steven Caple Jr. (The Land) from a script co-written by Sylvester Stallone and Cheo Hodari Coker (Luke Cage). MGM's sequel features the return of Tessa Thompson as Adonis' girlfriend (or wife?) and his adopted mother played Phylicia Rashad. Joining the cast are Dolph Lundgren, Bridget Nielson and Florian Munteanu representing House Drago, Russell Hornsby, along with boxing legends Evander Holyfield and Sugar Ray Leonard.

Creed II is slated for a Thanksgiving weekend released on November 21 in the U.S., followed by November 30 in the UK.
My body is ready for this.