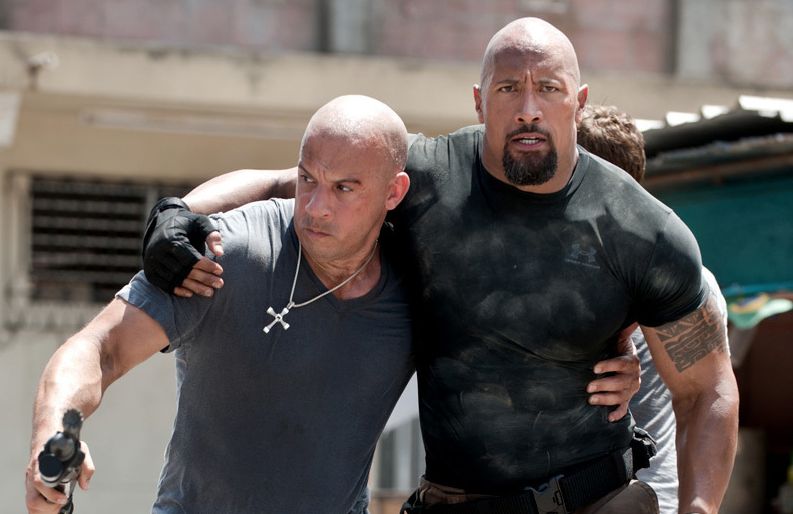 Dwayne Johnson hints at "Fast & Furious" return

GregHarmon Managing Editor Is Dwayne 'The Rock' Johnson the "Vince" of the Fast and Furious family?
Uh, the correct answer is hell no. But based on The Rock's latest Instagram post, it appears the man who has starred in five of the nine "Fast and Furious" installments (including Hobbs and Shaw) is ready to come back to the table for a Toretto family reunion. The man's GOTTA EAT right!?!
After a long and drawn out family feud - which can be chronicled here and here - it appears both Johnson and his former "candyass" co-star Vin Diesel are ready to kiss and make up for a likely "Fast and Furious" reunion.
Johnson, as he is want to do, took to Instagram to share a heartfelt post celebrating Hobbs and Shaw's recent $750M global box office achievement. Along with sending love to his fans, cast, and production crew, Johnson delivered a sincere shoutout to "Brother Vin" for his recent support of Hobbs and Shaw. And if there was ever a doubt as to who was in the 'wrong', it appears both Fast and Furious alphas are ready to let bygones be bygones with The Rock teasing six signature words:

❝I want to thank brother Vin for your support of Hobbs and Shaw. As you know, what a wild ride this is, and what a wild ride this has been ten years ago when you and I spoke and you invited me into the Fast and Furious family. I'm grateful for that invite and as you know my goal was always, all these years to come in the Fast and Furious world to help elevate the franchise in any way I possibly could. If I could do that, then I've done my job. And now here we are ten years later, in this massively successful build-out and expansion. We did it the right way, we did it the smart way. And again brother, I appreciate your support. And of course, all roads lead to one thing…I'll be seeing you soon Toretto.❞
Now someone just needs to tell Tyrese the war is over.