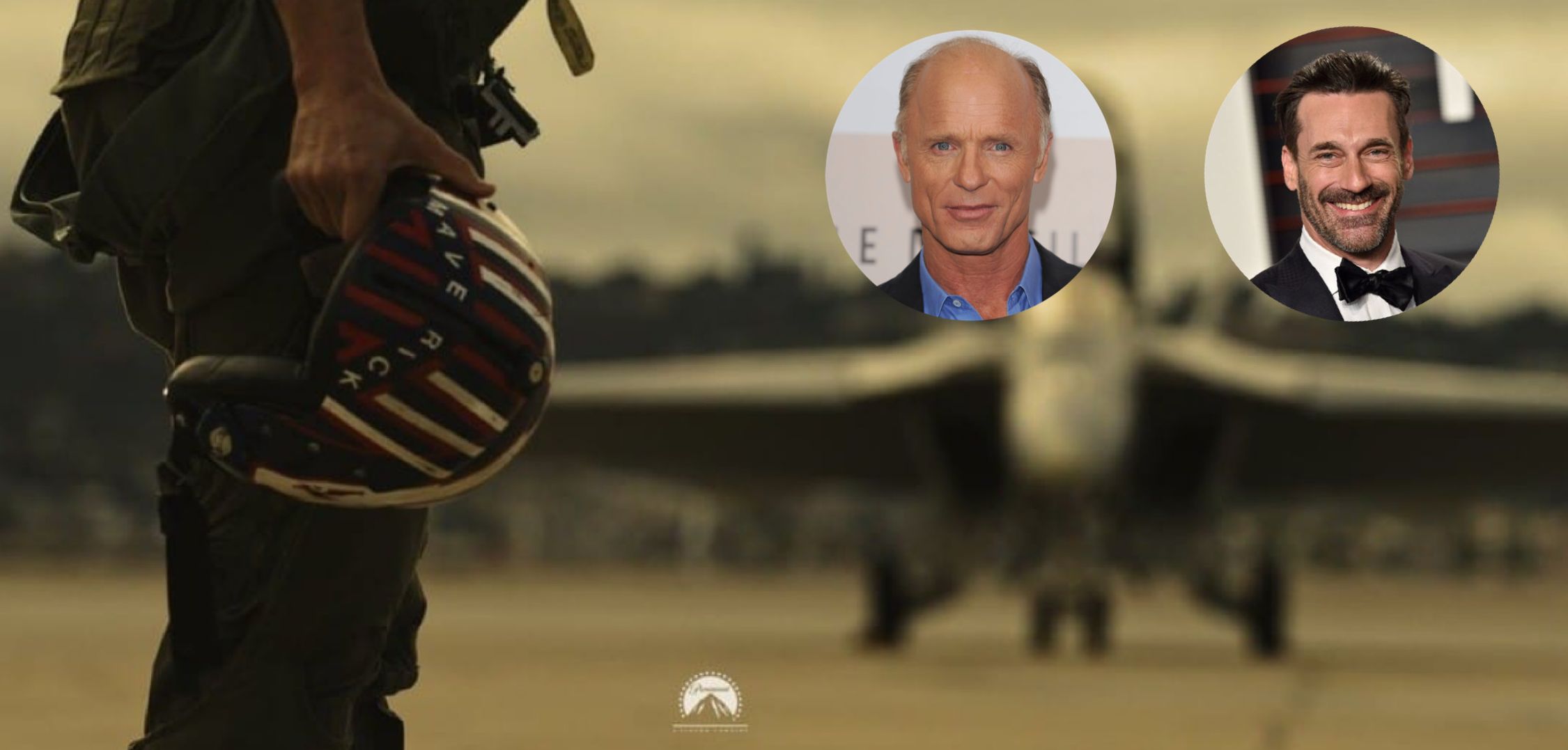 Ed Harris, Jon Hamm, and Lewis Pullman join the cast of 'TOP GUN 2'
by GregHarmon
Don Draper, The Man in Black, and Bill Pullman's son?!?

Ed Harris, Jon Hamm, and Lewis Pullman are the latest actors set to join Top Gun: Maverick starring Tom Cruise, Val Kilmer, Jennifer Connelly, Miles Teller, and Glen Powell.

Can't say I saw that one coming. But good lord, Paramount's sequel has quietly assembled a fantastic cast to portray Miramar's 'best of the best.'
All three roles are being kept under wraps but it's a good bet Lewis Pullman, son of Bill Pullman, will play one of the fifth generation pilots next to Teller and Powell. Harris and Hamm's addition are particularly exciting as the sequel to Tony Scott's high-octane gem was beginning to look like a youth movement.
So what characters do Cruise and writers Peter Craig and Justin Marks have in mind for Mr. Harris and Mr. Hamm? Based on an earlier report, it's possible Harris will play a high ranking Admiral while [old man] Hamm - who's actually 9 years younger than Cruise - will also play a ranking member at Top Gun. Specifically, the two characters released by Hashtag's source are:
• ADMIRAL ROBBY BENJAMIN "CASPAR" Supporting Male (50-69) No nonsense Texan, laid-back demeanor masks his intensity. One star admiral. He distrusts Maverick and doesn't like his selfish attitude in the Sky. Caspar knows how gifted Maverick is, and eventually lets him join the final mission.
• BOYD Supporting Male (50) A two-star general who takes no shit. Tough and weathered.

That same report also pegged the son of Nick 'Goose' Bradshaw as a key character in Top Gun: Maverick. So it's possible we'll see a variation based on the initial character descriptions. Harris oozes Admiral Benjamin cred.
Top Gun: Maverick is directed by Joseph Kosinski and co-written by Peter Craig (The Town, Blood Father) and Justin Marks (The Jungle Book), along with Thor and X-Men First Class writers Ashley E. Miller and Zack Stentz. Harold Faltermeyer is also returning to score!

Top Gun 2 is slated for release July 12, 2019!
Greg Harmon | Managing Editor | Follow me @sweetharmony for Film & TV discussion | Ko-fi http://ko-fi.com/sweetharmony