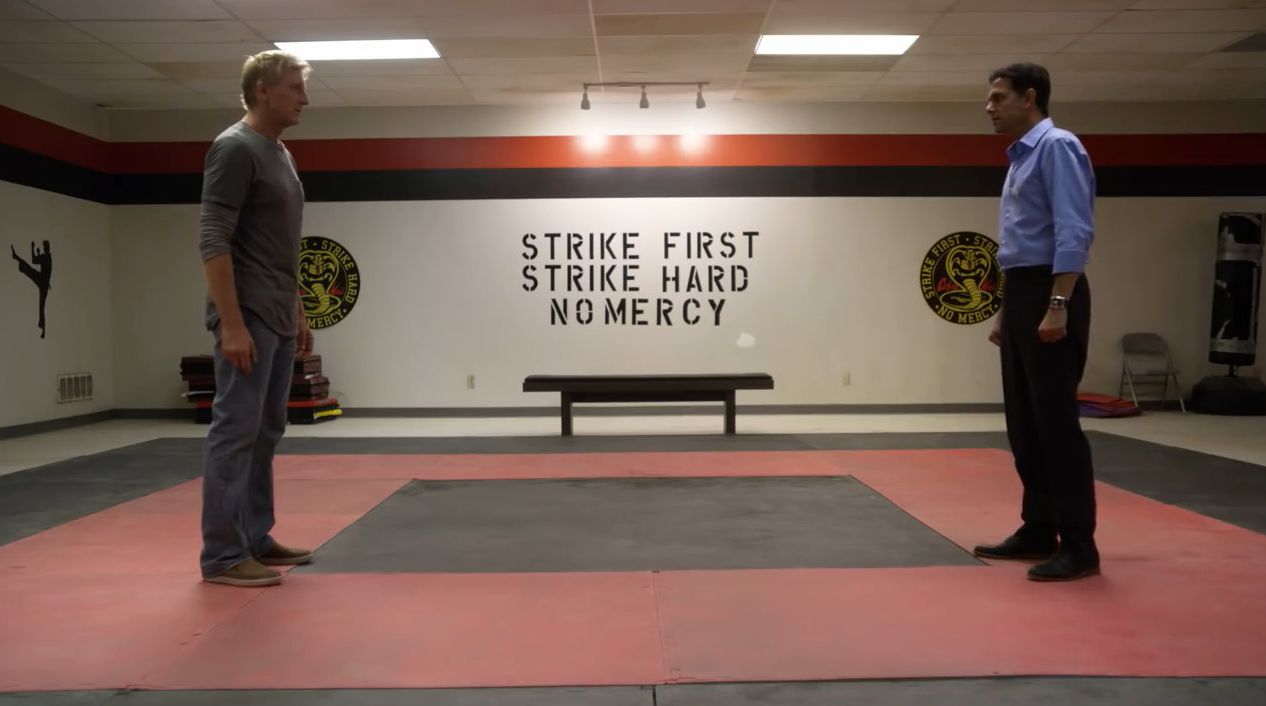 First Look at YouTube Red's 'Karate Kid' Sequel Series 'Cobra Kai'

GregHarmon Managing Editor Okay, so maybe it's time we re-consider the notion that this 'Karate Kid' sequel-series isn't such a terrible idea?
In what was originally billed as a half-hour comedy series, footage from Cobra Kai's exclusive teaser sorta indicates otherwise; giving fans a more serious glimpse in a sequel story that follows Karate Kid's iconic characters "Daniel Larusso" and "Johnny Lawrence" in a reimagined present day. Because you all wanted to know what these dudes are up to right?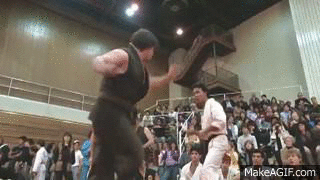 YouTube Red's new ten-episode series picks up 34 years since we witnessed Johnny's apparent character arc during Karate Kid II's intense cold open and 29 years since the fall of Cobra Kai's dojo in Karate Kid III.
EW's exclusive teaser features voiceovers from Ralph Macchio's "Daniel Larusso" and his former Cobra Kai nemesis "Johnny Lawrence" (William Zabka) who have [noticeably] aged into adulthood as friends. Larusso has since resumed life as a married family man and father to high school age daughter Samantha (Mary Mouser), while Lawrence deals with his own set of challenges raising his defiant high school age son and resurrecting a brand that made the Cobra Kai dojo synonymous with 'mercy is not for the weak'.
Cobra Kai will also feature series newcomer named Miguel Diaz (Xolo Maridueña), who's taken under ̶D̶a̶n̶i̶e̶l̶ Johnny's wing in an effort to combat high school bullying. And though we don't know if Johnny will follow in the footsteps of Sensei Kreese (Martin Cove), it's evident Larusso is not on board with the Cobra Kai's resurrection.
Cobra Kai is co-written and directed by the duo of Jon Hurwitz and Hayden Schlossberg (Harold & Kumar) along with Josh Heald (Hot Tub Time Machine). All three will executive produce along with none other than Will Smith.
YouTube has yet to announce a release date but Cobra Kai is expected to debut sometime this year. In the meantime, check out the teaser and decide if you're team "Miyagi Knows" or team "Cobra Kai"?