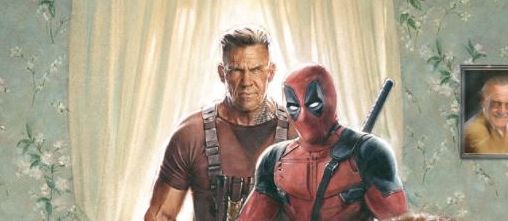 First official poster for 'Deadpool 2' gives us reason to be thankful

GregHarmon Managing Editor Let's give thanks for 20th Century Fox's latest poster teasing the cast of Deadpool 2.
Check out the first Deadpool 2 poster below!
The first official poster for the sequel to 2016's smash hit Deadpool is a hilarious riff on Norman Rockwell's 1941 canvas 'The Thanksgiving Picture' painting - a painting that shows an aproned matriarch presenting a roasted turkey, in which the patriarch looks on with fondness and approval to a family of several generations - Of course, this is Deadpool, so naturally the Merc with the Mouth is presenting the roasted Turkey to the cast including Patriarch Josh Brolin as Cable, Zazie Beetz as Domino, and Monica Baccarin, T.J. Miller, Brianna Hildebrand, Jack Kesy, Stefan Kapicic, Julian Dennison, and Leslie Uggams. Can you spot Stan Lee?
While Deadpool 2 won't hit theaters for another 8 months the poster (h/t Collider) kicks off 20th Century Fox's marketing campaign that's also featured in a special issue of Good Housekeeping. You can preview a print copy (courtesy of Collider) which includes a special letter from Wade, exclusive holiday recipes (e.g. D's Spiced Nuts), and tips to carve a turkey as crisp as George Hamilton's skin!
David Leitch (John Wick) is directing from a script by Rhett Reese and Paul Wernick. Deadpool 2 opens June 1, 2018.