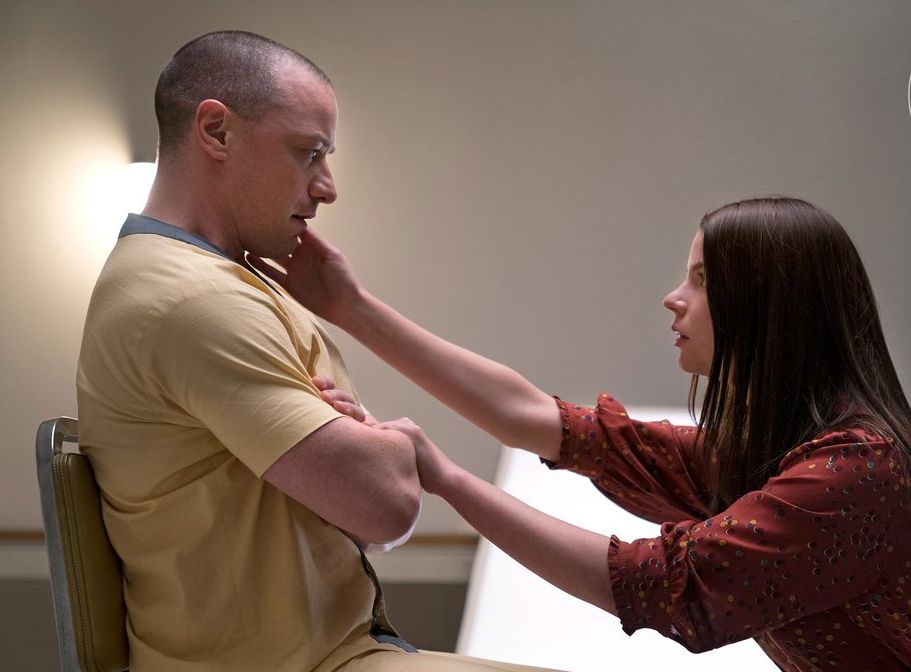 First Look Photos - M. Night Shyamalan's 'GLASS'

GregHarmon Managing Editor The Shyamalanissance returns in 2019 and we have official pics to prove it!
Universe's collide as our characters from Unbreakable and Split intersect for M. Night Shyamalan's Glass!
The exclusive photos, courtesy of EW, feature some gorgeous shots of Samuel L. Jackson's Glass (a.k.a. Elijah Price), Bruce Willis' David Dunn, Anya Taylor-Joy's Casey Cooke and James McAvoy's 'Oscar snubbed' Kevin Wendell Crumb, along with Sarah Paulson who, based on the photos, appears to play Glass, Dunn, and Crumb's psychiatrist or case agent.

'Glass' is a derivative from Samuel L. Jackson's Elijah Price character in Unbreakable — also known by his pseudonym "Mr. Glass". Bruce Willis reprises his role as the "Unbreakable" David Dunn who was last seen sitting at a diner watching the aftermath of the events that took place between McAvoy's - Kevin Wendell Crumb and Taylor-Joy's - Casey Cooke in Split.
According to James McAvoy, fans can expect to see some new personalities living inside Crumb's head: "We get to spend some time with some new people that live inside Kevin." Additionally, Shyamalan teased Charlayne Woodard, who played Elijah's mom, and Spencer Treat Clark (who is now 30!) who played David's son "play a big role."
The synopsis for Shyamalan's latest appears to be a game of cat and mouse between Willis's Dunn and McAvoy's 'The Beast'.
Synopsis: From Unbreakable, Bruce Willis returns as David Dunn as does Samuel L. Jackson as Elijah Price, known also by his pseudonym Mr. Glass. Joining from Split are James McAvoy, reprising his role as Kevin Wendell Crumb and the multiple identities who reside within, and Anya Taylor-Joy as Casey Cooke, the only captive to survive an encounter with The Beast. Following the conclusion of Split, Glass finds Dunn pursuing Crumb's superhuman figure of The Beast in a series of escalating encounters, while the shadowy presence of Price emerges as an orchestrator who holds secrets critical to both men.
Glass is set for release January 18, 2019 and will be produced by Shyamalan and Jason Blum (Blumhouse Productions).
You excited for this!?