First Trailer: Steven Spielberg's 'The Post'

GregHarmon Managing Editor 20th Century Fox dropped the first trailer for Steven Spielberg's The Post - which reveals itself to be a lesson in history and a startling reminder that no one can discredit the first amendment of the U.S. Constitution.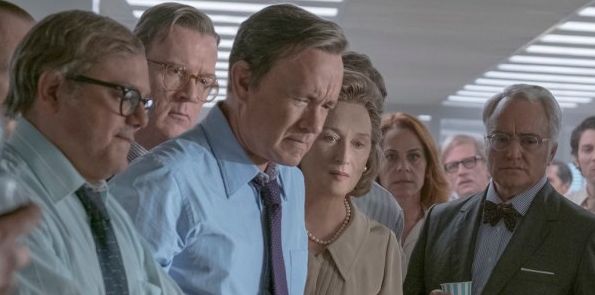 Spielberg's latest historical drama follows the first female publisher of a major American newspaper, Katharine Graham (Meryl Streep) and Washington Post Editor, Ben Bradlee (Tom Hanks) as they grapple with whether to begin publishing leaked reports based on a top-secret Department of Defense study. In doing so, the two must decide to risk their careers and The Post's future out of fear of retaliation from the Nixon administration. - Sound familiar?

In historical context, The Post takes place during the summer of 1971 when The New York Times and The Washington Post began publishing a series of articles revealing the most damning secrets of a top-secret Department of Defense study called The Pentagon Papers. The Papers were commissioned in 1967 by U.S. Secretary of Defense Robert S. McNamara and examined U.S. political and military involvement in Vietnam from 1945 to 1967.
The first trailer is branded with the touch of Spielberg and is powered by an outstanding supporting cast including Bob Odenkirk who portrays Armenian-American journalist and Pulitzer Prize winner Ben Bagdikian, Bruce Greenwood as Robert McNamara, and Alison Brie and Carrie Coon as Washington Post journalists. If Spielberg's latest looks and feels like an awards contender - which it does - we'll inevitably be singing the praises of both Liz Hannah - 31-year old talented writer of the spec-script - and Spotlight scribe Josh Singer - co-writer of Hannah's script.
"We could all go to prison..."What will happen if we don't publish? We will lose. The country will lose"
Check out the trailer and enjoy the onscreen performances of Streep and Hanks. The Post hits select theaters on Dec. 22 before releasing nationwide on Jan. 12. (US)