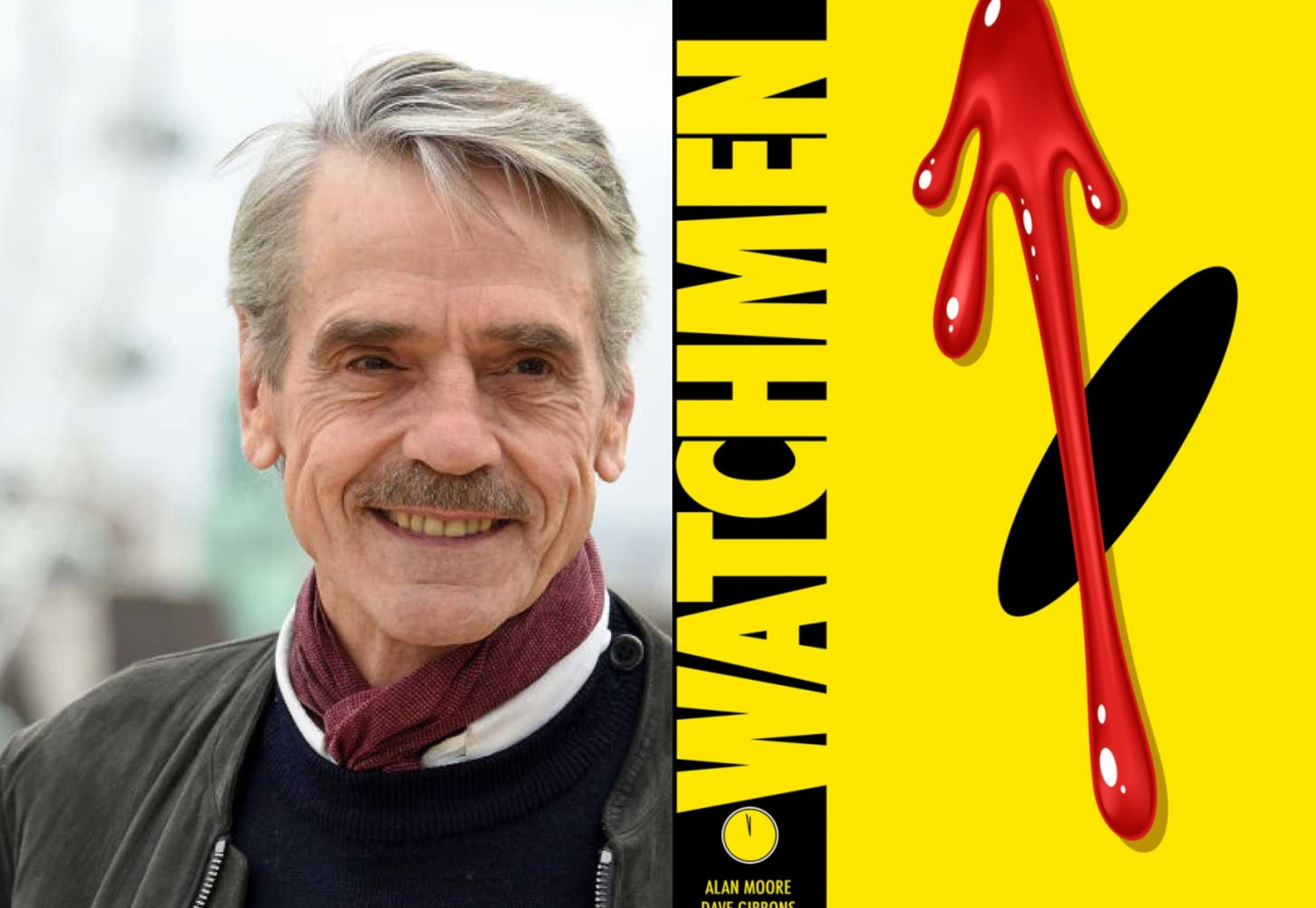 Jeremy Irons joins the cast of HBO's 'Watchmen' series
by GregHarmon
As if you needed another excuse to get excited for Damon Lindelof's Watchmen series...
Deadline reports Jeremy Irons has been tapped for the lead role in HBO's Watchmen series! Irons' role has not been officially confirmed but sources say the 69-year-old Oscar winner will play an "aging and imperious lord of a British manor."

HBO has already greenlit Lindelof's series that will tap into the canon of Alan Moore and Dave Gibbons celebrated 1986 graphic novel, but with new characters set in the present day.

Back in 2014, Lindelof planned to develop a "Watchmen" series for the premium cable network but set aside the project in exchange for what turned out to be a successful three-season run of The Leftovers. And thankfully so! Shortly after Lindelof dropped the project, Zack Snyder, director of 2009s stunning Watchmen adaptation met with HBO execs to discuss his vision for a potential Watchmen series. As we know Snyder's series never materialized and here we are four years later, and Damon Lindelof will get the opportunity to finally carry out his vision.
In a open letter to fans, Lindelof laid out a vision confirming Watchmen will not be a sequel, retread, recreation, reproduction nor a reboot from Moore and Gibbons graphic novel. But rather, his story will spawn new characters in the same 'universe' set in the present day.
Moore and Gibbons 1986 novel was set in a world where superheroes affected and altered the outcomes of real-world events such as the Vietnam War. Eventually their presence grew unpopular among the police and the public, leading to the passage of the Keene Act in 1977 outlawing superheroes. But when a group of crimefighters investigate the murder of one of their own - including Doctor Manhattan, Nite Owl, Silk Spectre, and Rorschach — they uncover a deeper conspiracy with enormous implications.

It is unclear which, if any, of those characters will appear or have any relation to the characters in Lindelof's version. What is clear is that Lindelof likens Moore and Gibbon's original series as "Old Testament" to his HBO series as 'New Testament' telling Variety back in May:
❞Those original twelve issues are our Old Testament. When the New Testament came along it did not erase what came before it. Creation. The Garden of Eden. Abraham and Isaac. The Flood. It all happened. And so it will be with 'Watchmen'. The Comedian died. Dan and Laurie fell in love. Ozymandias saved the world and Dr. Manhattan left it just after blowing Rorschach to pieces in the bitter cold of Antarctica." Lindelof goes on to confirm his story must be original but will be set in the world its creators "painstakingly built but in the tradition of the work that inspired it. Some of the characters will be unknown. New faces. New masks to cover them. ❞
Irons joins a fantastic ensemble featuring Regina King, Don Johnson, Tim Blake Nelson, Louis Gossett Jr., Adelaide Clemens and Andrew Howard. So far no release date has been set but Lindelof will write and executive produce along with Nicole Kassell (The Americans, Vinyl, The Killing) who will direct and executive produce.

GregHarmon in Watchmen (2019)Follow
Greg Harmon | Managing Editor | Follow me @sweetharmony for Film & TV discussion | Ko-fi http://ko-fi.com/sweetharmony