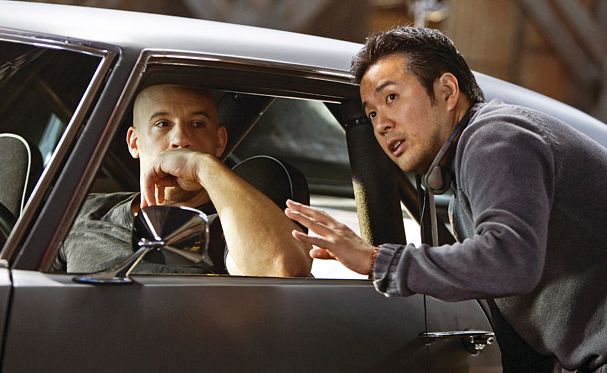 Justin Lin returns to the Fast & Furious Family - Will Direct Fast & Furious 9 and 10

GregHarmon Managing Editor Icing on the cake will be seeing Han (and/or Gisele) in Fast and Furious 9's post-credits.
In a video to his Facebook faithful, series star Vin Diesel announced that the "forefather" and "architect" of the series, director Justin Lin and on-screen sister, Jordana Brewster will return for 9th and 10th installments. Applause.
"You wanted 9 and 10 to be incredible. We've heard your concerns about the saga and where it needs to arrive in its final chapters," Diesel said during a Facebook Live on Wednesday revealing he's working on something "top secret" involving the director and actress.
Diesel also took to Instagram posting a fab pic of himself along with Lin and Brewster captioned "On the road back to our roots...Family reunited!" Ooh the feels.
Lin will make his welcomed return after directing four of eight installments including our series favorite Tokyo Drift (imo), the lackluster Fast & Furious, series pinnacle Fast Five, and Fast and Furious 6. Diesel also introduced Toretto's finest tuna sandwich making, Acura NSX-driving, baddie Jordana Brewster, who did not appear in this year's Fate of the Furious, but will be coming back for the final two installments of Fast & Furious. One can only guess that Mia and son Jack, the fictional son of the late Paul Walker's Brian O'Conner aka "Buster", will play an integral role in the family saga. As a long time fan of the series, it's worth speculating if Universal and Diesel's One Race Films will position young 'Jack' to take the reigns in a future spin-off. Why? Because "Pablo".
Before that, we'll get to see an untitled spin-off featuring Dwayne Johnson's Hobbs and Jason Statham's Deckard on July 26, 2019. And the Fast and the Furious 9 (titled The Faith of the Furious?) is slated for April 10, 2020.
If we're tilting over Deckard's 'face' turn - just remember - Han is not dead. But we'll have to wait and see if you truly "believe in ghosts."
You team ride or die?