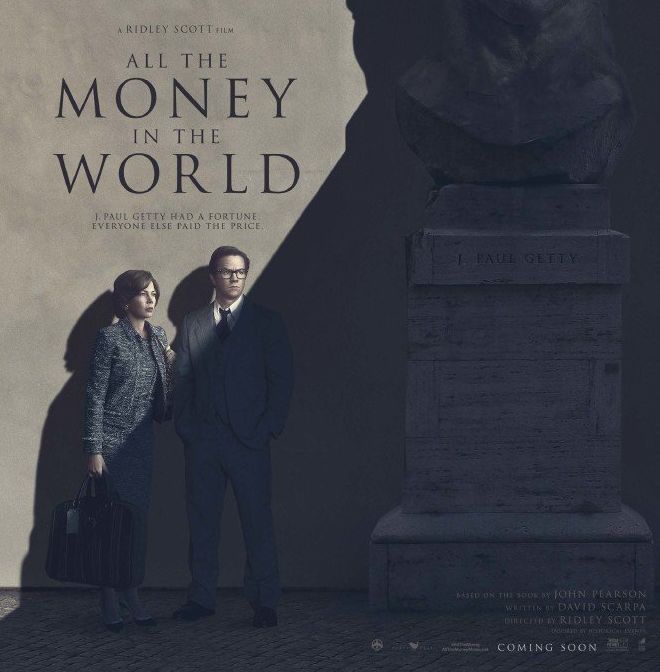 Michelle Williams and Mark Wahlberg star in Ridley Scott's 'All the Money in The World'

GregHarmon Managing Editor Oscar-nominated Director's latest crime drama takes you inside the true life events behind the kidnapping of American oil tycoon John Paul Getty's grandson
Check out the trailer for Ridley Scott's latest below!
Ridley Scott's upcoming biographical crime drama All the Money in the World stars Michelle Williams, Mark Wahlberg, and Kevin Spacey and features the biographical account of American Industrialist, John Paul Getty - played by the unrecognizable Kevin Spacey - and his refusal to cooperate with the extortion demands of a group of kidnappers who abducted his grandson in 1973.
TriStar Pictures and Sony's newest trailer unpacks the true life events with a voice-over from grandson, John Paul Getty III (Charlie Plummer), who is kidnapped by a left-wing paramilitary organization and held ransom for $17 million dollars. As seen in the trailer, Getty III's mother Gail (Michelle Williams) must work frantically to meet the kidnappers demands despite being at the mercy of both the kidnappers and her father in-law's refusal to pay the demands. With her son's life in the balance, Gail finds an unlikely ally in Getty Sr's trusted advisor Fletcher Chase (Mark Wahlberg).
All the Money in the World will premiere at the American Film Institute Festival on November 16 followed by a limited release (US) on December 8 alongside Guillermo del Toro's The Shape of Water and James Franco's The Disaster Artist.
Will this film earn Ridley his fourth 'Best Director' Oscar nomination? Looks and feels like a winner if you ask me. Check out the trailer and decide for yourself!