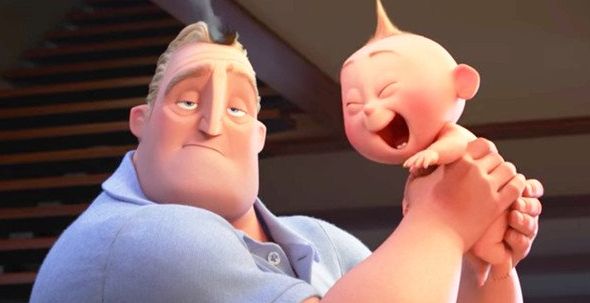 New Disney • Pixar 'Incredibles 2' Trailer

GregHarmon Managing Editor Social media was plenty a buzz during Wednesday night's Olympic coverage as Pixar unveiled new footage for their long awaited follow up to 2004's Incredibles. I mean, Twitter wasn't even a thing in 2004!
Talented writer and director Brad Bird returns for the sequel which picks up immediately after the events of 2004's Incredibles pitting our favorite superhero family against The Underminer's (John Ratzenberger) war on peace and happiness.

Pixar's 90-second trailer plays off more like a hilarious episode of Mr. Mom, reminding us that traditional domestic roles have no place in the Parr household. Even if you are as good as Mr. Incredible is at fighting baddies, it's clear Bob's (Craig T. Nelson) transition to navigate the day-to-day heroics of everyday life will be a challenging transition while Helen (Elastigirl) is out fighting crime and campaigning for the return of supers!!
Pixar's new footage also reveals the return of Samuel L. Jackson's "Frozone" along with Brad Bird as the Parr's snappy fashion designer Edna Mode. Joining the cast are several newcomers including Bob Odenkirk's unmistakable voice as a telecommunications CEO named Winston Deaver, Catherine Keener as Winston's intellectual sister Evelyn, Sophia Bush as aspiring super named Voyd, and Isabella Rossellini as the mysterious Ambassador.
Incredibles 2 is scheduled to be released on June 15, 2018, and will be given an IMAX release.