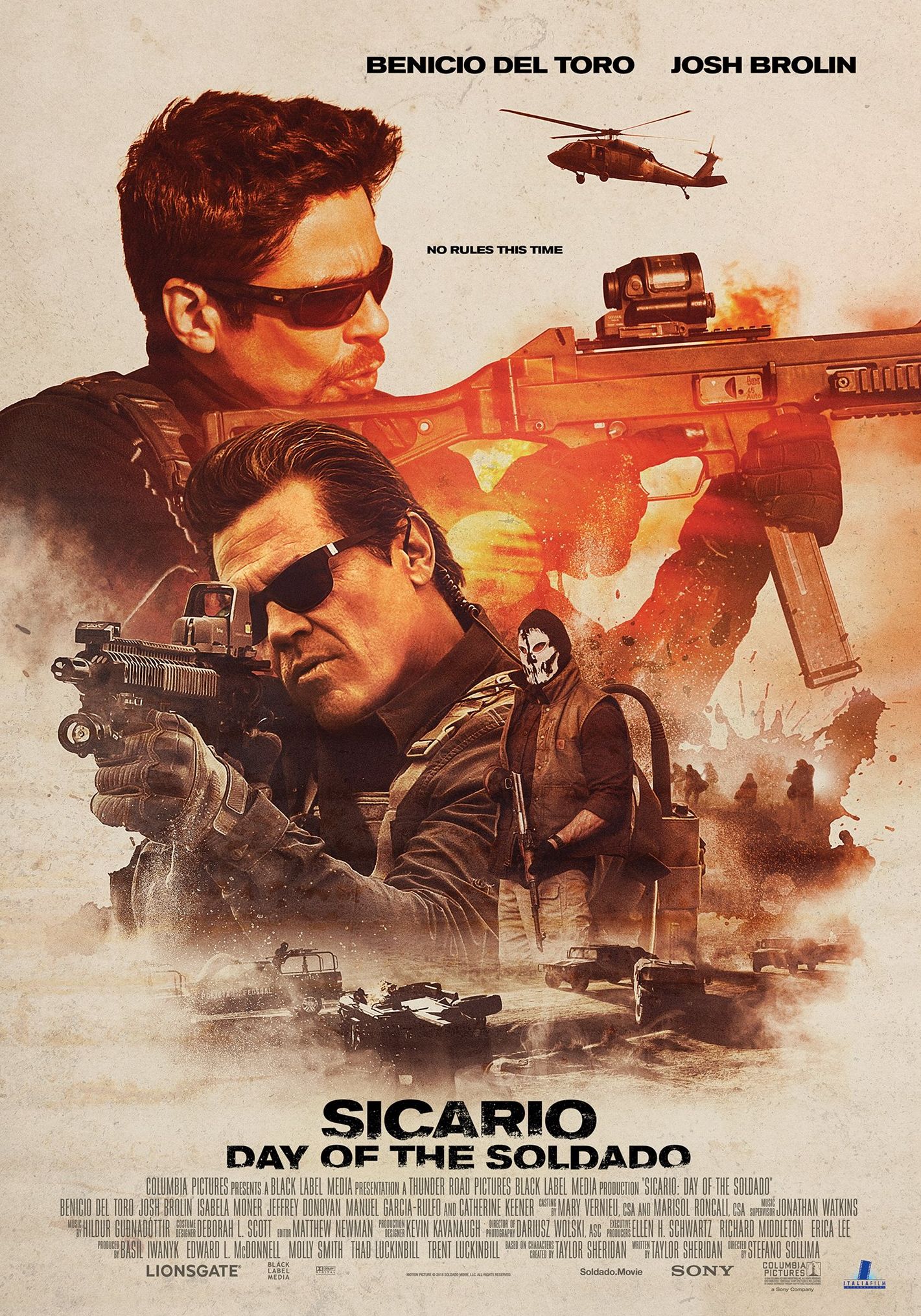 'Sicario: Day of the Soldado' First Reactions

GregHarmon Managing Editor Early buzz suggests Stefano Sollima's follow-up is "incredibly cold," "thrilling," "intense" and offers "jaw-dropping cinematography"...Now try to keep your expectations in check!

We are less than a few weeks until the release of Stefano Sollima's Sicario: Day of the Soldado and I honestly couldn't be more thrilled reading through the first reactions from industry critics. And though the official review embargo is still in place, it appears social media's embargo has lifted, and numerous critics have already chimed in praising Sollima's direction along with writer, Taylor Sheridan's screenplay.
All aboard this hype train! Sicario: Day of the Soldado hits theaters June 29, 2018.
Critic First Reactions
Mike Ryan - Uproxx: SICARIO: DAY OF THE SOLDADO is, surprisingly, pretty awesome. Tense, gritty, and ends on a note where I want more. Benicio del Toro is amazing.

Katie Walsh - The Playlist: I'm surprised at how much I liked SICARIO 2, since I did NOT like the first one AT ALL. Expanding the world serves the story and characters, and I'm kind of obsessed with the way Stefano Sollima and Dariusz Wolski shot it. Some jaw-dropping cinematography.

Eric Eisenberg - CinemaBlend: Sicario: Day Of The Soldado is a surprising and satisfying sequel. Takes advantage of two of the first's best elements (Del Toro & Brolin), and gives them a thrilling, tense, and crazy dark mission. It has certain problems, but I dug it.

David Crow - Den of Geek: Sicario: Day of the Soldado is a genuine surprise. A taut thriller refreshingly for adults, it keeps much of the tension of the original, if not all the artfulness. A pure gritty Western, this Sicario reconfirms Taylor Sheridan is one of the best screenwriters working.

Jacob Knight - Birth.Movies.Death: SICARIO - DAY OF THE SOLDADO: terrific up until the last act, when a few characters make some, well, out of character decisions. Even then, it's an incredibly cold, precise, unfeeling depiction of the process of covert wars. This isn't the trash action sequel they're selling.

Steve Weintraub - Collider: Happy to report 'Sicario: Day of the Soldado' is *extremely* well made and features fantastic performances from Josh Brolin and Benecio del Toro. As you might expect, Taylor Sheridan's screenplay is excellent. Really hope the film does well so they can complete the trilogy.

Anne Thompson - IndieWire: Taylor Sheridan's sequel Sicario: Day of the Soldado deepens the characters played by Josh Brolin and Benicio del Toro in unexpected ways. Director Stefano Sollimo delivers. June 29.

Gregory Ellwood - The Playlist: Saw Sicario: Day of the Soldado last night. It's FANTASTIC. It's doesn't have the visual splendor of Villeneuve's first film, but Taylor Sheridan's screenplay is SUPERB. Film has unexpected heartbreaking moments and strong performances from Del Toro and Brolin.

Jeff Sneider - Collider: Dark doesn't begin to describe SICARIO: DAY OF THE SOLDADO. It's fucked up and I kinda loved it. Maybe not quite as much as the first film, but Brolin & Benicio are FIRE & Taylor Sheridan proves again why he's one of the best writers in town. Not a perfect sequel but VERY badass.