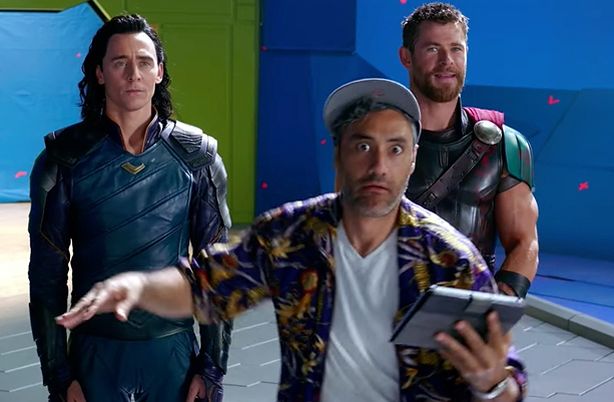 Taika Waititi to write and direct 'THOR 4'; Chris Hemsworth expected to return

GregHarmon Managing Editor Plenty of good news to celebrate despite seeing Akira kicked to the curb

Taiki Waititi is back! And he's brought the God of Thunder with him for the fourth installment of Marvel Studios' THOR!

Waititi's return - as writer and director - comes on the eve of Marvel's Comic-Con panel where the studio is expected unveil what the future has in store for Phase IV including confirmed projects The Eternals, Shang-Chi, Black Widow (albeit no official announcement has been made), and now "Thor 4".

Additionally, sources confirmed Chris Hemsworth will return. Which means Hemsworth has inked a new deal (although no details have been shared) and all but guarantees that Phase IV's interconnected dimension will include two of the remaining original Avengers assuming Bruce Banner aka Hulk factors into the equation. It will be interesting to see what Waititi has in store for both Thor and Valkyrie (Tessa Thompson) now that Asgard presumably has a new ruler and our beloved Guardians of the Galaxy have a new shipmate.

On the downside, Waititi's return means 'Akira' - which was previously slated for May 21, 2021 - will be put on hold indefinitely until Disney/Marvel finalize plans for "Thor 4." Unfortunately, those hoping to see the live-action Japanese manga will likely have to wait until 2022 or 2023 at the latest.

That said, "Thor 4" doesn't come as a total shocker when you factor the simple equation: creative talent + tentpole property = box office success. Such is the case with Waititi's vision that singlehandedly reinvigorated Marvel property from both critical acclaim and ticket sales, exceeding Thor: The Dark World's worldwide gross by $200 million, and falling short of the BILLION dollar mark by just $146 million bringing Ragnarok's final haul to $854 million.
Up next is Waititi's satirical drama JoJo Rabbit, co-starring Waititi who plays the imaginary friend of a lonely German boy - Jojo "Rabbit" Betzler (Roman Griffin Davis)- who has his world view turned upside down when he discovers that his single mother Rosie (Scarlett Johansson) is hiding a young Jewish girl (Thomasin McKenzie) in their attic. Oh, and his imaginary friend happens to be Adolph Hitler.
It's Taika Waititi's world and we're just living in it.
Source: THR