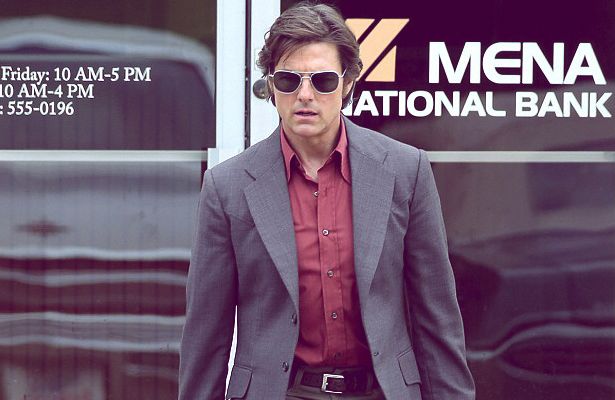 Tom Cruise's 'American Made' Trailer Expected To Debut Next Week

GregHarmon Managing Editor
With Universal's Dark Universe set to unveil Tom Cruise's The Mummy, we'll also welcome what appears to be a rare non-franchise related Cruise film titled American Made. Trailer-Track first reported that Universal Pictures have sent the trailer for Cruise's latest crime drama as part of The Mummy's North American distribution package, which should yield Made's trailer debut late next week.
As previously reported, American Made originally titled "Mena," reunites Edge of Tomorrow director Doug Liman and Tom Cruise in a true story about TWA pilot Barry Seal who is roped into helping the CIA take down the emerging communist threat in Central American in the 1980s. Seal's operation ultimately marks the birth of the Medellin cartel, led by Pablo Escobar.
Official synopsis:
Barry Seal, a TWA pilot, is recruited by the CIA to provide reconnaissance on the burgeoning communist threat in Central America and soon finds himself in charge of one of the biggest covert CIA operations in the history of the United States. The operation spawns the birth of the Medellin cartel and almost brings down the Reagan White House.
American Made marks just the second project for screenwriter Gary Spinelli (Stash House) and features a talented cast including Domhnall Gleeson (The Revenant), Sarah Wright (Marry Me), Caleb Landry Jones (Get Out), and Jesse Plemons (Fargo, FNL!). If you recognize the name Caleb Landry Jones, then it's likely you'll be personally invested in wiping the stench from his grimy but superb Get Out performance. And then there's Domhnall.
Whether or not American Made's trailer hits next week, it's hard not to overlook Cruise's upcoming projects, including M:I 6 – Mission Impossible and the recently announced sequels to Top Gun and Edge of Tomorrow (Live, Die, Repeat, and Repeat), this on top of another Doug Liman collaboration titled Luna.
Stay tuned as the trailer hits. American Made is set for release September 29.