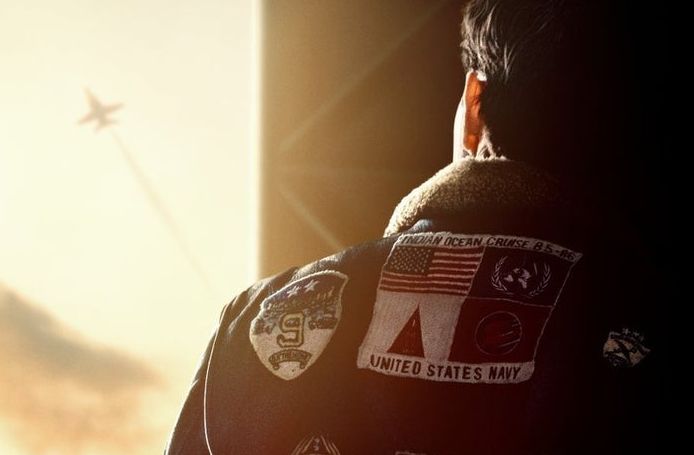 'Top Gun: Maverick' Trailer Breakdown: New Characters, Fighter Jets, Callbacks, and Plenty of Mystery

GregHarmon Managing Editor In which I breakdown all 2 minutes and 12 seconds of breathtaking goodness.

This news should come as no surprise by now.
The official trailer for Top Gun: Maverick has arrived and let me just say, it's truly a marvel to behold. It's also packed with plenty of revelations, featuring new characters, new fighter jets, callbacks and plenty of mystery; including the biggest mystery of them all: What in the hell has Maverick been up to all these years?
Thankfully, we have answers! Some are definitive and some are speculative. But either way, what better way to discuss these urgent matters than to breakdown all 2 minutes and 12 seconds of Top Gun: Maverick's breathtaking trailer.

Paramount's long-awaited sequel will explore of the end of an era of dogfighting in the age of drone technology. Miles Teller, Glen Powell, Lewis Pullman, and Monica Barbaro, among many others, will represent Top Gun's fifth-generation fighter pilots, or as the Navy refers to as the last 'man-made' fighters who will be mentored by none other than - Pete "Maverick" Mitchell.
Joseph Kosinski will direct from a script co-written by script whisperer Christopher McQuarrie, Peter Craig (The Town), Justin Marks (The Jungle Book), along with Thor and X-Men First Class writers Ashley E. Miller and Zack Stentz. Harold Faltermeyer is also returning to score along with Hans Zimmer.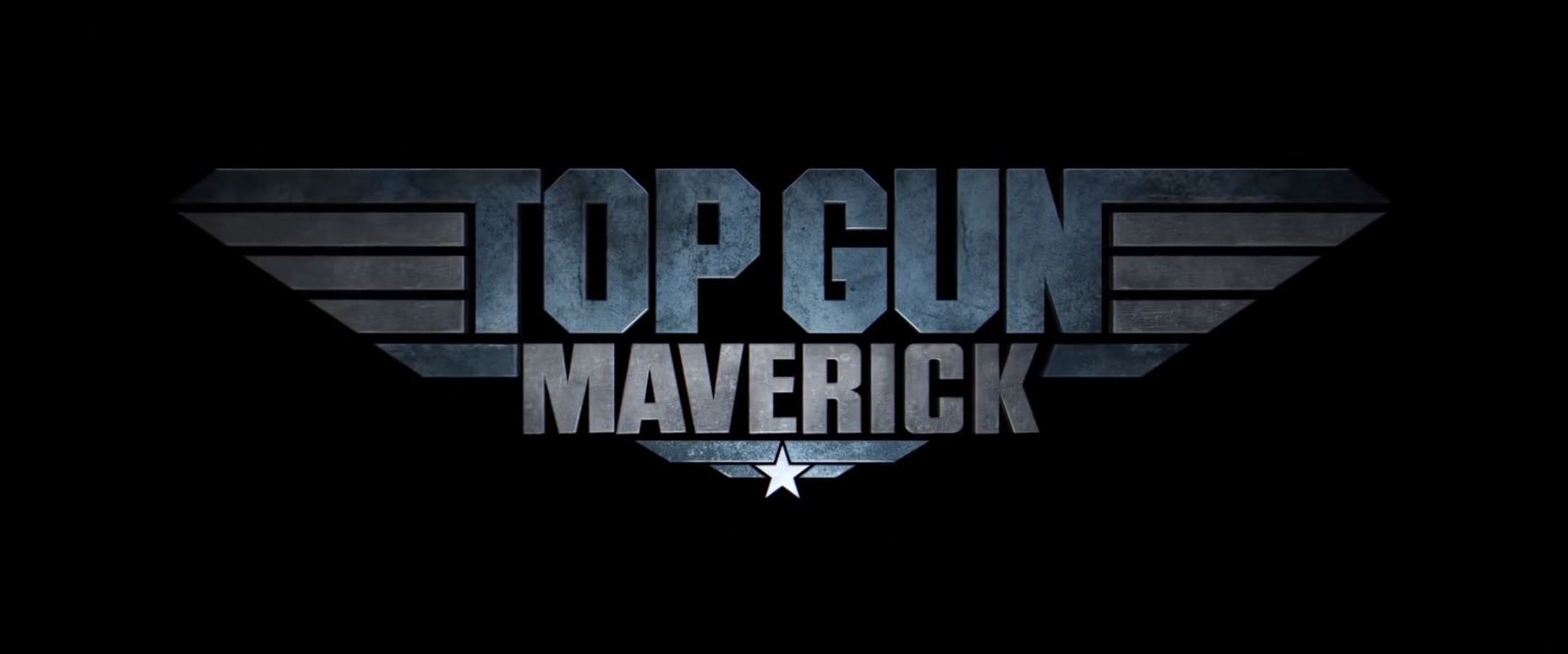 The official trailer, which dropped during Paramount's panel at San Diego Comic-Con, wastes little time invoking a nostalgic wonderment that only Top Gun's signature Machine font - as seen in the title credit above - along with the unforgettable synth of Harold Faltermeyer's iconic Top Gun Anthem can deliver.
No less than 3 seconds into the opening, the adrenaline kicks in along with the sights and sounds of a hovering F/A-18E/F Super Hornet presumably piloted by Maverick. These are aren't CG fighter planes hovering over the desert.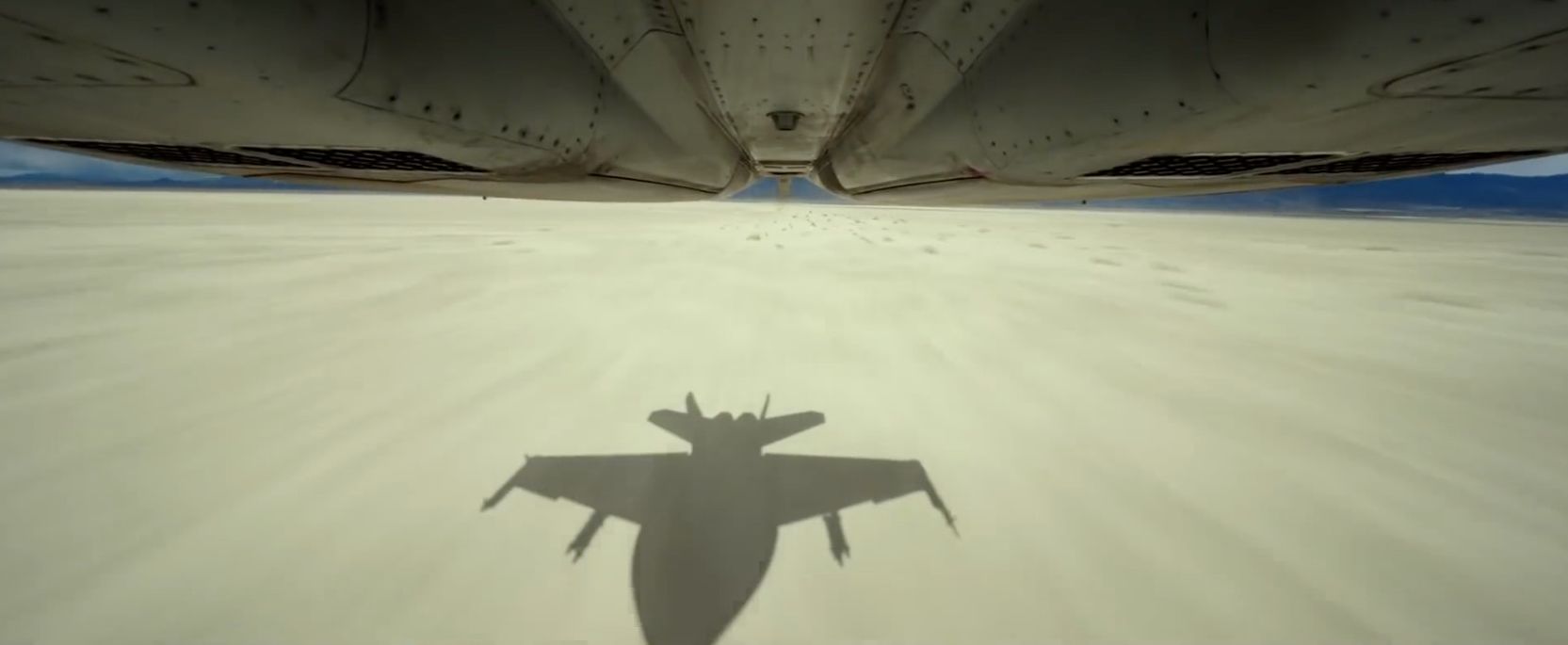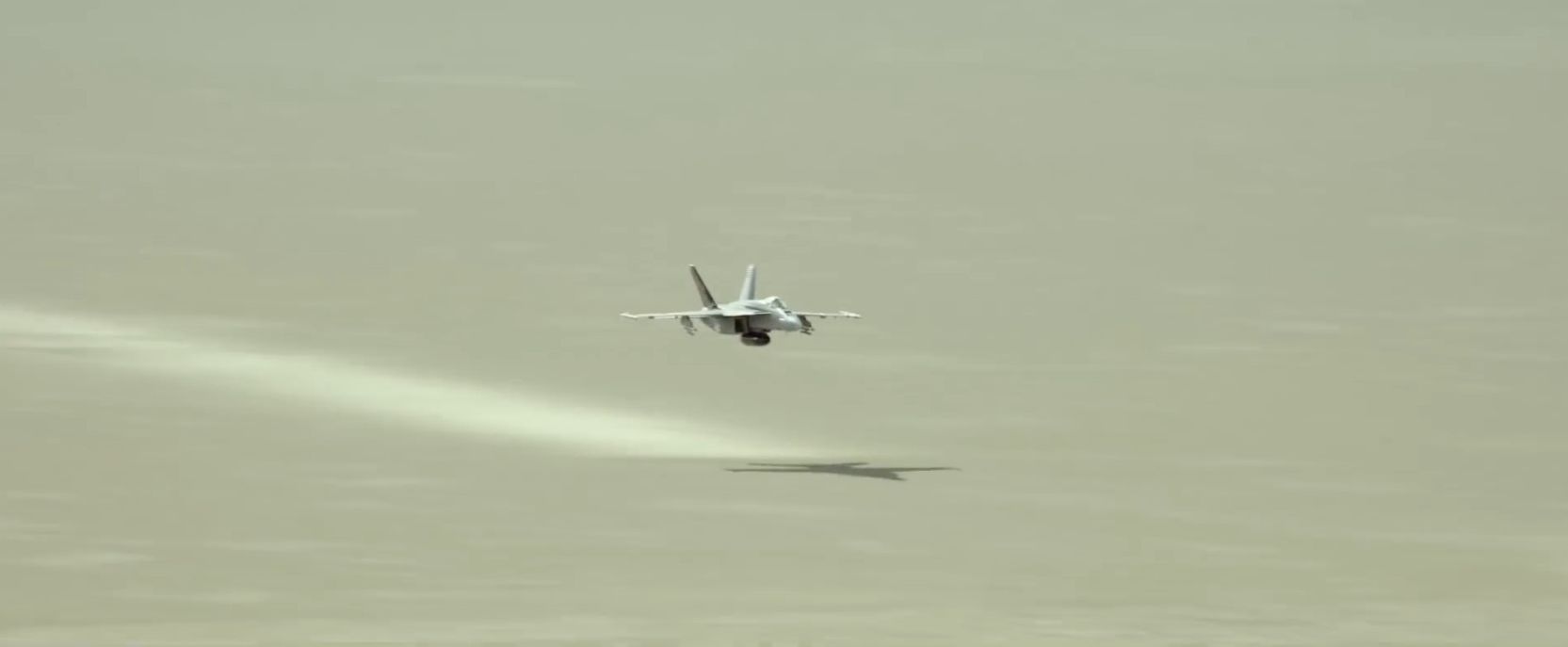 Seconds later we hear the voice of Ed Harris' character. A two-star admiral, whose narrative exposition just falls short of calling Maverick an 'underachieving wildcard'. This despite the fact the former Lieutenant turned Captain has well over thirty years of service, received combat medals - along with numerous citations (aka Flybys) - and is the only man to shoot down three enemy planes (Russian MiG-28s!!!) in the past 40 years. Who can forget!? Perhaps the bigger question is - is this the father of Penny Benjamin talking?

Instead, we find out Mav has opted to make good on his promise 33 years ago. He's now a flight instructor at the home of where it all began - Navy's Fighter Weapons School at Naval Air Station Miramar.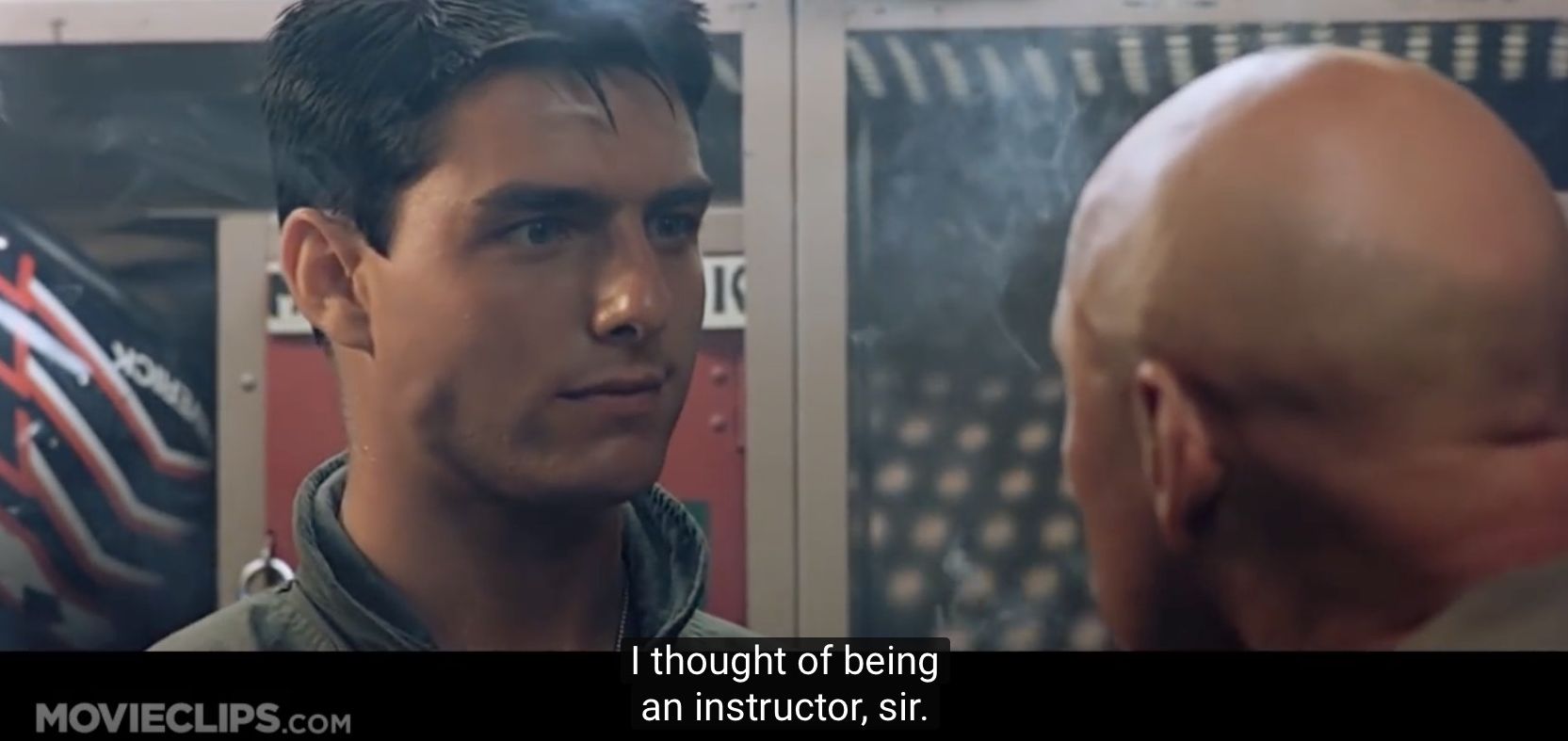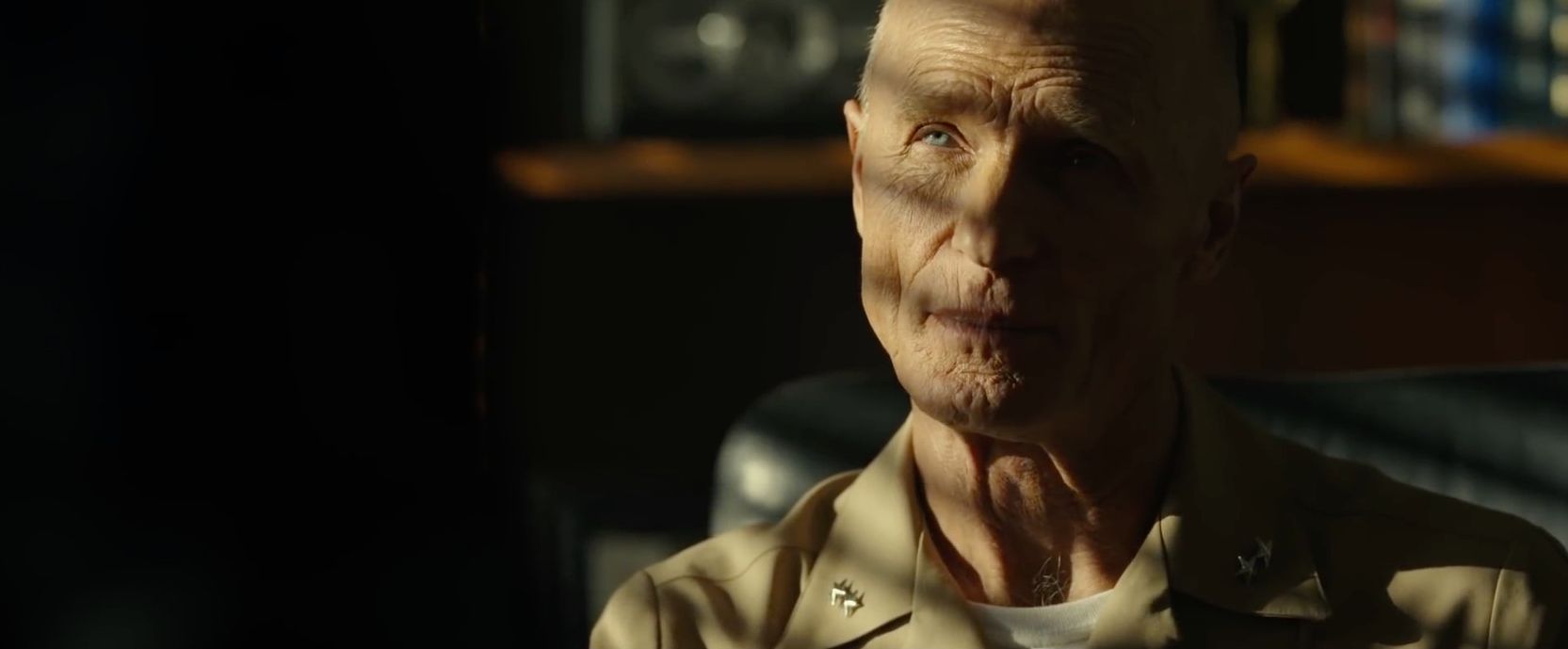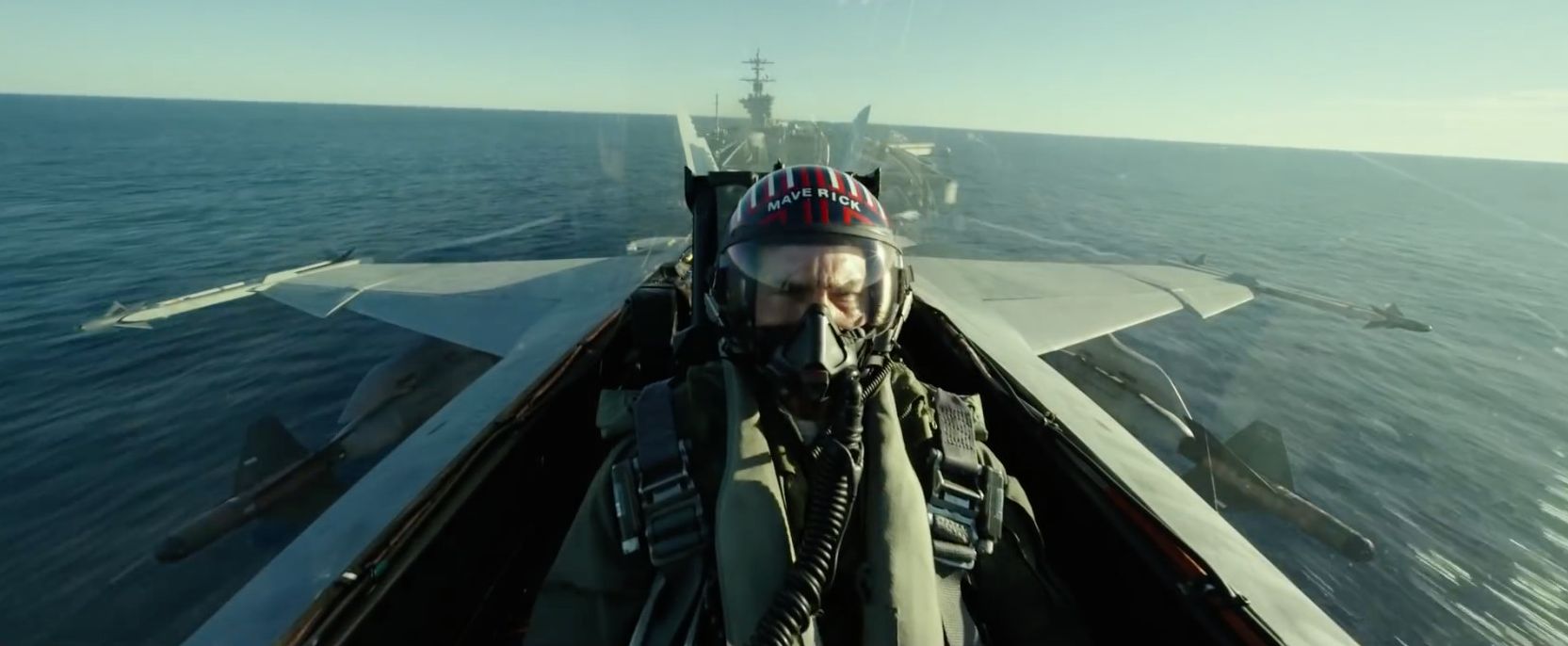 Next we see Maverick inside the cockpit of what appears to be a F/A-18E/F Super Hornet during a catapult launch somewhere off the Pacific Ocean. It's likely this scene falls somewhere in the second or third act based on subsequent shots seen in the latter half of the trailer.

Faltermeyer and Zimmer's Anthem remix immediately kicks in, transitioning with a gorgeous aerial shot of "Fightertown USA," the nickname for the former Naval Air Station Miramar in San Diego.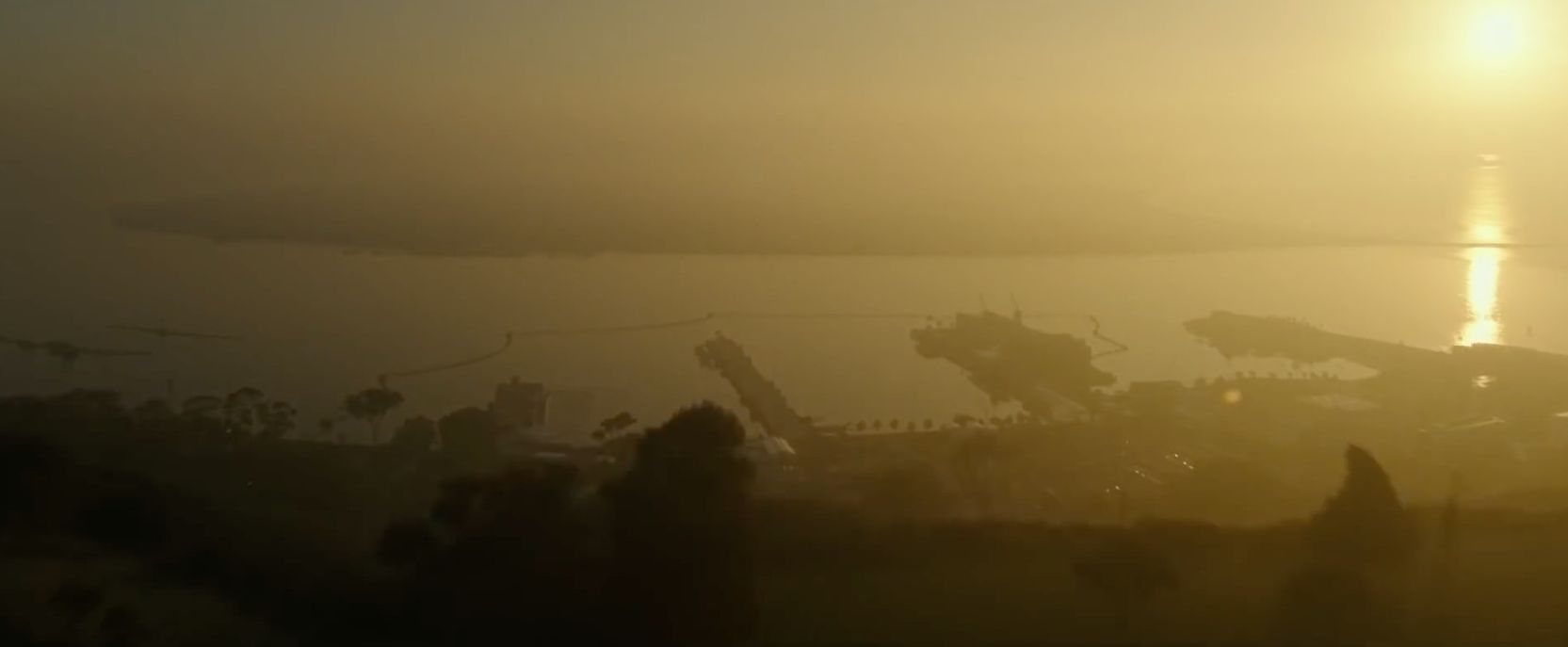 Here we get our first shots of Maverick sporting his signature white tee, vintage leather bomber, gold aviators, and is riding full-throttle on his Kawasaki 900 alongside a Super Hornet. 100+ mph vs. Mach 1.6, or 1227 mph? 34 years later it appears Mav still has a need for speed.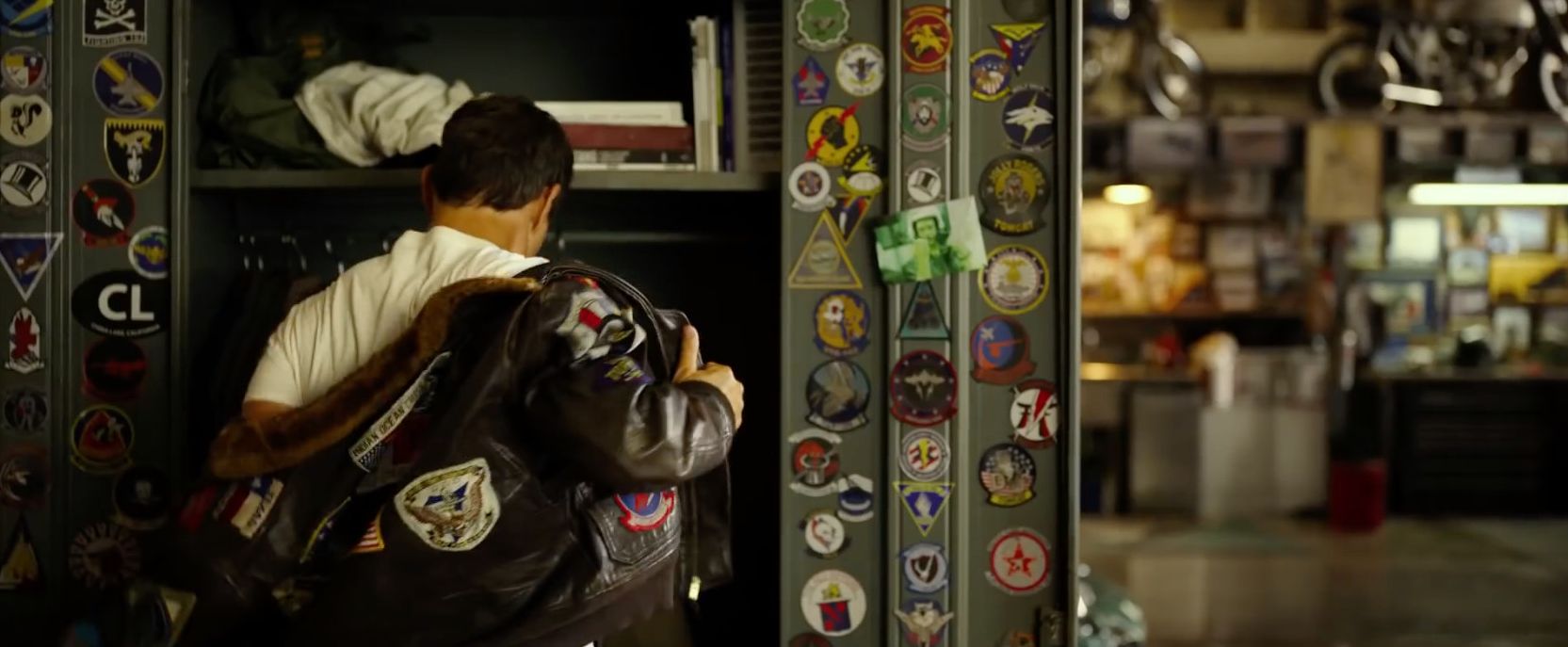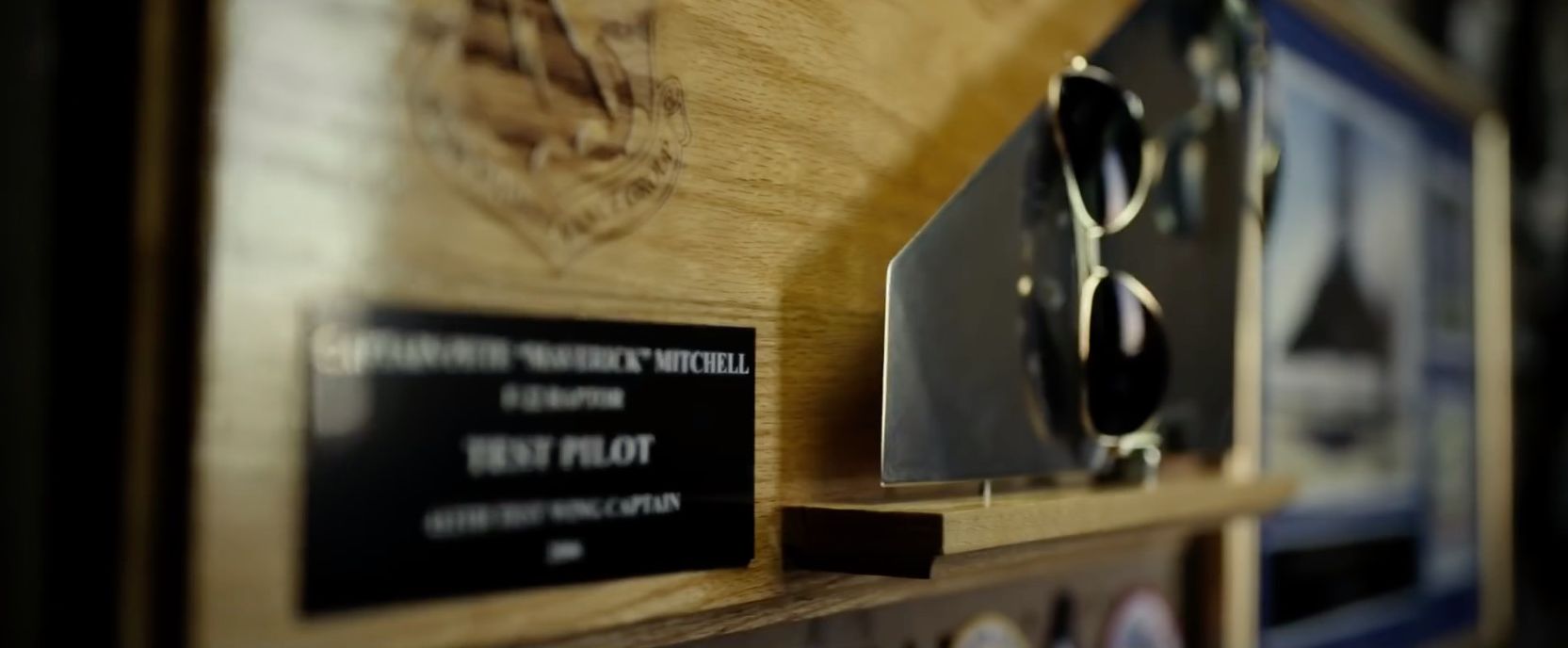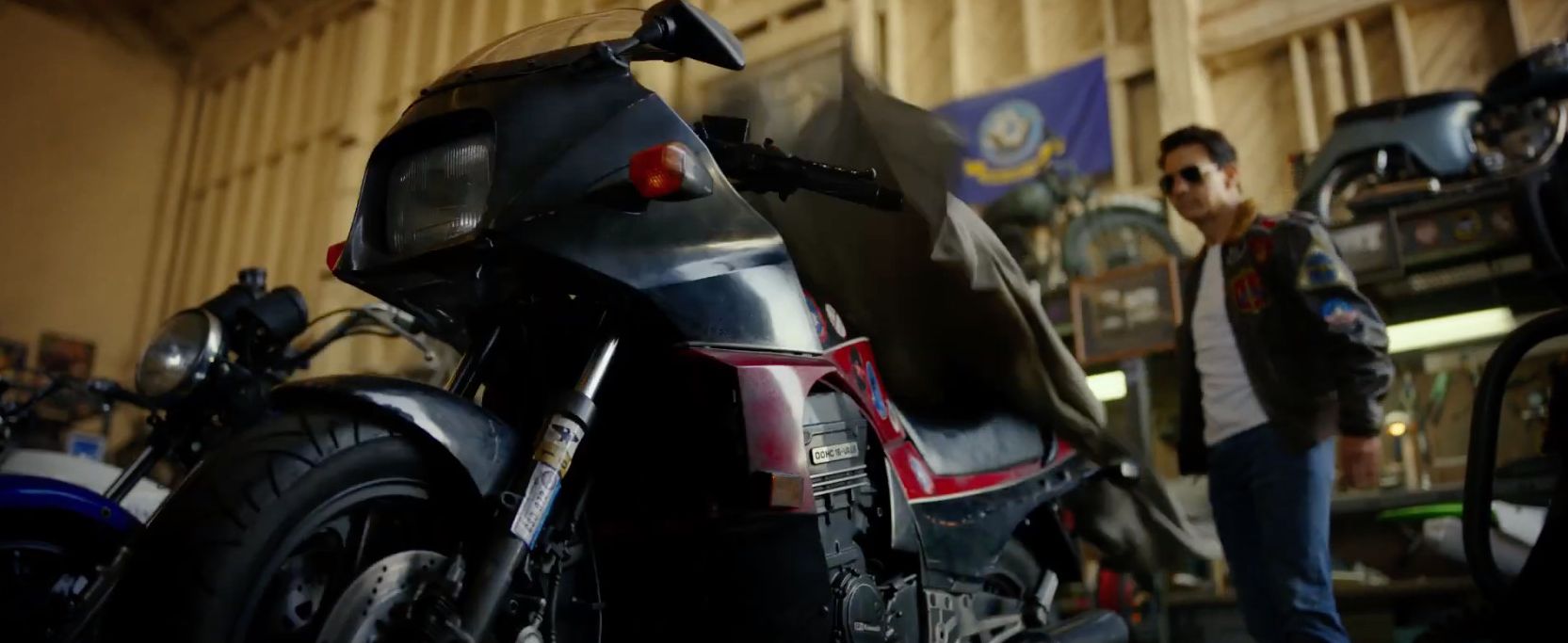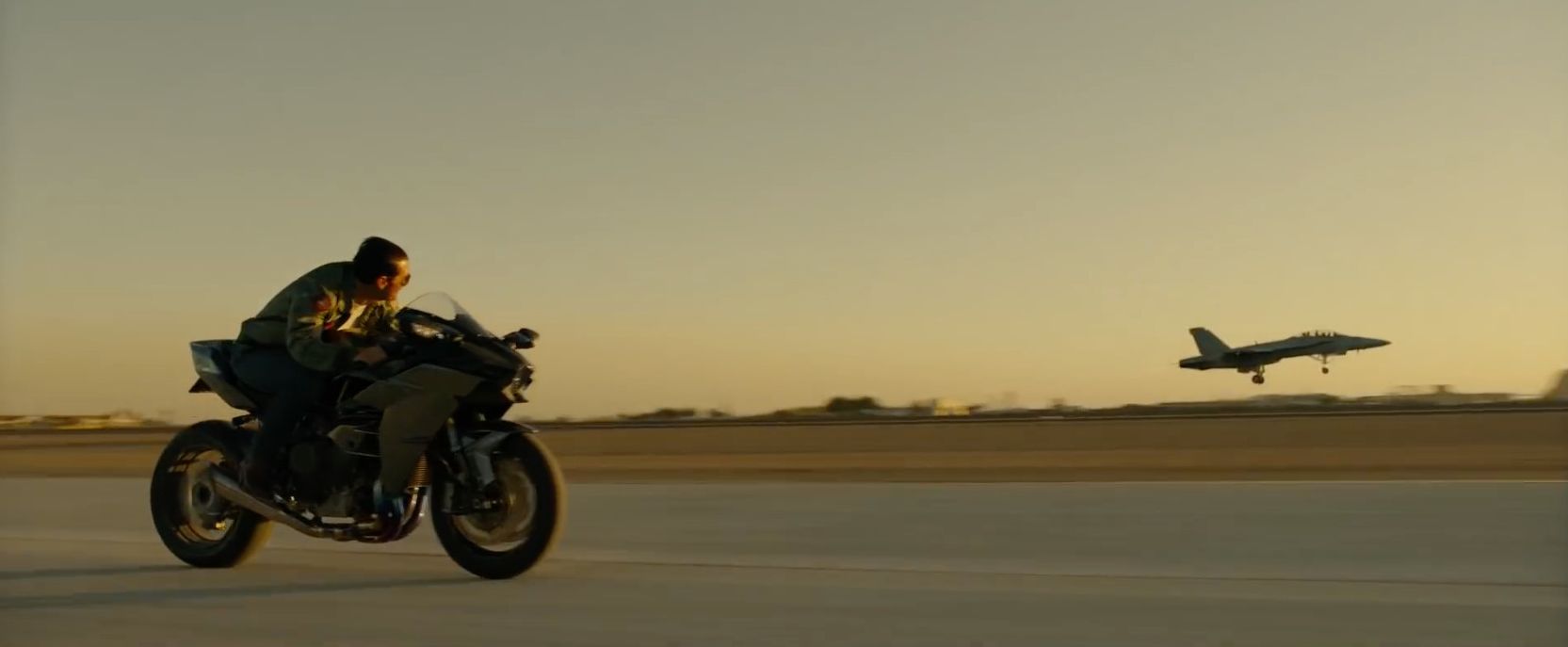 Interestingly it's revealed that Mav is a "Test Pilot" as a testament to the plaque holding his signature aviators. This confirms long-standing rumors dating back to 2012 where it was speculated that "Top Gun 2" would feature Maverick as a Test Pilot for the F-35 Joint Strike Fighter. A plane that could well be the last manned fighter aircraft made in the West.
This revelation may come into play in the next series of frames featuring a shot of Maverick sporting a high-pressure altitude suit where [leaked] set photos speculate Maverick may be piloting a stealth hypersonic aircraft in a failed test mission.
You'll notice that Mav is wearing the same suit when he's speaking to Ed Harris in the beginning (and end) of the trailer, which might suggest his stint as Test Pilot may come before we see Mav actually take the instructor's seat at Miramar.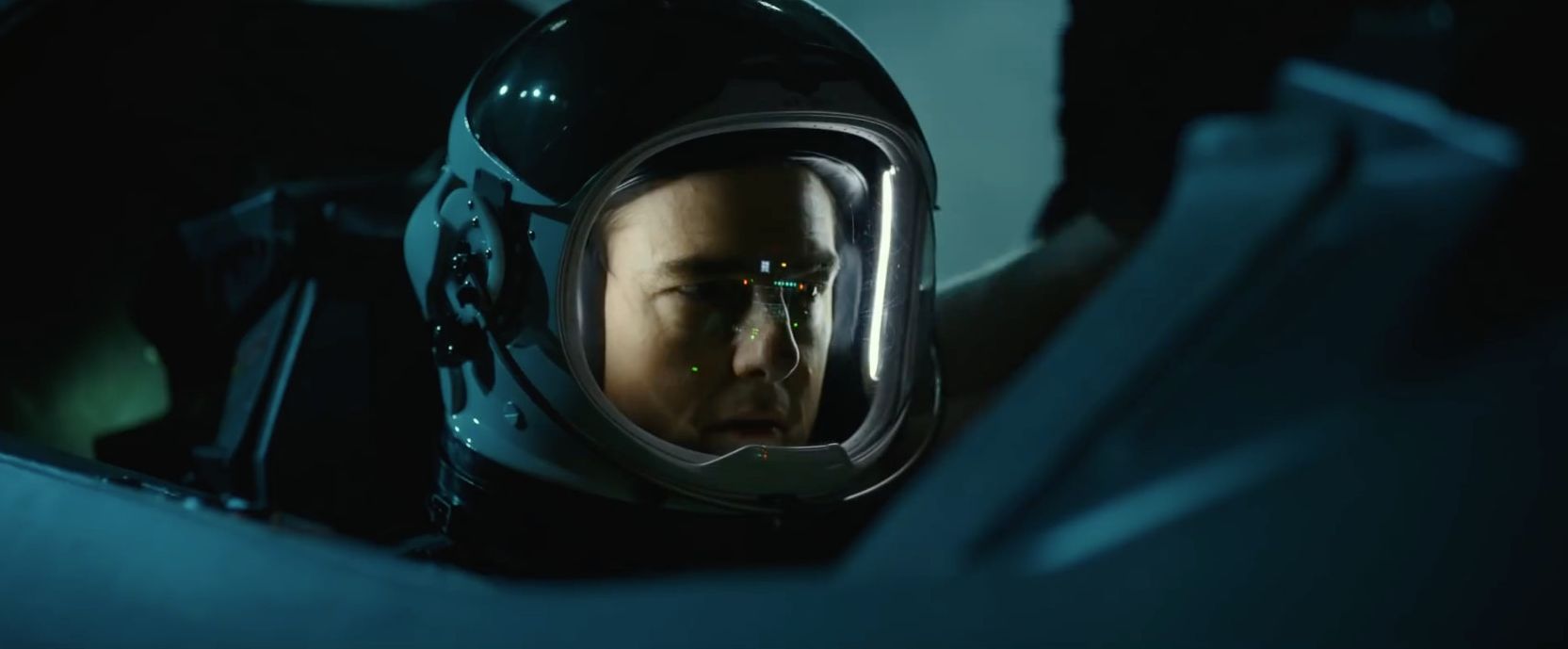 Tonally, the trailer quickly picks up the pace with a holy shit mash-up of 'don't blink or you'll miss' clips introducing Top Gun's new slate of recruits -
Including Jon Hamm, who's looking dapper af, as a tough as nails 3-Star Admiral.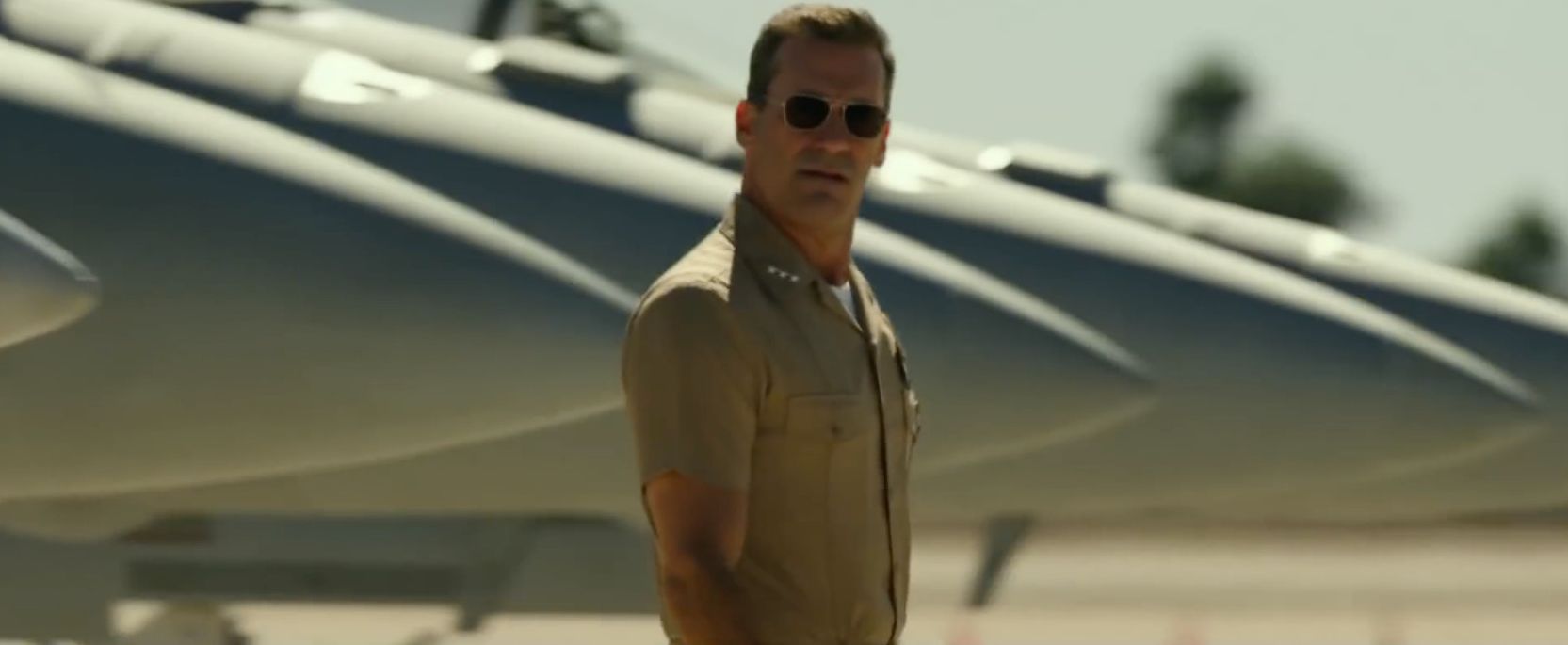 Glen Powell, a pilot recruit who from all appearances very much passes 'Slider's school of physical fitness,' is in a seen paying homage to 1986's beach volleyball but in a game of beach FOOTBALL. Can't say we haven't seen that one before (cc - Point Break) but for all intents and purposes, Top Gun did it first and to some pretty rad music. Paging Kenny Loggins.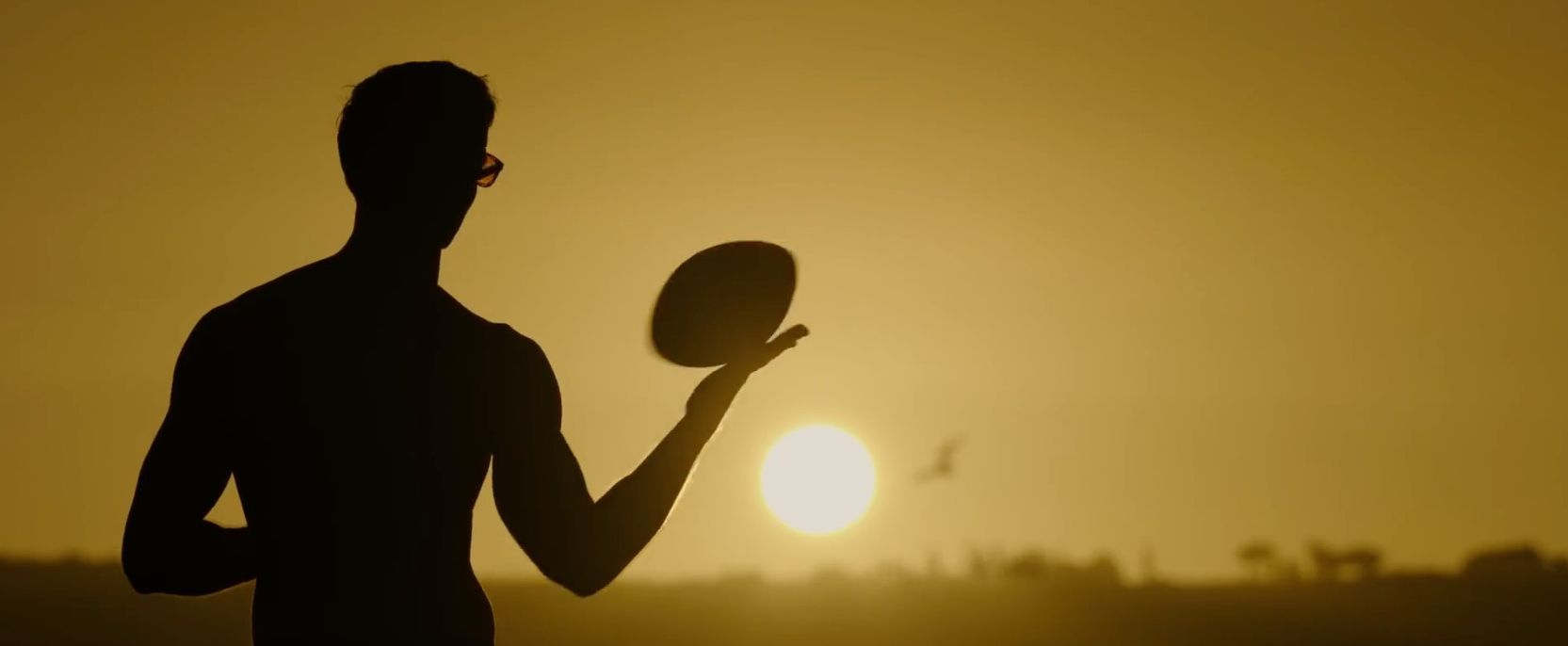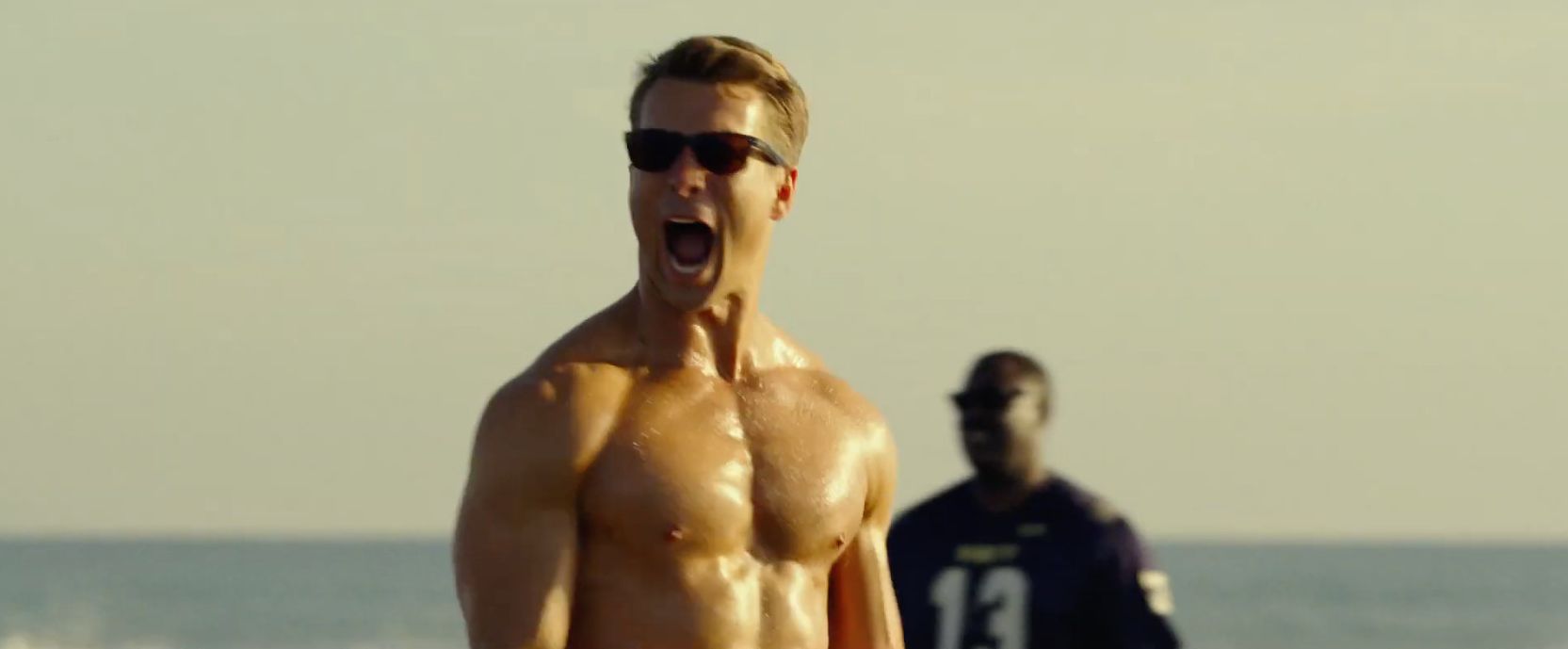 Next we get a brief glimpse of Oscar-winner, Jennifer Connelly who hasn't aged a bit! Sources say Connelly will play a single mother who runs a local bar near the Navy base. Perhaps she now owns the same bar (Kansas City Barbecue) where Mav drinks his ice-cold "hemlock"?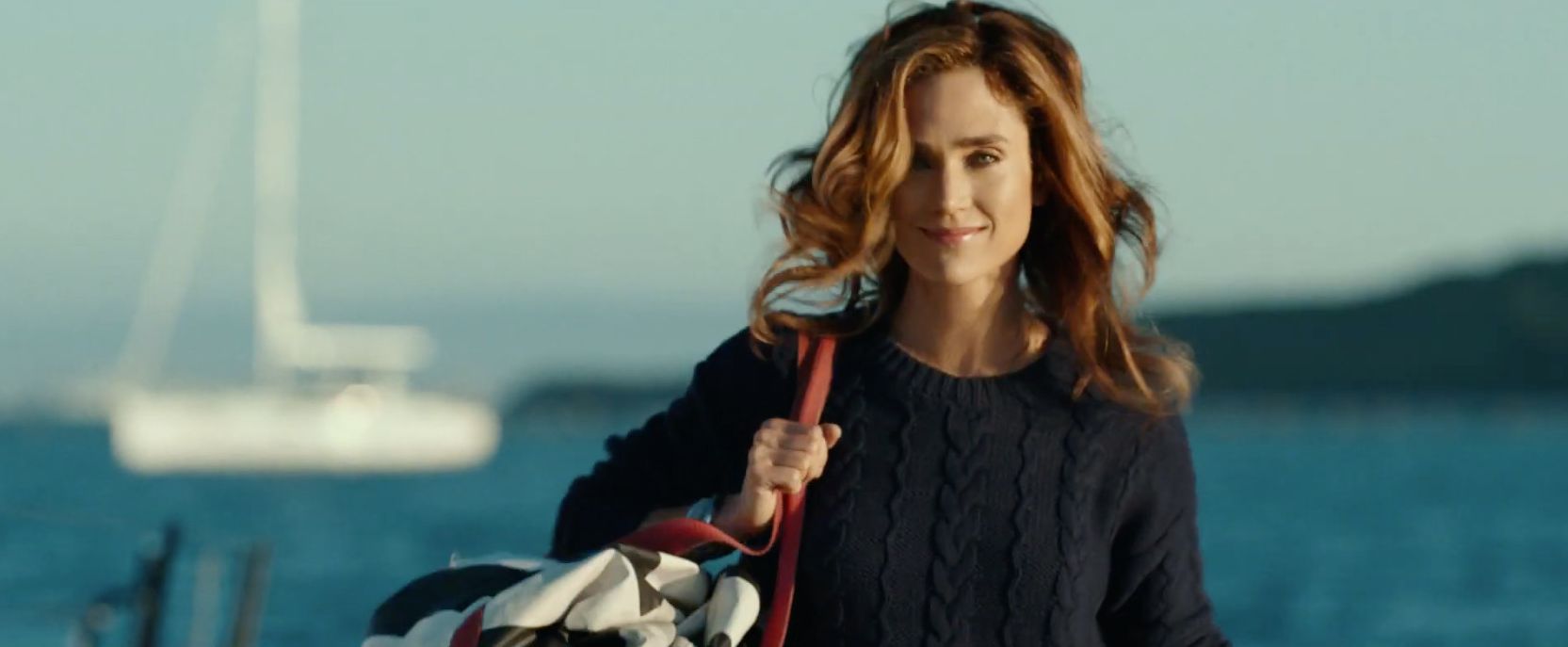 Then we get a montage of shots featuring Miles Teller who plays Bradley Bradshaw, the son of Nick ::Mother:: Goose Bradshaw - who's seen rocking out on the piano, sporting Dad's signature 'stache and short-sleeve button-down along with fellow Top Gun recruits Jay Ellis and rumored love interest played by Monica Barbaro - call sign Phoenix.
Once again we get another scene possibly paying homage to two musical scenes that featured Mav and Goose singing Great Balls of Fire and You've Lost That Love And Feeling.
Needless to say, Miles Teller's performance in Too Old To Die Young (among many other awesome performances) has me primed for whatever script whisperer Christopher McQuarrie has in line for the 32-year-old.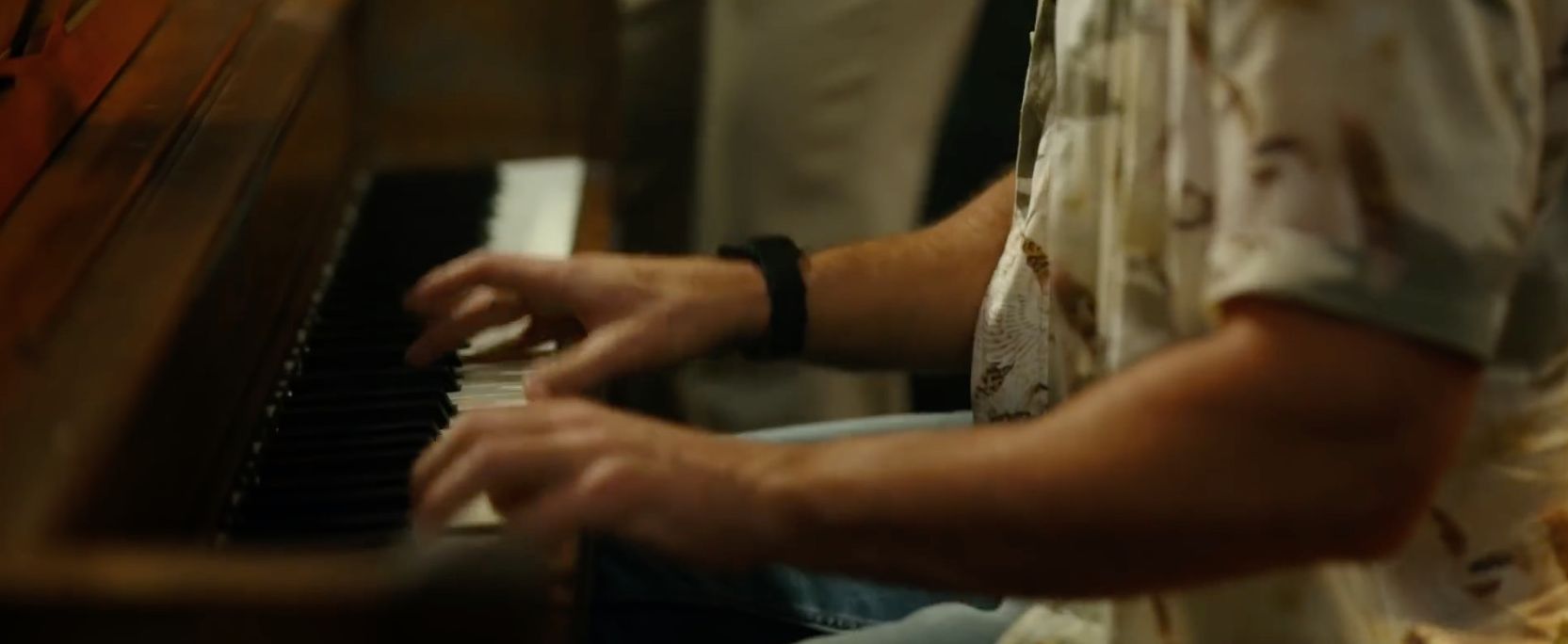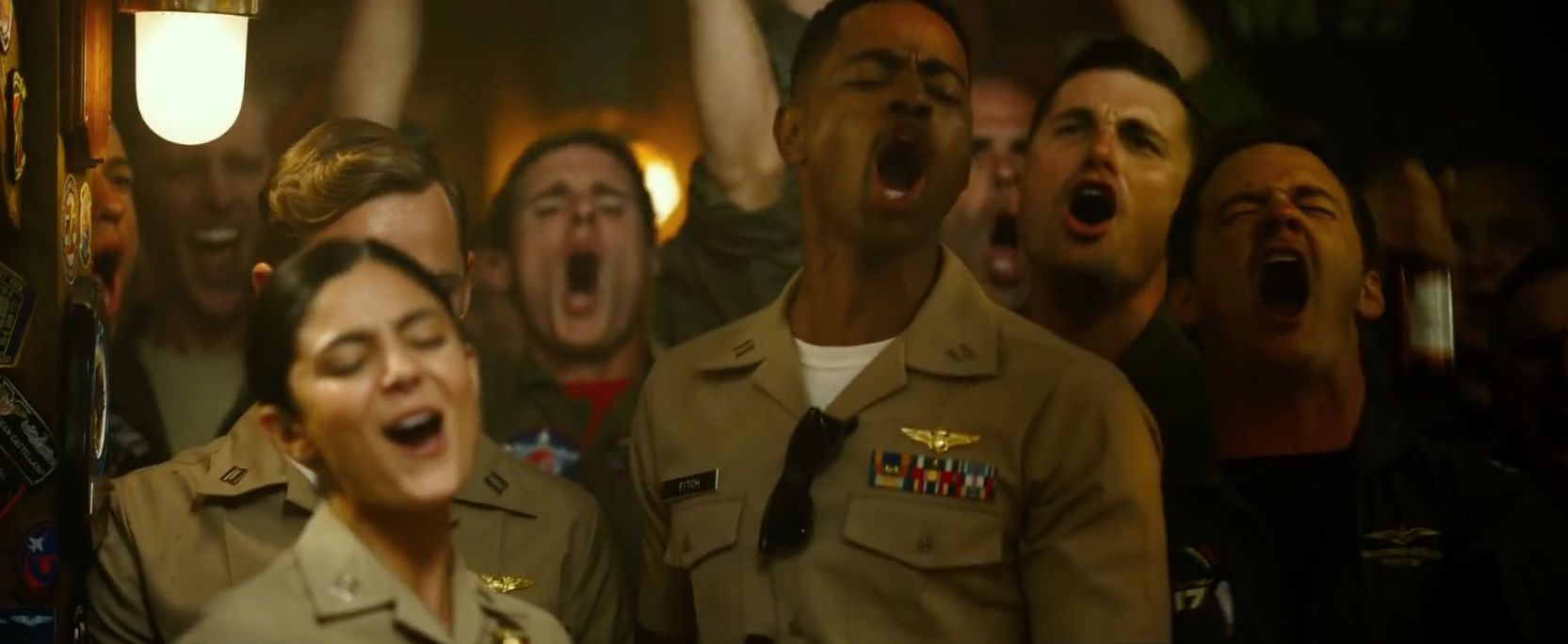 And then we must address the final salute with military honors of a fallen comrade. The most obvious question here is who is the fallen? Could it be a Top Gun recruit as a result of a mission gone bad? Or could it be Tom 'Iceman' Kazansky whom we know will reprise his role as now Commander "Iceman" but has zero presence in the trailer?
Or if we really wanted to speculate, perhaps this might provide closure for Kelly McGillis' character whom we know will NOT BE reprising her role as Charlotte 'Charlie' Blackwood? Did Charlie mean anything to Mav?
Either way, I wouldn't bet against one of the latter scenarios as we see Maverick pound his Trident into the coffin as a sign of respect of someone who gave their supreme sacrifice.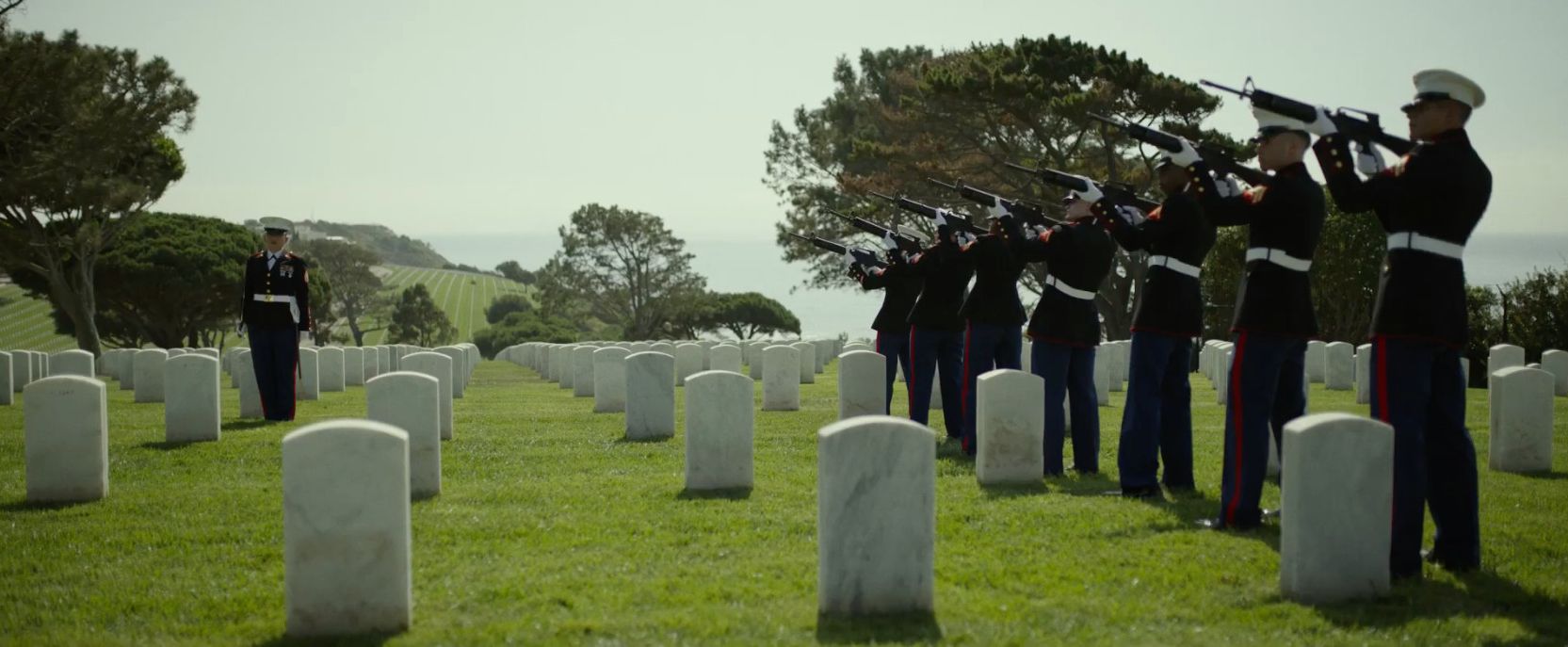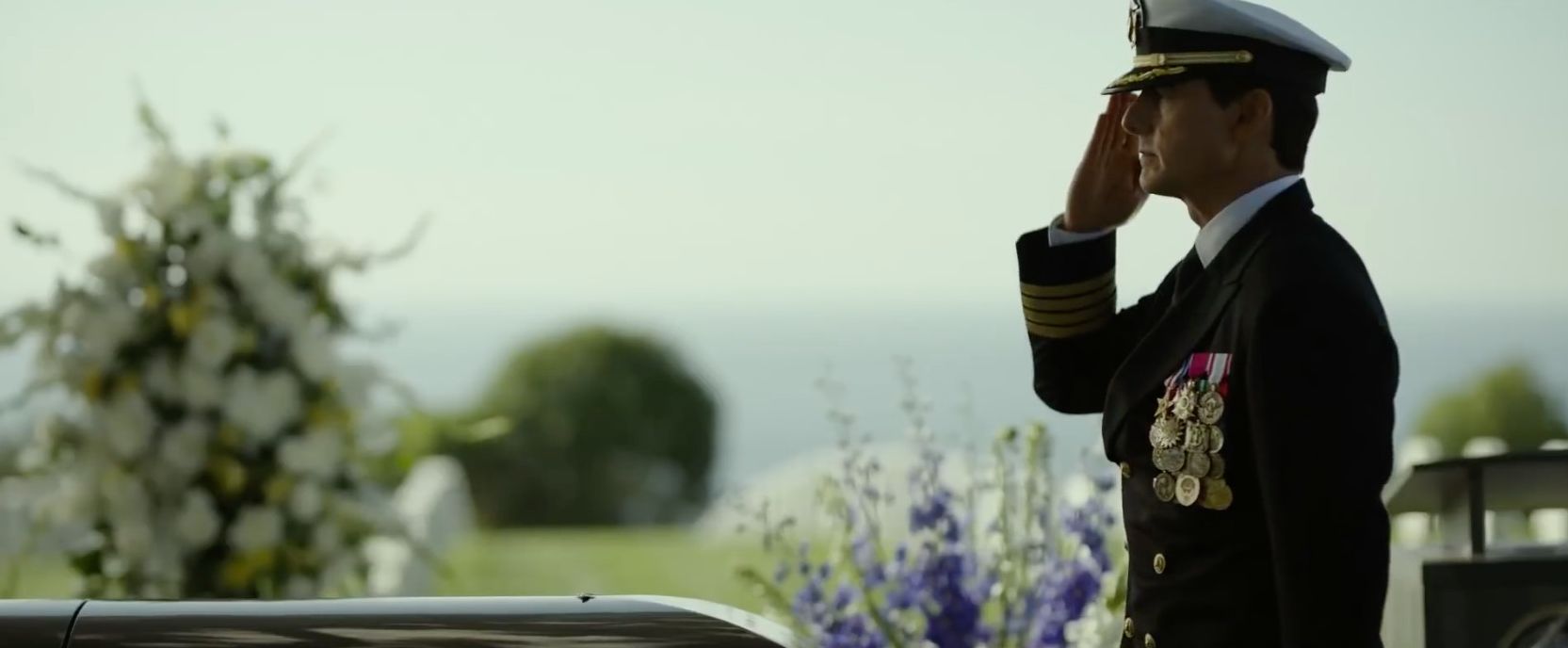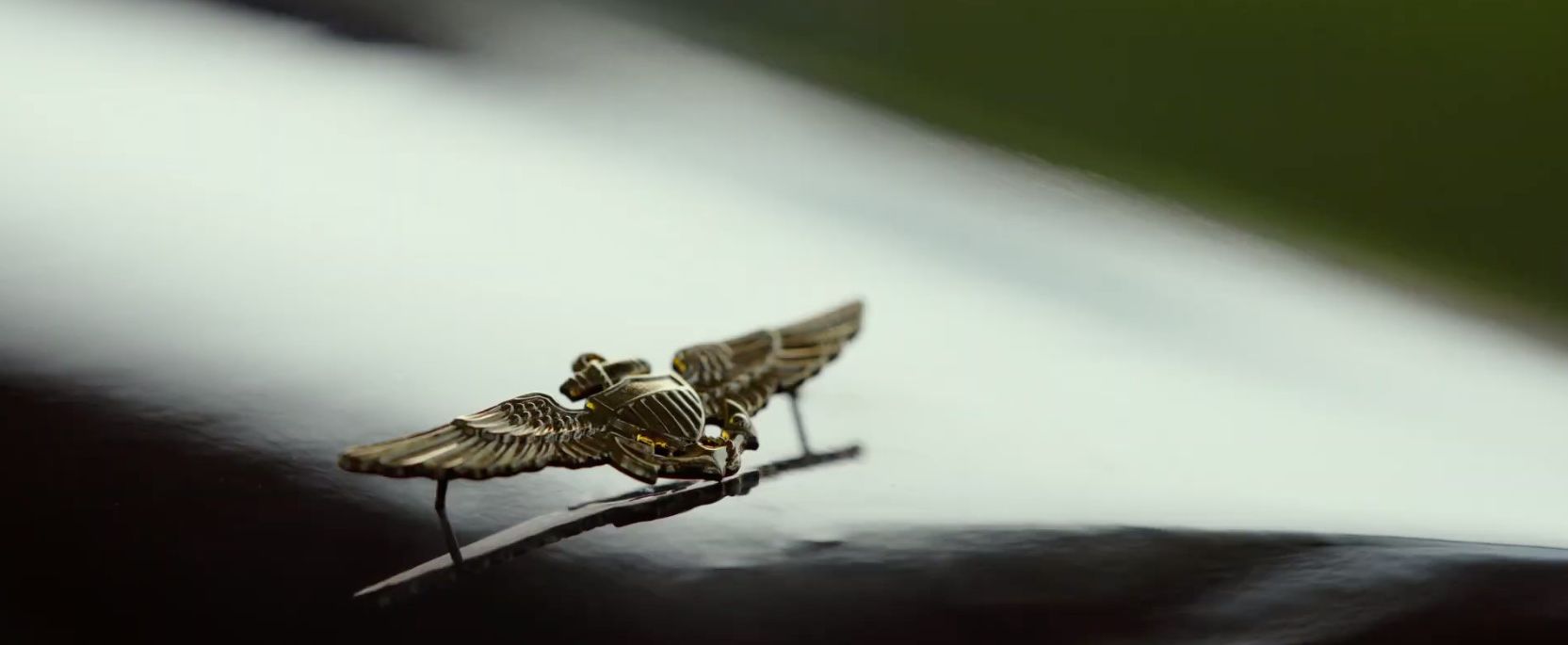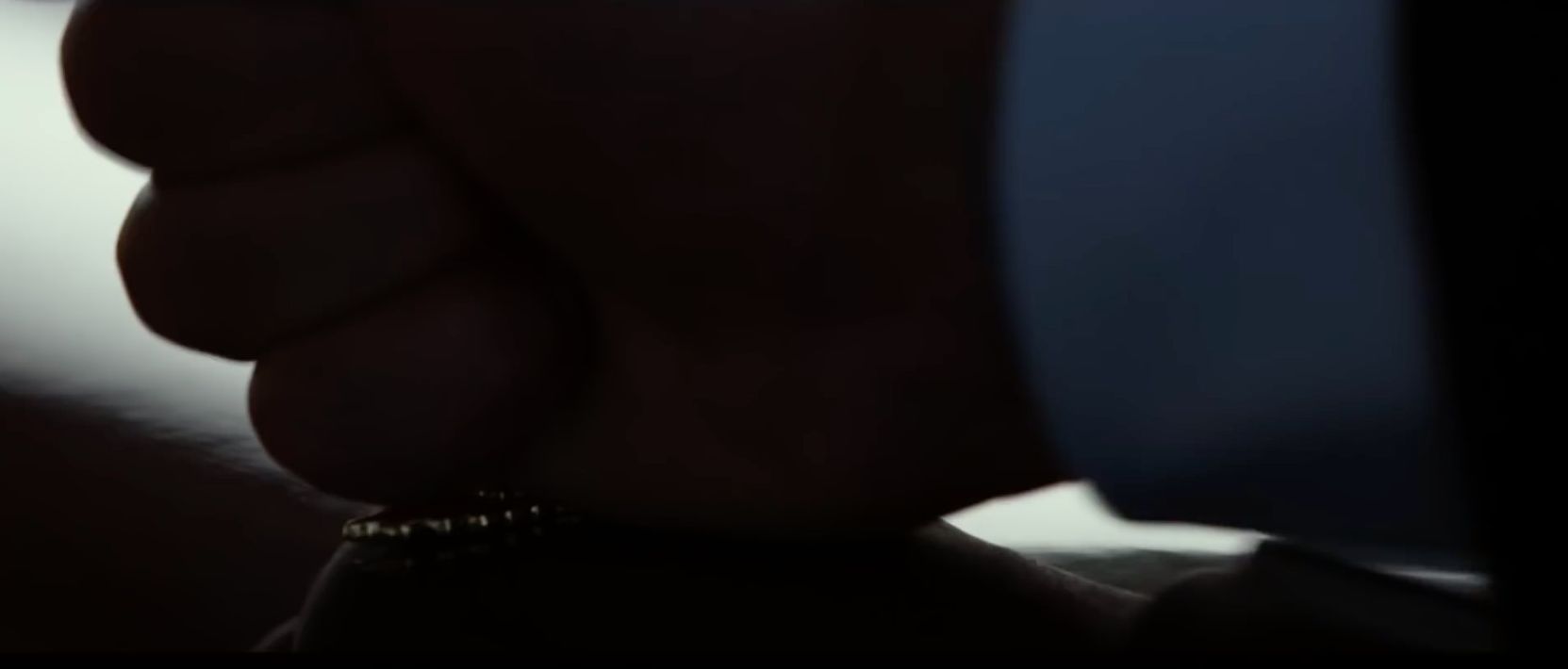 The final shots go quiet as they build just one of many breathtaking sequences and appear to set up what could be a mid or final act mission with Maverick accompanied by three other Hornets, presumably piloted by Teller, Powell, and Barbaro.
Is this a mission that certainly falls outside the scope of drone warfare? The setting is off-shore which transitions inland hovering above mountains and snow. This could very well be a stateside test mission or perhaps the likelier bet that the US still has unfinished business with the Russians.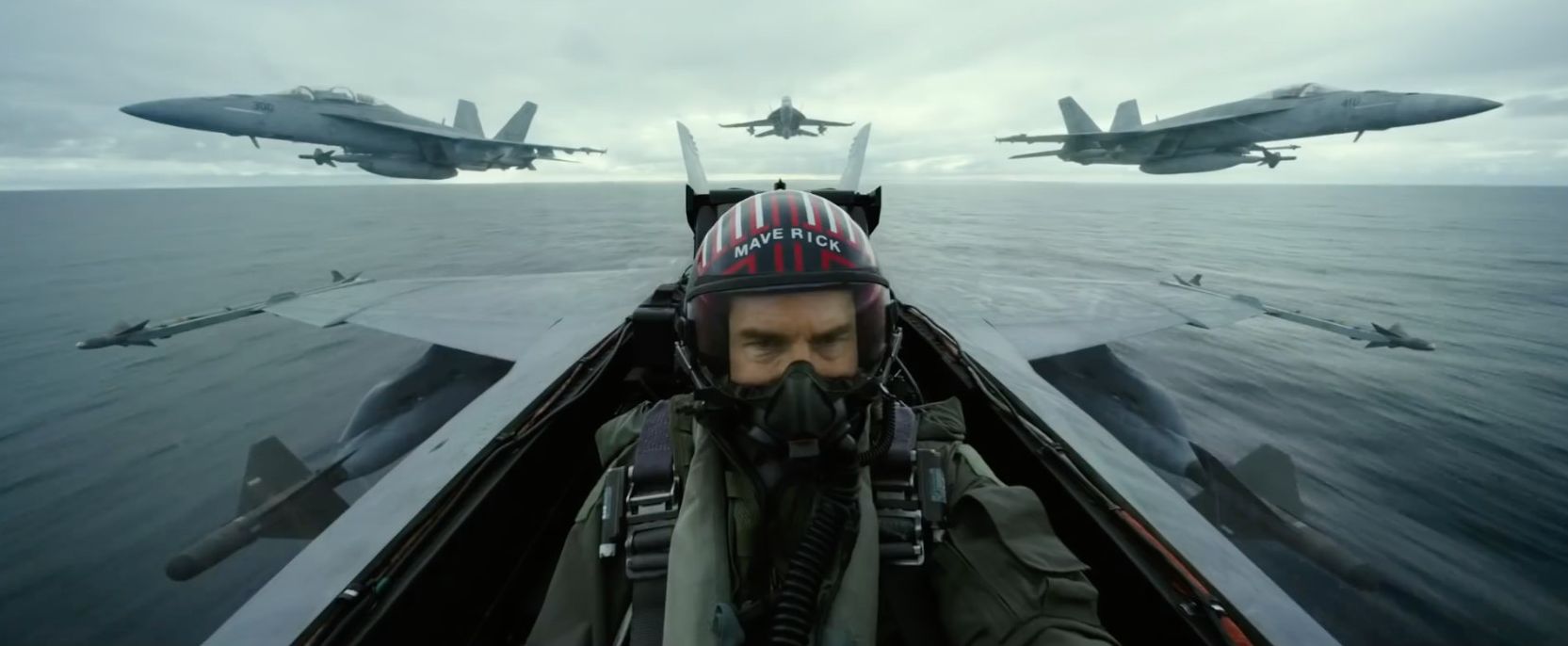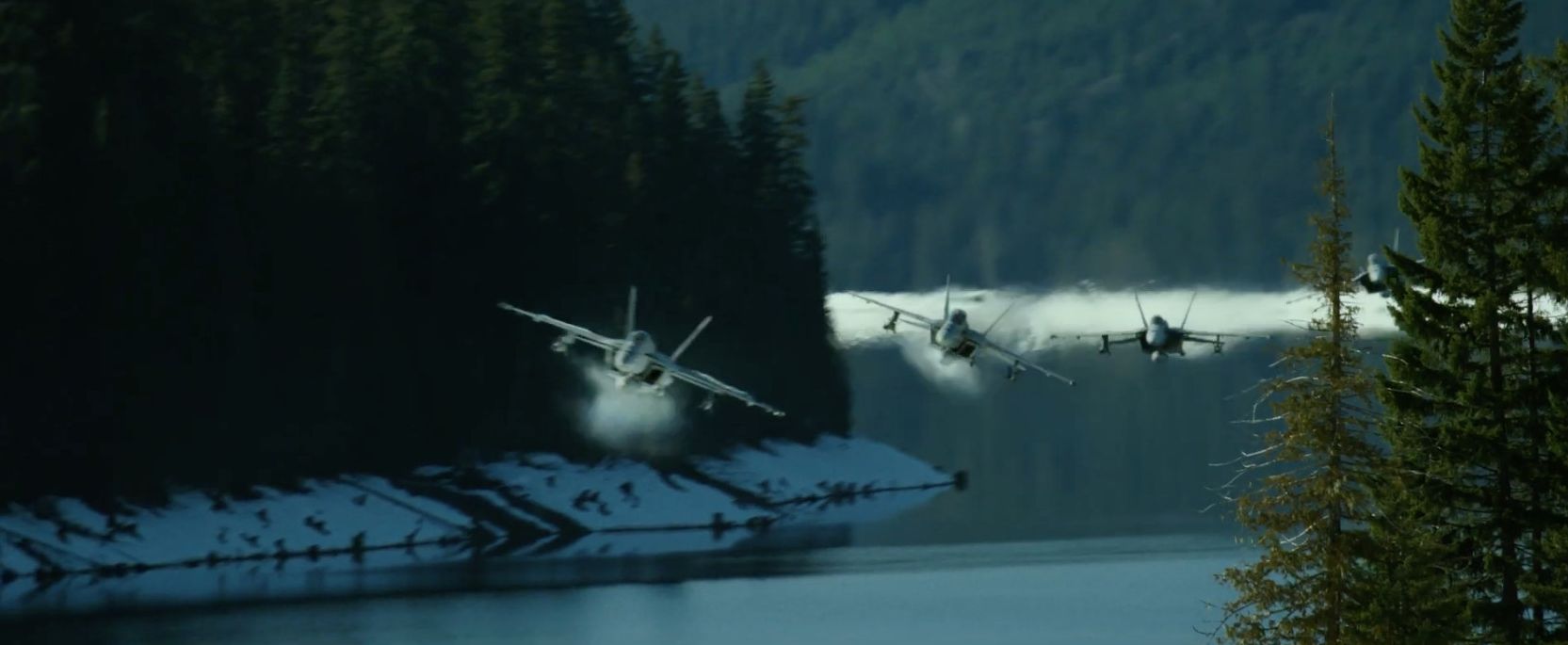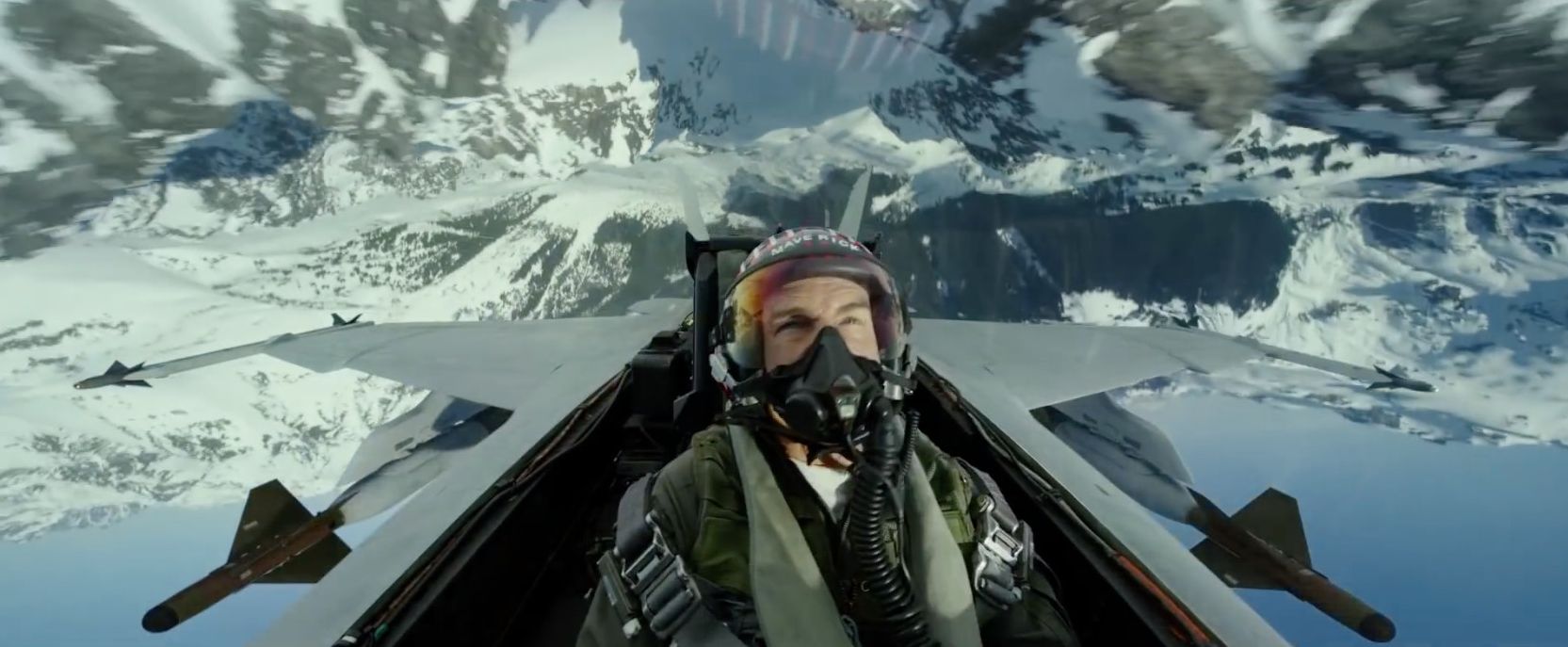 As Maverick goes INVERTED, we transition back to Ed Harris who provides some parting words of shade: "It's inevitable Maverick. Your kind is headed for extinction."
Mav's response "Maybe so sir, but not today".
All very reminiscent of James Tolkan's (aka Stinger) parting words before Maverick and Goose took Cougar's spot at Miramar - "if you screw up just this much, you'll be flying a cargo plane full of rubber dog shit out of Hong Kong!"
Are you ready for this!!!
Top Gun: Maverick is slated to hit theaters June 26, 2020.