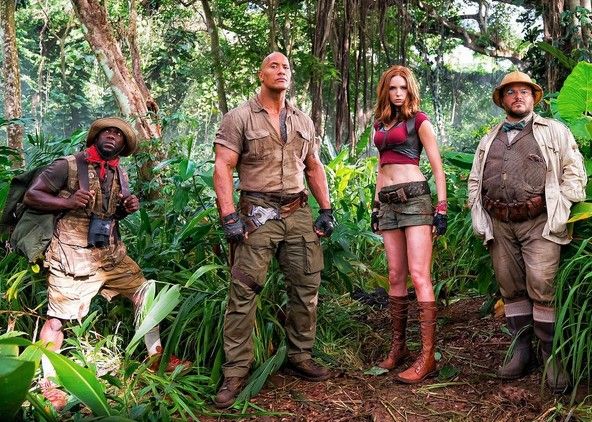 Welcome to the jungle, "JUMANJI 2" is fun and games.

GregHarmon Managing Editor The sequel to Robin Williams 1995 'Jumanji' is all about fun and games...
Check out the trailer below!
Sony Pictures Entertainment have released the trailer for Jumanji: Welcome to the Jungle, a reboot-sequel to Joe Johnston's 1995 family adventure Jumanji. But don't be fooled by this version, the game is still the same and the passage of time doesn't look to hinder the board game's magical and mysterious ways; only this time Jumnaji replaces two kids, a childhood love interest, and the late Robin Williams with four teenagers and the board game's actual characters portrayed by Karen Gillan, Dwayne Johnson, Kevin Hart, and Jack Black. Couple that with a host of jungle traps, animals, and puzzles and we have ourselves a new game!
Jumanji: Welcome to the Jungle is directed by Jake Kasdan (Bad Teacher, Sex Drive) and is co-written by Chris McKenna (Spider Man: Homecoming) and Jeff Pinkner (The Dark Tower).
Synopsis
In a brand new Jumanji adventure, the tables are turned as four teenagers are sucked into Jumanji's world – pitted against rhinos, black mambas and an endless variety of jungle traps and puzzles. To survive, they'll play as characters from the game: meek Spencer becomes a brave explorer (Dwayne Johnson); hulky jock Fridge becomes a tiny genius (Kevin Hart); It-girl Bethany becomes a bookworm professor (Jack Black); and unathletic Martha becomes an amazonian warrior (Karen Gillan). To beat the game and return to the real world with their lives, they'll have to start seeing things in an entirely different way.
Jumanji: Welcome to the Jungle has an extended release on December 20, a week after Star Wars: The Last Jedi and will square-off against Pitch Perfect 3, Matt Damon's Downsizing, and the Owen Wilson-Ed Helms comedy Bastards.